Bespoke project will deliver new home for paralysed artist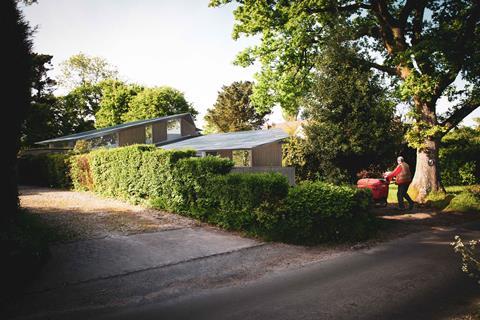 Knox Bhavan Architects has secured planning consent to replace a 1950s house in rural Hertfordshire with a bespoke home for an artist and public speaker who is paralysed from the shoulders down.
The practice's proposal for client Henry Fraser is a "T" shaped property that immediately sends client visitors to studio space on one side of the house, while friends and family are directed the other way.
Knox Bhavan said the studio designed for Fraser was a "lofty, sky-lit space" where he can paint, have meetings and receive clients for future commissions. It has roof lights, tilted upwards for privacy, providing even light into the studio.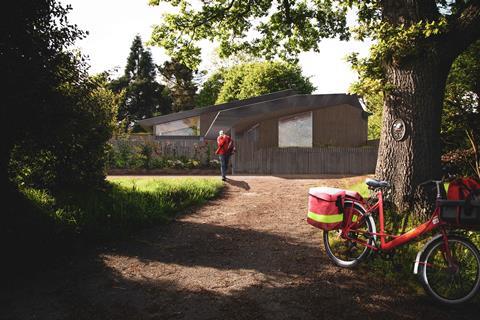 Further daylight is reflected back into the studio from a linear pond, which also acts as a barrier between the main entrance and the private tranquil courtyard to the left.
The other side of the property features "generously proportioned" living space that allows Fraser to to be moved around the area, and to communicate with others with ease.
The home's dining space has a double-height ceiling and wide sliding doors that open onto both a front courtyard and rear garden. At the end of the living space, a lowered ceiling creates an intimate TV snug. Upstairs is a carers bedroom and guest accommodation.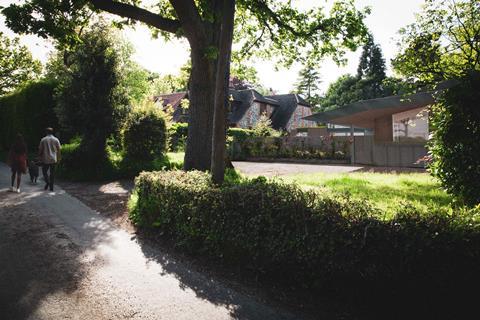 Knox Bhavan said the property's four-part roof was "integral to the design of the building" and cantilevered over the driveway to create a covered route to the front door. A larger section of roof encloses the large open-plan living spaces on the ground floor, and the first-floor level.
A third roof over the building's ground-floor bedroom and bathroom flanks the main roof to the north-west and lastly, a planted low-lying flat green roof sits above the snug to the south-west of the house.