Scheme designed to blend with its rural surrounds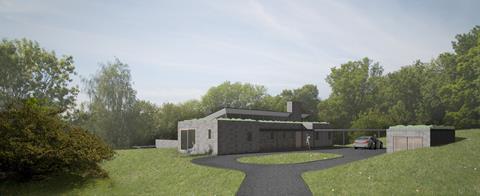 Knox Bhavan Architects has secured planning consent for a 350sq m five-bedroom house in an area of outstanding natural beauty in the Chilterns.
The existing single-storey dwelling, in the village of Ibstone, will be demolished to make way for the new family home which has been designed to integrate with the surrounding landscape.
The lower ground floor has been partially cut into a steep section of the sloping site, minimising the impact and perceived bulk of the property.
A planted green roof over the northern-most part of the house acts as a way of blending the building into its rural surroundings.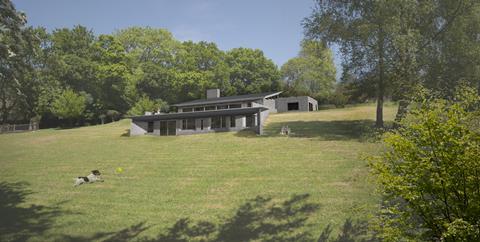 The building is faced with locally handmade grey bricks, with the garden elevation being softened by oak shingle shakes protected by overhanging eaves.
A carefully designed garden store with planted green roof is set into the existing dwarf retaining wall, providing a storage facility and space for five bicycles.
The house is designed to be a passive solar collector through use of construction materials and orientation. Thermal heavyweight construction to the north will minimise heat loss while glass maximises solar gain when it is needed.
A band of solar panels will be integrated into the top of the south-facing roof, enabling electricity to be generated and stored on site.
Heating and hot water will be provided via an air-source heat pump located in the garden store.