Expansion of permitted development rights announced along with new zonal approach to planning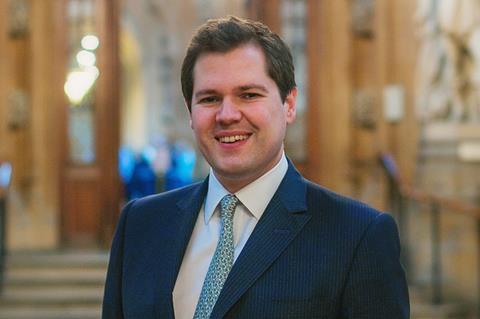 The government is to consult on a sweeping expansion of permitted development rights that would allow empty buildings to be demolished and replaced by housing without the need for a planning application, housing secretary Robert Jenrick said today.
The new PDR would apply to vacant commercial buildings, industrial buildings and residential blocks. The only stipulation mentioned so far is that the new housing must be "well-designed new residential units which meet natural light standards". Upwards extentions would also be exempt from planning.
Jenrick, who gave a statement to Parliament followed by a policy statement called Planning for the Future, said this would prevent much-needed housing schemes from being "delayed in a lengthy planning process".
He promised the long-awaited planning white paper would be published this spring along with the government's response to the Building Better, Building Beautiful Commission. He said these documents would place good design and place-making at the heart of the new system, championing tree-lined streets, a "fast track for beauty" and a commitment to lower carbon emissions in all new homes – all ideas contained in January's Beauty Commission report.
We must think boldly and creatively about the planning system to make it fit for the future

Robert Jenrick
Jenrick also announced that the government would look to pilot a zonal approach to planning by expanding the use of zoning tools, such as Local Development Orders (LDOs), to support development.
LDOs were tools first introduced by Labour in 2004 to give local councils the powers to grant automatic permission for applications in specific designated areas. Jenrick's policy paper said it would look to draft templates to help local authorities draw up their own LDOs.
The suggestion of "zonal" planning pilots comes after the release in January of a Policy Exchange report by the prime minister's new housing policy advisor, Jack Airey, which recommended local politicians lose their right to decide individual applications – instead limiting their powers to simply deciding which areas to "zone" for development.
Jenrick said the reforms were designed to ensure everyone had access to affordable, safe, quality housing. He said: "We must think boldly and creatively about the planning system to make it fit for the future, and this is just the first step, so we can deliver the homes communities need and help more young people onto the ladder."
The government will also propose that developers get the right to have their fees paid back to them if they successfully appeal a planning refusal, and make it easier for the public to find out who owns options on development land.
More immediately, the policy paper also announced a review of the formula by which local authorities must calculate housing need in their areas – which was only introduced two years ago – and plans to review the National Planning Policy Framework (NPPF) in the light of concerns over development on the flood plain.
The government will push forward plans for development of the one million-home Oxford-Cambridge development arc with up to four new development corporations, and plans for a "net zero" development in Toton, Nottinghamshire.
Much of the rest of the policy paper contained ideas, such as the expansion of permitted development rights, which have already been announced – some of them multiple times.
The paper said the government will introduce a right for buildings to be extended upwards by up to two storeys by this summer, and will consult on a policy to grant permitted development for the demolition of vacant office, industrial and residential buildings for the creation of new homes.
Both of these policies have been consulted on previously but have proved more complex to implement than initially expected.
Local authority and planning lobby groups have heavily criticised the government's expansion of permitted development rights (PDR), which means developments bypass the planning system and aren't obliged to provide affordable housing or other facilities to mitigate their impact.
The policy paper recommitted the government to implementing the findings of the "beauty commission" to "embed the principles of good design and placemaking" in the NPPF. However, it made no mention of the government's previously announced intention to review existing PDR rules, heavily criticised by the beauty commission, to ensure they don't allow the construction of sub-standard homes and places.
Other measures in today's announcement:
:: Councils will be encouraged to take a more innovative approach to home building – by ensuring redevelopment of high streets is housing-led, building upwards and above and around stations.
:: Next month the government will launch a register of brownfield sites which will map out unused land as part of plans to encourage councils to make the most of this land first – backed by £400m to bring this mostly unused land back to use.
:: The government will review how places assess how many homes are needed in their area and incentivise those that deliver on those numbers.
:: All local authorities will also be required to have up-to-date local plans in place by December 2023, or see government intervention.
:: The government will look to take forward many of the BBBBC's recommendations, which include calling for urban tree planting and giving communities a greater opportunity to influence design standards in their area. This will put tree-lined streets at the centre of future plans, so that they become the norm not the exception.
:: Local authorities will be given the ability to ensure new homes conform to local residents' ideas of beauty through the planning system. The government will use the National Model Design Code to set out clear parameters for promoting the design and style of homes and neighbourhoods local people want to see. The government will ask local places to produce their own design guides and codes, informed by listening to local people and considering local context. This will embed standards in planning policy and give local communities the confidence to demand they are met.
:: Supporting community and self-build housing – the government will support those who want to build their own homes to find plots of land and provide help to parish councils and neighbourhood forums who wish to build a small number of homes to allow their communities to grow organically, providing homes for the next generation and those wishing to downsize.
:: Backing the Oxford-Cambridge Arc, including a new spatial framework and up to four new development corporations. The arc has the potential to be a world-leading green growth corridor, with high-productivity jobs and environmentally friendly developments. The spatial framework will give certainty to businesses and developers about where new housing and employment will be delivered until 2050 and support planning for the right infrastructure to meet social, environmental and economic needs. The government will also examine and develop the case for up to four new development corporations in the arc, subject to necessary public consultation, in or around Bedford, St Neots/Sandy, Cambourne and Cambridge, which includes plans to explore the case for a new town at Cambridge.
Source: MHCLG