Jenrick reveals he is minded to use 'permission in principle' to enforce quality
Housing secretary Robert Jenrick has given his clearest indication yet of how controversal permitted development rights will be reformed.
Speaking at an event on planning hosted by think tank Policy Exchange and Create Streets Jenrick implied that rules may be tightened up to give planning authorities much more control over the design of new buildings, via an existing process called "permission in principle".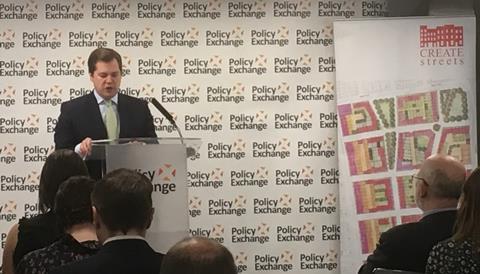 The expansion of permitted development under recent coalition and Conservative governments, which has allowed developers to convert business premises into homes without planning permission, has been successful in increasing housing numbers but sharply criticised for the quality of some schemes.
Labour has pledged to scrap the newly introduced permitted development rights, given increasing concern over the re-use of office and industrial buildings as homes, while in March the government said it was reviewing the system in light of concerns.
Jenrick said at the event that his recent proposal to relax rules around the demolition and re-use of existing commercial buildings, using the "permission in principle" route, pointed the way to reform of the whole permitted development system (PD).
The new scheme, announced at the Conservative party conference, will give developers a right to receive permission in principle (PiP) to demolish and rebuild commercial buildings as homes. Under the PiP system, introduced during David Cameron's time in office, developers with permission in principle must receive "technical details consent" detailing exactly what the new scheme will be, before starting on site.
Responding to a question from BD, Jenrick said permitted development had "been a great force in bringing new properties on to the market", responsible for 30,000-50,000 new homes. However, he admitted that some have been "poor quality".
We have to set these two forces [beauty and PD] like particles in the hadron collider and hope that when they meet we can create something that works

Robert Jenrick
"That's what we are currently reviewing as a department, to see if we can learn lessons from that and ensure the minority doesn't damage the freedom for people to use those rights more broadly.
"The new permitted development I have created – which is demolition to new build – is permitted development in principle and that's perhaps the way forward.
"[It] gives people the freedom to know they can purchase and demolish property such as a derelict 60s office building – but they will still have to work with the local authority to determine what is the height, facade, environmental standards, space standards within homes that are going to be built.
"So you have freedom and certainty for developers married with quality of design and environmental standards. And that I think is going to be the approach that I will be taking as secretary of state."
Jenrick admitted that the effect of the expansion of permitted development and the government's current focus on beauty in residential developments "may seem at times contradictory", but that reform of permitted development, rather than scrapping it altogether, was the way to marry the two forces.
"We have to set these two forces [beauty and PD] like particles in the hadron collider and hope that when they meet we can create something that works."
A study by the RICS last year found that the extension of permitted development rights had resulted in a £50m loss to local authorities in terms of planning contributions and affordable housing, and resulted in smaller, lower-quality homes, with a third not meeting national space standards. The study said: "Comparison with residential units that were permitted under the full planning process showed permitted development residential quality was significantly worse."
This summer Watford council lost an appeal against the conversion of an industrial building under permitted development in which a number of flats had no windows, with the appeal inspector ruling he had no powers to prevent it under the system.