Inquiry shown emails from civil servants, as further details emerge of insulation giant's efforts to convince industry K15 was safe for high-rises
Leading insulation manufacturer Kingspan spent a second week in the spotlight at the public inquiry probing the background to the Grenfell Tower fire, which claimed 72 lives in 2017.

Current and former staff at the firm gave more evidence about the efforts they went to in order to convince the construction industry their Kooltherm K15 phenolic insulation was safe to use on buildings above 18m – despite a lack of genuine test data to evidence those claims.
Last week the inquiry heard that Kingspan relied on 2005 fire-test data for a different version of K15 to support its marketing. This week it emerged that later fire-test results were secured using a "trial" version of the product that was also different to the version actually being sold to the construction industry.
It also emerged that government officials responsible for fire safety in buildings became aware of the use of combustible insulation being used as part of cladding systems on high-rise blocks as far back as 2014, with K15 identified as the principal product.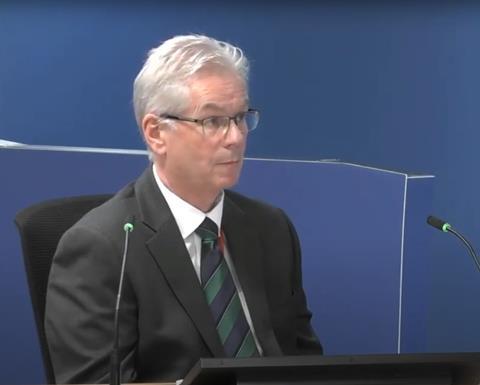 Kooltherm K15 was never specified for use on Grenfell Tower, but contractors responsible for the west London block's ill-fated upgrade installed quantities of the product when they could not obtain Celotex RS5000 insultation – which was also combustible and should not have been used.
Kingspan technical manager Philip Heath continued giving evidence to the Grenfell Tower Inquiry on Monday. He was presented with a selection of brash and expletive-laden emails he wrote when construction firms raised safety queries about K15.
Heath, who still works for the firm, also conceded that "with hindsight" Kingspan should have withdrawn K15 from the market as a product suitable for use on buildings above 18m after a revised version of the product dramatically failed a 2007 Building Research Establishment fire test. Instead, the so-called "new technology" K15 continued to be marketed with the support of a fire test obtained using the "old technology" version.
In October this year, Kingspan withdrew three BS8414 test certificates relating to K15 on the grounds that they were not reflective of the version of the product that had been marketed since 2006. However the company website still describes K15 as "suitable for use behind rainscreen cladding systems and masonry façades".
We find it incredible you have any comfort in proposing K15 on this project, or in fact any other over 18m. This does bring your corporate responsibility into question

Email from Astec to Kingspan
Among the email rants Heath was presented with was an internal communication from 2008 in which he said facades consultant Wintech could "go f'#ck [sic] themselves" after the specialist advised contractor Bowmer & Kirkland that K15 was not suitable for use on high-rise buildings.
In another email, forwarded to a friend, Heath suggested Bowmer & Kirkland was "getting me confused with someone who gives a dam [sic]".
Heath accepted that the emails were "totally unprofessional" but insisted they were born out of frustration that "came out on a Friday" rather a reflection of a culture within Kingspan at the time.
"I think we did take life safety seriously," he said. "We provided Wintech with the data we had for them to make the appropriate analysis."
On Tuesday, the inquiry heard that Kingspan had sought to reassure construction industry clients that K15 was appropriate to use on high-rise buildings with fire-test results obtained in 2014 with a "trial product" that was not the same as the actual K15 being sold by the firm. The trial version contained a new blowing agent to form the cellular structure of the insulation.
Former Kingspan technical director Dr Malcolm Rochefort accepted that he was aware of the situation.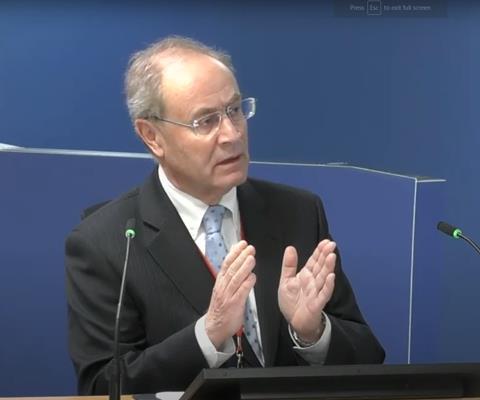 Inquiry barrister Kate Grange QC asked Rochefort how he had been comfortable relying on test data that related to a trial product.
Rochefort replied: "I think that I assumed, maybe wrongly, that they're talking about a new product [that] would be produced based on this blowing agent configuration."
Under further questioning, Rochefort said he had been relying on a 2009 certificate supporting K15 from Local Authority Building Control. But Grange noted that by that time the LABC certificate had "long expired" and that Rochefort couldn't have been relying on it.
Rochefort admitted: "Not if it was expired I couldn't be, no."
The hearing was shown an email chain from inspection and warranty organisation the National House Building Council, which called the LABC certificate "garbage".
Tony Millichap, a former technical head at Kingspan, gave evidence to the inquiry on Wednesday. He insisted he was not aware that K15 was not safe to use on tall buildings when he worked at the firm, between 2010 and 2015.
But Millichap also said the difference between the "old technology" and "new technology" versions of K15 had been "lost" on him.
"I was aware of old technology being used in the 2005 test," he admitted. "What I didn't appreciate was that it didn't represent, or wasn't representative of, the product that was being sold laterally when I was in the role."
Asked by inquiry barrister Grange if he had ever asked someone to explain to him what the difference between the two products was, Millichap replied: "Not specifically."
The session was also presented with email chains detailing concerns about the safety of K15 from construction contractors Astec Projects and Lakesmere.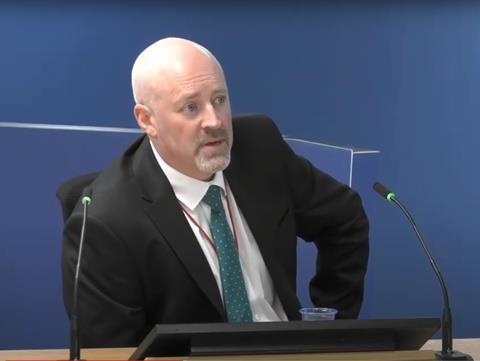 Astec complained that Kingspan had reassured it that K15 insulation could be used on a luxury 15-storey development in central London called Hampton House when the firm knew it was the BRE's view "that the use of K15 should not be specified on the basis of those test results".
The email continued: "We find it incredible you have any comfort in proposing K15 on this project, or in fact any other over 18m. This does bring your corporate responsibility into question."
Millichap admitted that the points raised in the email were "valid" but added: "They've stated themselves in the email that they are the envelope contractor and that it is their responsibility."
Astec Projects, which had a turnover of £45m, went into administration in 2014 with the loss of 85 jobs.
Wednesday's session also heard that Kingspan issued cladding contractor Lakesmere with a £20,000 credit note after it discovered the K15 installed on its First Street North project in Manchester did not comply with building regulations. The insulation was stripped off and replaced with mineral wool.
Lakesmere went into administration in November 2017 with the loss of 109 jobs.
Millichap said in his witness statement that it "was not Kingspan's responsibility to determine compliance". He added that clients would sometimes raise concerns but these were "misplaced: they were trying to lay responsibility for compliance with Kingspan which was not appropriate".
Thursday's hearing was shown evidence that senior officials in the Department for Communities and Local Government (DCLG) were aware of concerns about combustible insulation being used on high-rise buildings' façade systems three years before the Grenfell fire.
The detail came in a 2014 email exchange between Brian Martin, policy lead for building fire-safety at DCLG – the forerunner to the Ministry of Housing, Communities and Local Government – and Neil Smith and Steve Evans at NHBC.
Martin said he had been "talking to a few folk about fire safety and facades recently" and was hearing anecdotal evidence that several buildings well over 18m in height had been constructed with PIR (polyisocyanurate) insulation as part of their cladding systems.
"Apparently people are under the impression that PIR is a material of limited combustibility (which it isn't)," he wrote.
"Allegedly, many of these buildings are blocks of flats. I've no idea how true these allegations are but they come from relatively reliable sources."
Martin said his email should be treated as "a friendly warning" that NHBC "might want to double check with your inspectors and plan checkers that they are on top of this".
Evans, a senior technical manager at NHBC, responded to Martin confirming that the organisation was aware of the concerns and had been in discussion with the construction industry on the topic for some time.
He said the issue related directly to Kingspan Kooltherm K15 and that "confusion has arisen" from the firm's assertions that the product was suitable for use on buildings above 18m in height despite being "made from a generic type of polyurethane foam which is, by nature, combustible".
Evans said NHBC was in talks with Kingspan over the issue and awaiting the result of further tests on K15 to determine its suitability with different cladding systems.
"There is no reason to suspect that buildings which have been built with Kingspan K15 are at risk at this time, it is just the fact that the testing carried out to date does not bear this out," Evans wrote.
"Kingspan are confident that the testing currently under way will prove the suitability of the material for use over 18m.
"If they are not able to do this, we will begin the process of informing industry that the product is no longer suitable for use in facades over 18m as well as informing other stakeholders such as BCA and the Fire and Rescue Service, although both parties are already aware of our on-going discussions."
In early 2015 NHBC said it would start the process of alerting stakeholders about its concerns, but Kingspan's lawyers responded with the demand for a "sensible period in which to demonstrate compliance" against the threat of legal action under the Defamation Act 2013.
Kingspan's former technical head Millichap told Thursday's session the firm understood the concerns that NHBC had been raising but had been trying to "work towards" satisfying them.
The inquiry continues.