The trial insulation product tested was not what was being sold on the market, Grenfell Inquiry hears
Kingspan used the results of a fire test of a trial product to reassure contractors that a combustible insulation product was safe to use on high-rise buildings, the Grenfell inquiry has heard.
The insulation manufacturer conducted tests of a trial product in 2014 after a fire consultancy had threatened to expose the firm's K15 insulation as not safe to use on buildings above 18m.
A product containing a different chemical composition to K15, including a new blowing agent, passed a fire test in July 2014, but the results of this test were used by Kingspan staff as evidence that K15 was safe for high-rise projects.
Tuesday's hearing was told how the firm had been "turning around in 48 hours" bespoke letters of assurance to clients about K15, which included cladding contractors Prater and Lakesmere.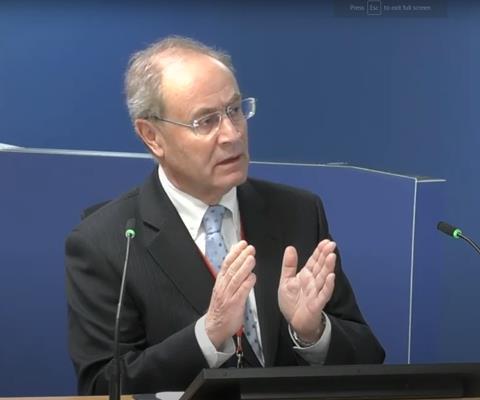 The inquiry was shown an internal email sent by former Kingspan technical product manager Ivor Meredith in August 2014 in which he said: "We have issued a couple of standard letters to the larger contractors (Praters, Lakesmere etc) and confirming our good news confirming pending reports and a more general letter confirming test success."
The email added: "These are being used by technical and sales for job specific queries which we are targeting handling within 48 hours of receipt."
Inquiry barrister Kate Grange QC asked former Kingspan technical director Dr Malcolm Rochefort: "You and Mr Meredith knew at the time that the July 2014 test had been carried out on a trial product, but that was not on the K15 which was being sold by Kingspan and actually used on projects, was it?" Rochefort admitted that it was not.
Grange then asked: "But you were the technical director at this time, and you can see that reliance is being placed on that test success, which was on a trial product. Can you explain how you were comfortable with that?"
Rochefort replied: "I think that I assumed, maybe wrongly, that they're talking about a new product [that] would be produced based on this blowing agent configuration."
Grange pressed Rochefort on how he could have felt comfortable with Kingspan staff replying to technical queries within 48 hours recommending K15 when he "knew that the only success you had had at that time was on a trial product" and not the K15 being sold.
Rochefort replied that he had been relying on a 2009 certificate from Local Authority Building Control (LABC).
But Grange pointed out that by this point the LABC certificate had "long expired".
She asked: "So you couldn't be relying on that could you?" Rochefort admitted: "Not if it was expired I couldn't be, no."
The inquiry was also shown a draft email written by Rochefort which appeared to claim that a March 2014 test carried out by the Building Research Establishment (BRE) had passed, when it had in fact failed.
The email, addressed to facade engineering consultant Wintech, said that a Trespa 18mm cladding system had "met the criteria for approval" under BR135, a fire safety standard.
"You knew that that wasn't the position the BRE had taken, didn't you?" Grange asked. Rochefort replied: "Someone suggested that wording to me."
He added that he was not sure if the email had ever been sent, and there is no evidence that it was.
The inquiry heard yesterday how Wintech had emailed Philip Heath, a technical manager at Kingspan, asking for evidence that K15 was safe to be used on buildings above 18m.
Heath had then sent an internal email to colleagues which said: "Wintech can go f'#ck themselves, and if they are not careful we'll sue the a'#se of them [sic]."
The inquiry has already heard how K15 was being sold on the market for buildings above 18m for over 14 years based on a 2005 fire test report for a chemically different version of the product.
This "old technology K15" was changed to a "new technology K15" in 2006 which the inquiry heard yesterday was "quicker and more cost-effective to produce".
When a fire test of the newer K15 was carried out in December 2007 it turned the test rig into a "raging inferno" and had to be extinguished because of fears that it would endanger the testing laboratory. However, Kingspan continued selling the product using the 2005 test report and only withdrew it from the market in October of this year.
K15 was never specified for use as part of the refurbishment of Grenfell Tower, but after the fire which killed 72 people it was found to have been installed behind the new aluminium composite material cladding on some parts of the block.
The inquiry continues.