Grenfell Inquiry barrister accuses firm's technical director of exploiting weakness in legislation to make sales
The Grenfell Inquiry has been shown a series of private messages between two of Kingspan's technical team in which they joked about telling lies about their products' safety.
The instant message exchange between Peter Moss and Arron Chalmers was read out to their boss, Adrian Pargeter who expressed shock and denied it gave a fair insight into the culture of his department at the time.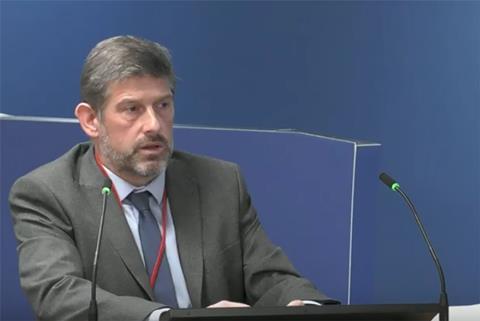 The exchange appears to begin with Moss asking Chalmers about the fire performance of their products in order to advise a client.
Chalmers replies and then adds: "All in the facing my friend" followed by a smiley face and an explanation that some of the insulation products did not get a Class 0 combustibility certification when tested as a whole product.
Moss asks in a series of messages: "WHAT. We lied? Honest opinion now."
Chalmers responds, also in a series of messages: "Tested K15 as a whole – got Class 1. Wheyy. Lol."
Moss replies: "Whey. Shit product. Scrap it."
Chalmers' response is: "But England/Wales is worded in such a way that it 'implies' facing can give you Class 0. Scotland is written better, therefore our product is not Class 0 in Scotland haha. But don't tell anyone that."
After running through some of the claims in Kingspan's marketing literature Chalmers says: "Yeah all lies mate" and later, "Alls [sic] we do is lie in here."
Kingspan's Kooltherm K15 insulation, which was used on parts of Grenfell Tower despite not having been specified, achieved a Class 0 test when just its foil facer was subjected to flame tests.
The inquiry was told that Approved Document B of England and Wales' Building Regulations differ from Scotland's rules, which allowed Kingspan to choose to interpret them in such as way that they could market K15 as being Class 0 based on the test just its facer passed.

Pargeter was asked about the messages by inquiry barrister Richard Millet QC. He said: "You had been in charge of this department for some two and a half years by this point; how do you account for this attitude to occur? And it's not just the attitude or the tone of the discussions; people I think would find that less shocking than actually what they were talking about. How can you explain that?"
Pargeter said: "I can't, because that's not a culture that I endorse or foster at all."
Millett asked: "Do you accept that a culture of lying about the fire safety of products is particularly serious, because you're taking risks with people's lives and the safety of their homes?"
Pargeter responded: "Yeah, I don't believe that we are lying. I think that they've … I can't explain why they're describing it as such in that way between the two of them."
Pargeter was then asked about some internal Kingspan emails from 2016 – before the Grenfell Fire that killed 72 people – that he was copied into, including one from Chalmers quoting a specialist from fire consultant Exova which was advising Kingspan on the certification of their products.
Chalmers wrote to his colleagues: "With regards to the Class 0/low risk – he believes that we should test the complete product before we can claim anything as the foam behind the foil is likely to have a bearing on the facing performance."
Millett said to Pargeter: "Now, there it is in black and white from Frans Paap, a fire engineer at Exova, that for classification to either [be] Class 0 or low risk, the complete composite product should be tested, and he gives a reason: the foam behind the foil has a bearing on the facer performance. At the time, did that not strike you as the correct advice, and obviously so?"
Pargeter replied: "No, I think because higher up he said it's a valid interpretation, but not one that he would take; but he thought it was an interpretation."
He pointed to an email from a colleague, Dan Ball, who spoke to Paap and wrote: "We are okay claiming Class 0 from foil as it can be interpreted like that. He's just got to take the fire engineer perspective and cover himself and give the conservative point of view, ideal situation, product as placed on market, but we can interpret Class 0 from the face as shown in ADB. It's just we are doing what we attacked competitors for…"
Millett asked Pargeter: "Do you accept, leaving aside the tenability of the interpretation, that Kingspan and you yourself personally were prepared to sell K15 on the basis of a Class 0 representation based on a view of Approved Document B that was not conservative and not ideal?"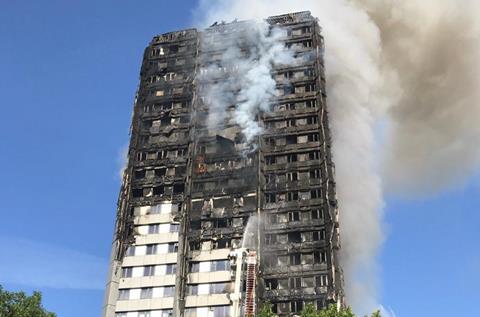 Pargeter said: "Yes."
Millett continued: "If it was not conservative and not ideal, it would be, it would follow, less safe." Pargeter said: "Not necessarily, but I'll take the point."
He explained that it did not necessarily follow because a small-scale test on a product would not tell you how it would respond to a real-life life.
He said the reason Kingspan did not adopt the safer, more conservative approach was because "we were happy with the interpretation of ADB".
Millett asked: "Does this exchange tell us, Mr Pargeter, that you were prepared to exploit a perceived ambiguity or literal interpretation in Approved Document B in order to make sales?"
Pargeter said: "I wouldn't say exploit, I would say interpret."
Millett asked: "All right. I'll try the question again with your preferred word: does this exchange tell us that you were prepared to interpret ADB in a particular way in order to make sales?"
Pargeter said: "Yes, that would be true."
Millett: "And that particular way was less safe, less conservative and not ideal?"
Pargeter: "Potentially, yes."
Millett: "Even though that interpretation might place lives at greater risk than adopting the interpretation or the approach that Frans Paap was advising?"
Pargeter: "I don't think it does place lives at greater risk."
Elsewhere in Tuesday's questioning he denied Kingspan was "playing fast and loose with life safety regulation".
A little later Millett asked him: "Did it not occur to you at the time, even on what little you were told by Dan Ball, that here was Kingspan attacking its competitors in the past for testing the foil facer and presenting the product as Class 0, when you were now proposing to turn 180 degrees and do the same?" Pargeter replied: "It didn't, no."
Millett asked: "Was there any point during this email run where you thought you should end the conversation, reprimand staff who had suggested misleading marketing material and marketing K15 with fire standards that the product couldn't achieve, arrange an immediate team meeting and educate people, if not discipline them? Did that not occur to you?"
Pargeter replied: "No, it didn't."
The inquiry continues.