Grenfell Inquiry QC grills technical director over failure to withdraw safety certificate for 14 years
Kingspan's technical director has denied the firm acted in a "dishonest and disreputable way" when it continued to sell Kooltherm K15 insulation for 14 years using a safety test certificate for a previous version of the product.
Adrian Pargeter also rejected an accusation by Grenfell Inquiry barrister Richard Millett QC that by not withdrawing the test sooner they were "placing the safety of occupants of buildings with K15 on them at serious risk".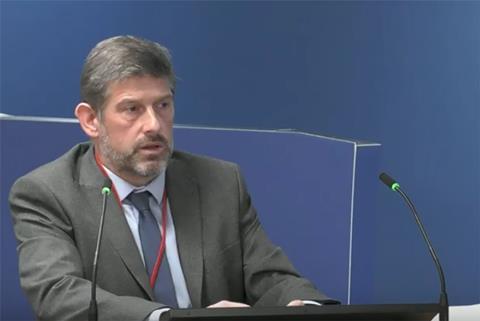 Pargeter, director of technical, marketing and regulatory affairs who joined in 2009, said: "No, I don't accept that at all."
He told the inquiry on Monday that he had been told by a colleague, Gwyn Davies, in 2016 – before the fire that killed 72 people the following year – that the certificate with which K15 was sold for use above 18m related to "old technology K15", essentially a different product.
Pargeter said in one of his witness statements: "I was not concerned about the issue at this time and did not investigate it further given that [Kingspan] had been relying on the test for years and I was not aware of any indication that the change had any impact on the product's fire performance."
The test Kingspan relied on to market K15 for buildings over 18m was carried out in 2005, on an "old technology" version of K15.
The inquiry has already heard that subsequent tests in 2014, only one of which it passed, were conducted on a trial product which was chemically different to K15. K15 was not specified for the Grenfell Tower refurbishment, which mostly used Celotex insulation, but after 2017's fire it was found to have been installed behind the ACM cladding on some parts of the block.
Millett questioned Pargeter about why he only wrote to the Building Research Establishment (BRE) on 23 October of this year to ask for the test to be withdrawn.
Millett quoted from Pargeter's letter to BRE director of science Debbie Smith: "We are writing to you with reference to a number of BS8414 test reports and corresponding classification reports featuring our product Kooltherm K15 … which Kingspan will formally be withdrawing from circulation. As you may be aware, Kingspan is currently involved as a core participant in the Grenfell Tower Public Inquiry.
"As part of our cooperation with requests for information from the inquiry we have undertaken a comprehensive review of all past and current test data which relates to K15, including BS8414 tests. Through our review we have now concluded that test carried out in 2005 and 2014 featured a product that was not sufficiently representative of the product currently sold into the marketplace."
Millett questioned him about the use of the phrase "we have now concluded", given they had actually reached that conclusion 19 months previously.
Pargeter said they wanted to wait until they had had the results back from a new replica test that they commissioned in June 2019. That report arrived in February 2020.
Asked why he left it nine months before writing to the BRE in October, Pargeter said: "I think because we just – we were just so busy, we just didn't really think about writing out to the fire engineers again until about August/September, and then we started to put this letter together then. But I can't explain the gap. It was just busy answering questions to the inquiry, obviously, and running the business during covid time, so it was an oversight."
Millett suggested it was a grave oversight. Pargeter responded: "I don't think it's a grave one. I think, you know, in hindsight I'd like to have done it earlier, I can see that."
Millett continued: "Well, I'm sorry to pursue this, but withdrawing a test report – three test reports, but particularly the 2005 test report – which had been the lynchpin, the sheet anchor of your entire marketing for K15 over 18 metres for almost 15 years by this point, given that fact, why was it not of the utmost urgency to make sure that once you at last had the replica test report in your hands in February 2020, you didn't immediately write to the BRE and withdraw it?"
Pargeter said: "I think it – like I say, we could have done it earlier, maybe we should have done it earlier, but it didn't change any of the outcomes."
A little later in the exchange Millett asked him: "Do you accept that keeping a BS8414-1 classification report and test report out there in circulation for any longer than was reasonably necessary was an extremely risky and dangerous thing to do?"
Pargeter replied: "No, I don't think it's – I don't think it was dangerous. I think, like I say, we've got the confidence in the product and we don't think there was, you know, a vast amount of difference between them. So I don't think it was dangerous in that point of view, but I think, you know, we could have done it earlier than October."
Asked whether Kingspan had only withdrawn the product because of the scrutiny it was about to face at the inquiry, Pargeter said they thought it prudent, "out of an abundance of caution" and that it hadn't been his view that the test was "insufficiently representative" in terms of the fire performance of the post-2006 version of K15.
The inquiry heard last month that "new technology" K15 underwent its first major fire test in December 2007 and became a "raging inferno" within 17 minutes of the test starting.
The inquiry continues.