Bruce Sounes is second Studio E staffer to take the inquiry stand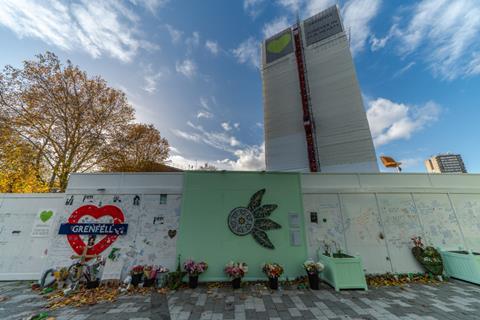 Studio E's project lead for the design phase of the Grenfell Tower refurbishment had no professional experience of working with the type of cladding eventually fitted to the tower, the inquiry into the tragedy has heard.
Associate Bruce Sounes told Martin Moore-Bick's panel that his only encounter with aluminium composite material cladding had been when he was a student.
However he said that his main concern when Studio E was appointed to the tower's refurbishment was working on a major project where residents remained in situ, rather than the over-cladding aspect of the project.
"I didn't think the overcladding itself was the issue, I really thought it was the residents in place which was going to pose the biggest challenge," Sounes said.
Quizzed about his formal witness statement submitted to the inquiry panel in 2018, which stated that he had "no experience with PE composites", the architect – who completed his part I and part II equivalents in South Africa – qualified the detail on Monday.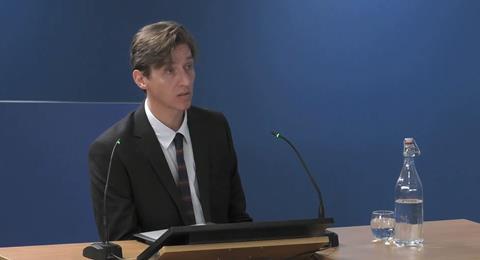 "In my working experience, I had not come across aluminium composite material," he said. "I had come across it as a student."
Despite observing at the time that Studio E would need "rapid CPD" in relation to the Grenfell appointment, Sounes told the hearing that he did not believe he was professionally obliged to undertake continuous professional development.
"I thought the requirements for CPD fell to RIBA members," he said. "You might correct me on that, but that was my understanding."
Sounes said he had attended some lunchtime seminars organised by Studio E, but could not detail any other courses or seminars that could be described as CPD.
He told the inquiry that Studio E had expected the Grenfell Tower project to go forward as a design-and-build contract that would transfer all design responsibility on to the main contractor.
"We certainly would've expected a specialist subcontractor to be engaged," he said.
Sounes said that for the first year, Studio E's Grenfell work had been "primarily" a planning application.
"I felt that with our involvement on KALC and other projects, it was something well within our – and my – ability to take on," he said.
"Negotiating the detail of the plans and the appearance of the building and making a submission; coordinating the consultants. Those were all things that I felt were within my experience and ability."
Yesterday the founder of Studio E was the first witness to give evidence after the hiatus. Andrzej Kuszell told the panel that his firm had no track record of delivering high-rise residential projects or of re-cladding such buildings. He acknowledged that this lack of experience would have made it unlikely for the firm to be appointed had the work been put through the Ojeu tendering process.
The inquiry continues.