Architect accepts firm would not have been able to demonstrate track record of high-rise and over-cladding work – but argues this is not uncommon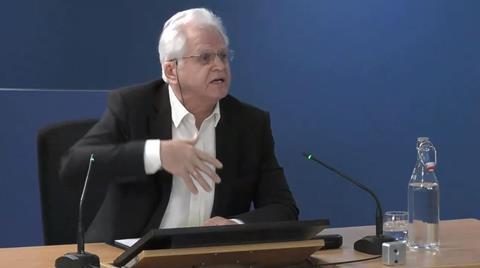 The founder of Studio E Architects has told the Grenfell Tower Inquiry panel that his firm would probably not have been appointed to refurbish the 1970s block if there had been a competitive process for the work.
Andrzej Kuszell told the panel probing the causes of the fire that claimed 72 lives in June 2017 that his firm had no track record of delivering high-rise residential projects or of re-cladding such buildings. He acknowledged that the firm's lack of experience would have made it unlikely for the firm to be appointed had the work been put through the Ojeu tendering process.
But he insisted that the firm – which was appointed to the west London job because it was working on the adjacent Kensington Academy and Leisure Centre – had a track record of delivering high-quality schemes.
"I'm the founder of the practice, and there was a time when every project that we did was a new project," he said.
Kuszell was the first person to give evidence after the inquiry resumed yesterday following a month's hiatus. New attorney general Suella Braverman granted a request by a number of witnesses, including Studio E, for an undertaking that nothing they say in the inquiry will be used in any prosecution against them, "thereby giving them complete freedom to tell the truth without concern for the future".
Less than 10 minutes in to yesterday's proceedings the inquiry was briefly halted by a disruption, with protestors claiming this was a "disgrace" and amounted to a "cover-up".
The implication that we were not capable of doing the project is false

Andrzej Kuszell
Kuszell went on to tell the inquiry: "There was our first extension to a school; our first small sports facility. We did all of our proposals to a very high standard even though they were our first, receiving accolades and a lot of recognition.
"So the issue of whether a project poses new challenges… the implication that we were not capable of doing the project is false.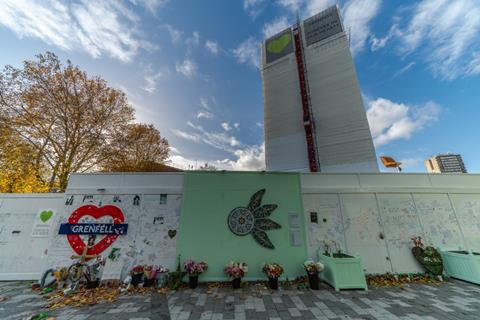 "We had been dealing with projects of quite some sophistication and complexity as firsts – leisure centres are not at all straightforward projects, and we did them all to a very high standard."
Asked by Grenfell Tower Inquiry leading counsel Richard Millett whether Studio E's lack of experience with high-rise residential and high-rise re-cladding work would have been a barrier in a competitive procurement process, Kuszell agreed that it would.
"Knowing the way procurement works with local authorities, I think you're right," Kuszell said.
I would rank him in the top 5% of people I've worked with

Andrzej Kuszell on his part II colleague Neil Crawford
The architect – who was not himself directly overseeing the tower-block refurbishment – had earlier told the hearing that he believed Studio E had the ability to deliver the scheme, even though he accepted that project architect Bruce Sounes had warned the firm would need to do "rapid CPD" for the project when it was first appointed.
"I believed that we had the processes and experience with complex buildings to be able to undertake this commission," he said.
"It wasn't just my belief, it was the belief of all senior members of my practice.
"But it was clear that there was a need for CPD and research around the project to establish what the different issues around this project would be."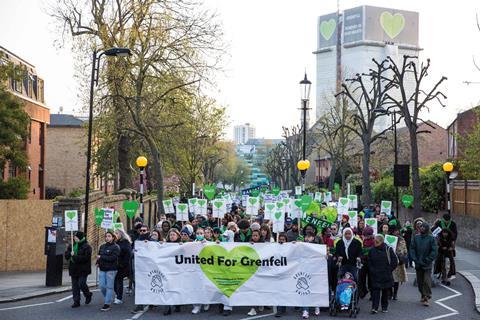 Studio E was appointed to the Grenfell Tower project by Kensington and Chelsea Tenant Management Organisation (KCTMO) on a contract priced at a level to avoid European Union procurement rules for a competitive tender process. At the time the cap was £174,000. The firm's expected novation to a contractor was to make up for the balance of consultants' fees.
Asked whether the £174,000 was sufficient, Kuszell said he had thought it would be – however he admitted there were concerns.
"I think that we were worried that the Ojeu limit that would be imposed on KCTMO could result in us having to do work that the fees wouldn't cover," he said.
Last month, legal representatives for one group of bereaved families, survivors and residents – so-called BSRs – said Studio E had appointed an inexperienced architect to lead on the project and then left him to "sink on his own".
Kuszell said the part II-qualified architect, Neil Crawford, had a wealth of experience and had previously been an associate at Foster & Partners for a number of years.
"We were jolly lucky to get him," Kuszell said. "He was an extremely competent individual and was immediately recognised as one of our better and more experienced people in the practice.
"He was made an associate fairly quickly, and I had absolutely no doubt that he had the ability to make a significant contribution to the project.
"I don't think he had experience of overcladding of an existing building, but he definitely had high-rise design experience on commercial and residential-type buildings."
Kuszell added: "The fact that he wasn't qualified part III doesn't reflect on his ability and skill. I would rank him in the top 5% of people I've worked with."
The inquiry continues.