Studio E accused of leaving inexperienced architect 'to sink'
Grenfell Tower recladding project architect Neil Crawford has been accused of signing off design drawings from the façade contractor that did not comply with Building Regulations.
The claim emerged in a written opening submission to the Grenfell Tower Inquiry on behalf of some of the bereaved survivors and residents.
The statement also accused his employer, Studio E, of leaving the inexperienced staffer "to sink on his own" as the project wore on.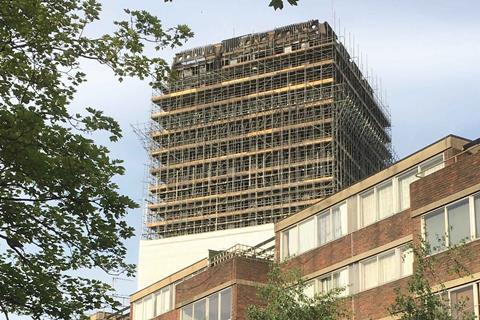 The statement – which Studio E is expected to dispute as the 18-month inquiry progresses – said that from about August 2014, lead architect Bruce Sounes "seems to have stepped back from day to day involvement, leaving the project in the hands of Crawford".
It added: "Crawford was not a fully qualified architect and lacked the necessary experience, but was left to sink on his own.
"He seems, judging from his witness statement, to have taken the view that Studio E now had a very limited design role, but this was not what their novation provided."
It said facades contractor Harley – in the person of self-employed designer Kevin Lamb – began to prepare detailed design drawings but did not appear to consider all aspects of the cladding design, such as the Celotex specification, as they were required to.
"Their design should have taken into account, and complied with, a full fire safety strategy, but there was none such available," said the residents' statement.
It goes into granular detail about what it claims was the sequence of events leading to decisions about the façade design and materials that were to prove catastrophic. On June 14, 2017, fire spread rapidly up the façade of the 24-storey block of flats, resulting in the death of 72 people.
The statement said: "As the experts have explained in great detail, there had been no proper attempt to design appropriate cavity barriers or to accommodate the requirements of the Building Regulations.
"In due course, [façade contractor] Harley prepared non-compliant design drawings, and Crawford on behalf of Studio E purported to approve them, despite this non-compliance, the fact that they required more than one signature and his own lack of qualification."
It says Paul Hyett, the HKS director who is the inquiry's architecture expert, is right to be very critical of "this sorry saga". Hyett's report has not yet been made public but in Studio E's own opening submission this week, the practice said it was "materially wrong and technically or factually inaccurate in key regards".
The residents' statement said: "Procurement goes to the heart of what went wrong. RBKC and KCTMO selected an architectural practice which lacked the requisite experience of overcladding tower blocks, failed to appoint a fire consultant with an obligation to provide a comprehensive fire strategy for the refurbishment, chose Rydon because theirs was the cheapest bid, even though it was unrealistically low, and failed to clarify or monitor the roles of Exova or Studio E post-novation."
It said "no single element of the cladding system complied with the Building Regulations" and laid responsibility for the dangerous cladding system "with many parties, including Studio E, Harley, Arconic/Alcoa, Celotex, Exova, Rydon, BBA and KCTMO/RBKC".
It said: "The background history of decision making, budgetary considerations and planning is of crucial importance to what followed. RBKC and KCTMO were obsessed with cost and aesthetics, not fire safety, and this explains much of what ensued."
It quoted from a statement made by [Neil] Crawford of Studio E: "Taking the Building Regulations approvals process for the cladding as an example, as explained in more detail above, as part of my coordinating role I relied on the expertise of Rydon, a main contractor experienced in refurbishing high-rise residential blocks, a specialist subcontractor, Harley, who I understand stated that over-cladding tower blocks was very much what it does, Exova, which markets itself as a world leader in the provision of fire safety services and building control, which has specific competencies in verifying that designs comply with Building Regulations, which, I understand from correspondence received during the project, in turn relied on the LFB."
The statement also detailed what it claims are the events that led to the decision to switch the cladding for a cheaper version, to help close a £3m costs gap.
"KCTMO were pressing for an explanation for this gulf, saying that our objective needs to be to bring this project back within budget," said the residents' statement.
"The search was then on for substantial savings, not least on the external façade. Sounes observed, 'that the obvious targets for savings are: …Change Zinc cladding material to something cheaper. I think Planning will need a sweetener to swallow this, perhaps copper, ceramic, terracotta or more glass at low level, to which Artelia commented. Most of your list seems to be omissions or downgrading the spec as opposed to VE'."
Building control failings
Meanwhile, Kensington & Chelsea council has admitted that building control officers approved the completed refurbishment works at Grenfell Tower despite never receiving sufficient information to get a complete picture of what was being built.
The council issued an unreserved apology for the failings in its building control function, after it published evidence to the inquiry showing that it did not keep proper records of the project.
Construction work was allowed to begin without officials seeing plans, and they never issued a decision notice formally approving design drawings.
Despite all this, the council told the inquiry that its building control office issued a completion certificate on 7 July 2016. "It should not have done so," it added.
Phase 1 of the public inquiry into the Grenfell Tower fire in June 2017 found that the refurbishment, conducted in 2014, was not compliant with building regulations, and that the flammable cladding installed was a chief reason for the rapid spread of the fire.
The job of building control is to ensure that development plans and the carrying out of work meet the stipulations of building regulations.
The council said that its building control function did not have a formal procedure for tracking the progress of applications for building control approval. While it said that there was no requirement for it to have such a procedure, "the council accepts that building control should have had one and that, had one been in place, it would have reduced the likelihood of aspects of the application or the building control approval process being overlooked".
The council's evidence said that construction work commenced on 2 June 2014, but that the full plans application form was only submitted to building control by Studio E on 4 August 2014 – without drawings attached.
The first drawings submitted in support of the application were only emailed to building control on 29 September 2014.
The council said: "Those responsible for the submission of the application failed to provide building control with sufficient information presented in a structured, easily accessible format and in a timely fashion". It added that building control "bears some responsibility" for this failure.
The evidence then said building control "failed to issue a decision notice following receipt of the full plans application" and then "failed to ask for comprehensive details of the cladding system".
The council said the recordkeeping of its building control service had been so poor that it was only able to piece together its account of the project from documents disclosed by other members of the team, including architect Studio E, contractor Rydon, facade specialist Harley and fire consultant Exova.
The council is one of the few parties involved in the refurbishment to have admitted to any significant failures on its part.