Structure torn down nearly 400 years ago to be reinstated as gallery and event space
Proposals by heritage architect Acanthus Clews to rebuild a cloister at Exeter Cathedral which was demolished nearly 400 years ago have been given the green light.
The covered cloister, which was torn down during a period of religious strife in the 1640s during the English civil war, is set to become a gallery and event space.
The 12th century grade I-listed cathedral is now looking for a contractor with heritage experience to carry out the £2.3m construction job, which has been mostly funded by the National Lottery Heritage Fund.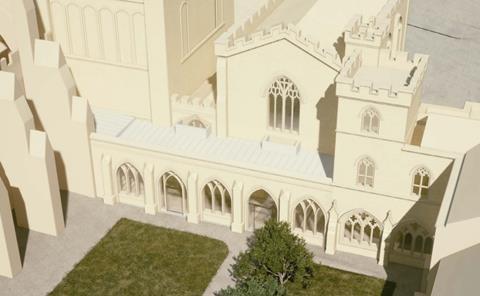 The scheme will also see an extension to a 19th century library building on the site designed by Victorian gothic revival architect John Loughborough Pearson, who designed the grade I-listed Truro Cathedral.
Both schemes were given planning approval by Exeter council just before Christmas without going to committee. Acanthus Clews director Camilla Finlay said the proposals had received overwhelming praise by both the council and the cathedral community.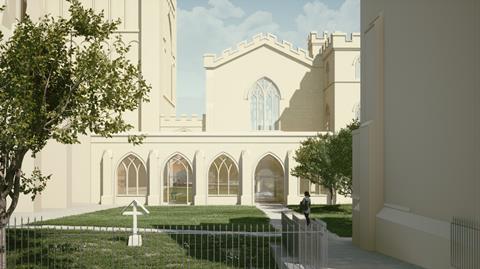 Similar masonry to the existing complex's Salcombe sandstone will be used, although the East Devon quarries where the stone was sourced by medieval masons over 900 years ago are long closed.
Finlay said staff at the practice were currently having a "lot of fun" touring quarries around the UK for similar types of stone.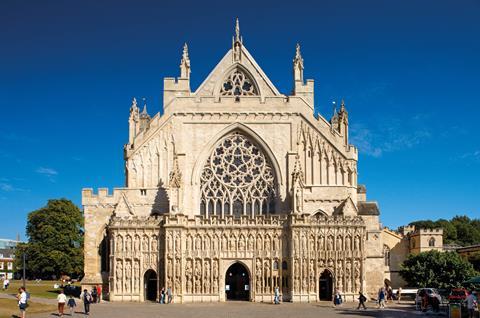 Construction of Exeter Cathedral began around 1110 and was complete by the end of the 15th century, although a church existed on the site during Anglo-Saxon times.
The present cathedral contains the world's longest uninterrupted stone vaulted ceiling, and one of England's earliest astronomical clocks, installed in the 15th century.