Gallery: Holland Park villa is one of only two grade I-listed post-war homes in UK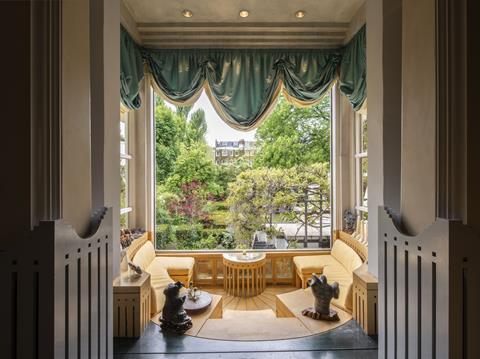 The house designed by the architectural historian Charles Jencks with some of the leading architects and artists of the second half of the 20th century will open to the public in September, it has been confirmed.
The Cosmic House in Holland Park is considered a post-modern masterpiece. It was the UK's only grade I-listed post-war home before John Outram's 1980s The New House at Wadhurst, East Sussex, was added to Historic England's register last year.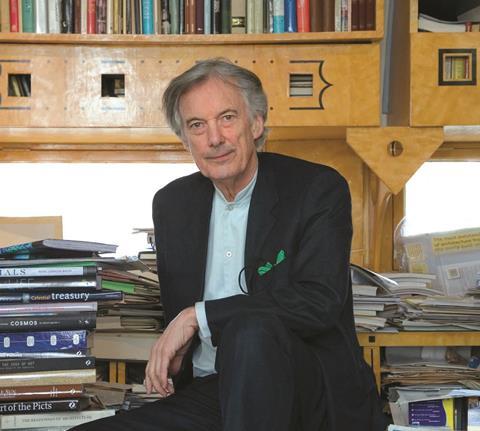 The conversion of the Victorian stucco villa into what was originally known as Thematic House, was a collaboration begun in 1978 by Jencks and his late wife Maggie Jencks, co-founders of the Maggie's cancer centres.
It has interiors by Michel Graves and other alterations by Terry Farrell, with further contributions from Piers Gough of CZWG, Eduardo Paolozzi, Allen Jones and others. It is full of witty symbolism, complex iconography and cosmic references.
The writer and designer Adam Nathaniel Furman described it as "one of the most important examples of post-modern design in the world".
He placed it alongside the Soane Museum in importance since it is "both the home of one of the most important architectural thinkers of the past 100 years", while also itself being a compendium of post-modernism.
Jencks submitted a planning application for its conversion into a museum in 2017 which was supported by Norman Foster, one of the many Maggie's architects whose work will be displayed in Cosmic House.
Foster wrote in his letter to Kensington & Chelsea council: "Dr Jencks has assembled a world archive of recent architecture in a single house – one that exemplifies, in its own architecture, the thoughts and works of different architects over 50 years."
Considered by many to be the spiritual home of post-modernist design, it hosted conversations with the leading architects and thinkers of the day. When it opens as a museum and archive it will host a programme of exhibitions talks and residencies.
Jencks, an architectural historian, landscape designer and cultural theorist, lived at the house with his children and second wife Louisa Lane Fox. He died there in 2019 aged 80.
His daughter, Lily Jencks, is co-designer of the new gallery at her family home and director of the Jencks Foundation. She said: "My parents designed the Cosmic House as a playful polemic. With the Jencks Foundation we hope it will continue to provoke the cultural conversation and provide a platform for those engaging with the broadest and deepest meaning in architecture, helping with the patient search for its cosmic context."
Architecture writer and critic Edwin Heathcote, who is chair of the steering group, said: "I was anointed 'Keeper of Meaning' by Charles Jencks. It is the most typically and wonderfully Jencksian job description.
"The Cosmic House is a manifesto of post-modernism; rich, kitsch and endlessly inventive. The Jencks Foundation aims to be for contemporary architectural and cultural discourse what the house was for its era: a place of conversation, thinking and meaning."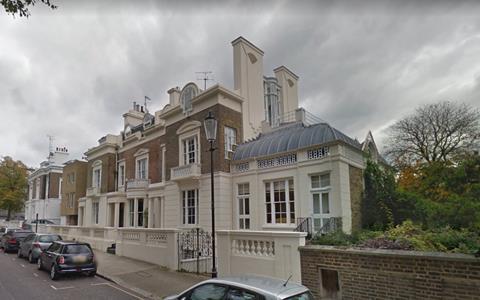 Eszter Steierhoffer, artistic director of the Jencks Foundation, hoped the house would become a new cultural hub for London. "Its public programme will revolve around thematic seasons inspired by the Jencks archive," she added. "It will foreground the hybrid connections between architecture and other disciplines and invite artists, designers and researchers to experiment with the post-modern."
The house will open to small groups on September 24.
Postscript
This story originally said Cosmic House was the only grade I-listed post-war house in the UK. That changed last year so the story has been corrected.