Twentieth Century Society says AWW plans are part of a wider threat to architectural heritage
Proposals to demolish an art deco-inspired 1930s department store in the West Country and replace it with a 92-home apartment building are being opposed by a range of heritage groups.
Architect AWW's plans for the Taunton branch of Debenhams were drawn up for developer Ropemaker Properties and would deliver ground-floor commercial space in addition to the new town-centre flats.
However campaign group the Twentieth Century Society argues that the building – built in 1938 and expanded in the 1960s in a way that complemented the original structure – should be retained and converted to deliver new homes instead.
The group said changing shopping trends coupled with the impact of the coronavirus pandemic had plunged the future of an increasing number of 20th-century department stores into doubt and was a matter of "real concern".
C20 Society caseworker Coco Whittaker said the organisation was working to record stores at risk and was encouraging the public to alert it to new applications.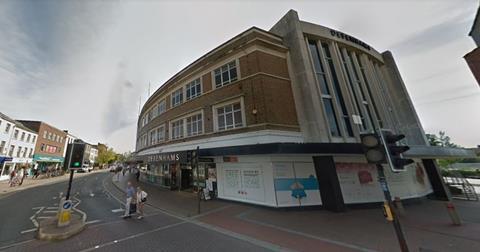 She said that in the nearer term the society was keen to stress the potential to repurpose the Taunton building, which was designed by architects George Baines and Son. Baines was also thought to be responsible for the design of the extension.
"We believe the existing building could be sympathetically converted for residential use and need not be demolished," Whittaker said.
"The store makes a great contribution to the streetscape and has an interesting history, being built in two phases."
The redevelopment proposals, which were lodged with West Somerset and Taunton council in December last year, are also being opposed by the Ancient Monuments Society and the Somerset Archaeological and Natural History Society. The local authority is targeting a determination date of March for the application.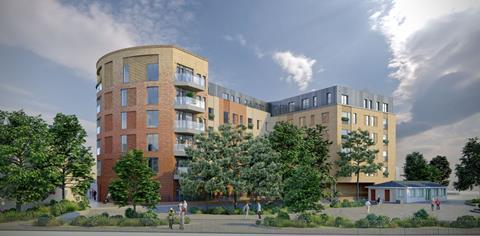 AWW's plans were drawn up before Debenhams went into administration last year. The design and access statement submitted to West Somerset and Taunton describes the move as a "contingency proposal", based on the premise that the building would be unlettable to another occupant in its current form.
"The design seeks to relate visually as a contemporary architectural interpretation of the surrounding context," AWW said.
"While that remains the visual intent, it also reflects the need to introduce a level of density and variety into the fabric of the town centre."
The practice said its plans were a "contemporary introduction" to the northern gateway of Taunton's historic town centre, and would add vibrancy as well as delivering new landscaped space that supported wildlife and improved links to the riverfront.