Scheme drawn up by Feilden Clegg Bradley with Grant Associates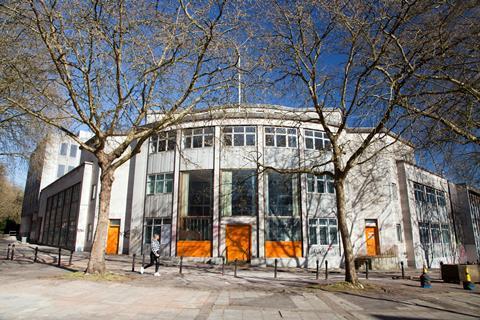 The Twentieth Century Society has hit out at proposals designed by Feilden Clegg Bradley Studios which would see the demolition of a trio of historic Bristol bank buildings.
Plans to demolish Bank of England House, Bank House and Norwich Union House in Bristol and erect three office buildings in their place, with shops, bars and restaurants at street level are being strongly opposed by the organisation.
It is particularly concerned about the loss of the former regional branch of the Bank of England and Bank House, which have been labelled as of "poor quality materials and design" and "derelict" in the planning application.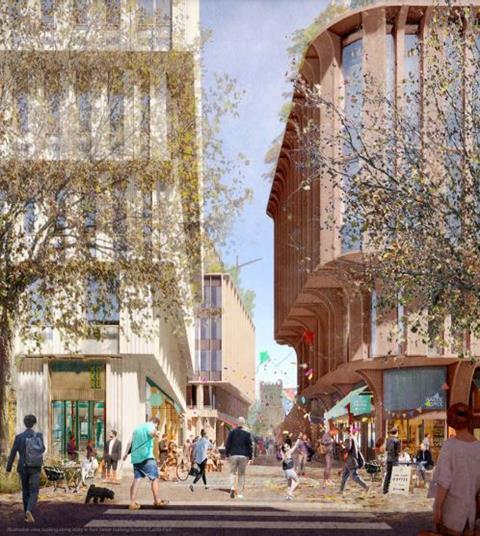 The society said it considered them to be non-designated heritage assets (NDHAs) and challenged the way they had been described.
The application, designed by FCBS and Grant Associates, has been submitted by SMLP Bristol GP Limited. The scheme, rising to nine storeys, would provide 30,000sq m of office space while improving biodiversity and reinstating some historic streets across the 1.2ha site, according to the planning application.
Coco Whittaker, C20 caseworker, said: "The bank is constructed from the finest materials, being clad in Portland Stone with polished granite and marble dressings and teak window frames. Its '60s interiors are richly detailed and wonderfully preserved.
"We are confident that the buildings on the site could be revitalised to be fantastic assets for the city. Demolishing the buildings would also result in the production of carbon emissions, which the council should be looking to avoid by encouraging their reuse."
The Bristol branch of the Bank of England was built in 1962-63, and extended in the 1970s, on a site heavily bombed in the Second World War.
The bank was designed by Easton Robertson Cusdin Preston and Smith and the contractors were Robert McAlpine and Sons.
Norwich Union House was designed around the same time by Kenneth Wakeford, Jarram and Harris.
While the bank was controversial when built and was critically reviewed by some in the contemporary architectural press, the society said it nonetheless considered it to be of "great historic interest" as one of few post-war branches of the Bank of England.
It also said that it was also associated with an important 20th-century architectural practice, and of value for its "high-quality materials and well-preserved interiors".
The Bristol bank's designer Sir Howard Morley Robertson was an important US-born architect active in Britain in the 20th century, who formed a practice with John Murray Easton in 1919.
Robertson served as principal at the Architectural Association (AA) school in 1926 and director of education there from 1929 to 1935, then as president twice. He was also RIBA vice-president from 1938 to 1940 and president from 1952 to 1954.
His best-known buildings include the exhibition hall for the Royal Horticultural Society in Pimlico that he co-designed with Easton and which is now grade II* listed.
His practice was also responsiblee for the Shell Centre in Waterloo, which has recently been redeveloped as part of a Squire & Partners masterplan.
The bank in Bristol has significance as Howard Robertson's last work; he died before it was completed in 1963.