Scheme will be built around the ruins of a grade II-listed church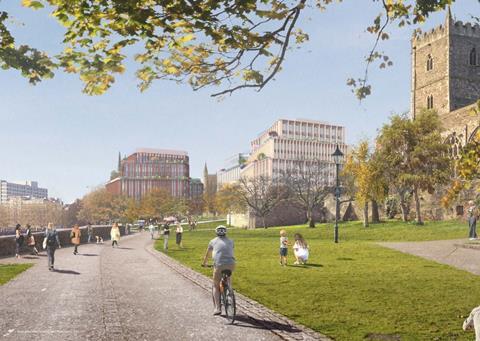 Feilden Clegg Bradley Studios has been given the green light for its proposals to flatten three brutalist buildings in Bristol and replace them with office blocks.
The controversial plans will see the 1960s Bank of England House, Bank House and Norwich Union demolished and replaced with 30,000sq m of office space surrounding the grade II-listed ruins of St Mary le Port church.
The proposals have provoked objections from campaigners, with the Twentieth Century Society saying in August it was "confident that the buildings on the site could be revitalised to be fantastic assets for the city".
FCBS, which has designed the scheme for developer MEPC in partnership with Bristol council, said it will "reconnect [the church] to the city centre, reinstate street patterns from before the Second World War, and create a healthy, sustainable and vibrant piece of city."
It added that the design of each new building had been "carefully considered to respond to their immediate context creating a cohesive and interesting family of new structures for the city".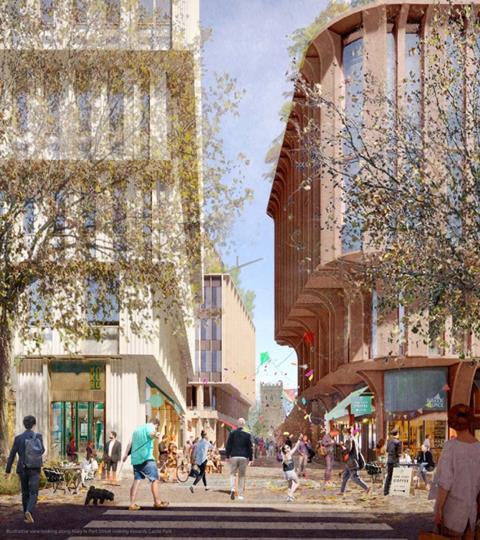 The studio said the historic ruins of the church and vaults at the centre of the site will also be restored, while creating additional outdoor public space.
But demolitions are becoming increasingly controversial because of the greater amount of embodied carbon that is typically emitted compared to refurbishments.
FCBS said that biodiversity on the site would be increased by 85%, with more than 70 new trees being planted along with green roofs and terraces and a landscaped garden.
The practice is a signatory to Architects Declare, a climate movement begun by 17 Stirling Prize winners in 2019 which commits practices to 11 principles around working to mitigate climate change and biodiversity decline.
One of the principles is: "Upgrade existing buildings for extended use as a more carbon-efficient alternative to demolition and new-build whenever there is a viable choice."
The group made headines in December last year when both Foster & Partners and Zaha Hadid Architects pulled out because of a row over whether desigining airport schemes can be justified.