Seven-storey scheme centred around timber staircase
A new arts building designed by Feilden Clegg Bradley Studios' for the University of Warwick will open its doors next week.
The £57.5m faculty of arts will bring together previously dispersed teachers and researchers in humanities departments under one roof.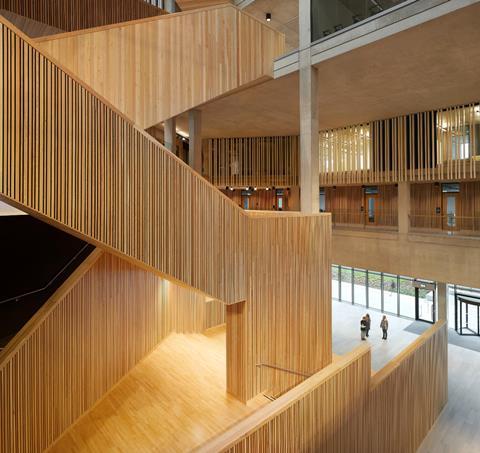 The seven-storey building consists of four clusters of spaces arranged around a grand timber staircase built within a full-height atrium.
Rooms across 15,000sq m of floorspace include a cinema, screening rooms, theatre studios, rehearsal rooms, an antiquities room, a media lab, an editing suite and event spaces.
Outside, the ground feature a grove of trees grown from saplings taken from the ancient sanctuary of Delphi in Greece.
The trees were donated by the Greek Press Association in honour of the academic research and public engagement work of classics and ancient history professor Michael Scott.
The scheme, which was built by main contractor Bowmer and Kirkland, used a low carbon cement substitute which FCBS said saved around 260 tonnes of carbon while the foundations used the recycled concrete from the car park which previously stood on the site.
Andy Theobald, a partner at FCBS, said: "The building sits within a ring of existing trees, its terracotta cladding grounding the building, and recalling the surrounding Warwickshire clays as much as the ancient Greek pottery on display within.
"The sustainability agenda for this project goes beyond energy efficient design. Constructed out of materials that will last, it has future flexibility built-in and is designed to be both life enhancing and responsive to change."