Architect now understood to be working on six surge facilities around the country
BDP has been confirmed as the architect and engineer converting Manchester's exhibition centre into the latest of the government's coronavirus surge hospitals.
The practice is understood to be working on six of the Nightingales including those in London, Harrogate and Birmingham.
Work by a team of over 400 people working 24 hours a day - including Interserve and 60 Gurkhas - to convert the NEC into an 800-bed hospital is due to complete on Good Friday. Eventually it could accommodate nearly 5,000 beds. See picture gallery above and factfile below.
In Manchester BDP's local office is working with Vinci to turn the grade II*-listed G-Mex, part of Manchester Central's Exhibition and Conference complex, into the 633-bed temporary NHS Nightingale Hospital North West. The former railway station opened in 1880 as the terminus for trains to London and closed in 1969. It became an events venue in 1982.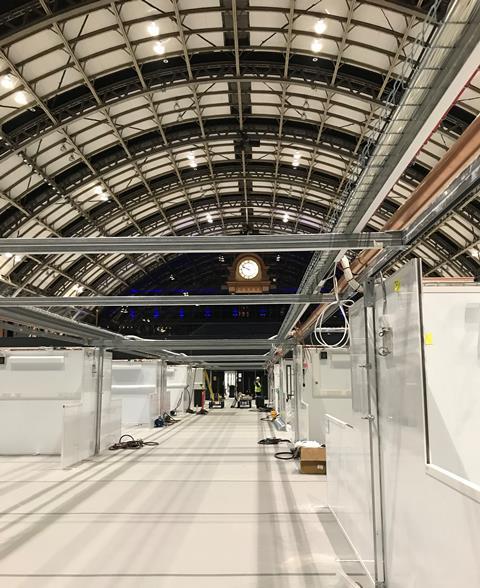 The main hall has been divided into 18 wards, which are located in the main hall underneath a 64m wrought-iron single-span roof, one of the widest unsupported iron arches in the world.
A modular panel cladding system was used to form bed heads and service corridors. The existing electrical system was expanded and a large-scale new gas system for providing patients with oxygen has been installed.
The hospital is set to admit patients on Easter Monday, two weeks after work began.
BDP architect principal Ged Couser said they worked closely with clinicians to ensure every bed could be fitted with all the equipment needed to treat covid-19 patients.
He said: "Delivering emergency hospital facilities in conference and exhibition centres is unprecedented, so we have been drawing on our previous experience of designing large-scale healthcare facilities in hospitals like Alder Hey Children's Hospital, Liverpool."
BDP has also just completed the first phase of work on London's Nightingale, at the ExCeL exhibition centre.
Couser added: "The biggest challenge on the project has been responding to an evolving brief while delivering the services at the same time, and all within two weeks, from the very start to the project handover.
"The scale of the task has been absolutely unprecedented, and it has taken an incredible collaborative team effort between the client, the design team, the contractor and the Army."
There are also coronavirus field hospitals being prepared in other major cities including Glasgow, Cardiff, Bristol and Belfast.
NHS Nightingale Hospital Birmingham in numbers
400 employees and contractors from Interserve
64 miles of cable laid
10 miles of copper piping
15,000sq m of plywood
Vinyl flooring across the equivalent of 11.5 football pitches
4,000 patient beds at completion
The metal used in the bed bays, laid end to end, would stretch over 22km