Dismay from many in the profession as Johnson romps back into No10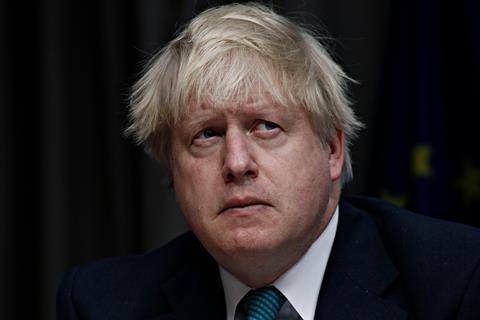 The RIBA led the profession's reaction to the Conservatives' election victory, demanding investment in quality housing and action on climate change as well as comprehensive reform of building safety regulations.
President Alan Jones said Boris Johnson's government must unite the country and deliver on its promises.
Meanwhile, there was widespread dismay among many in the profession, with some turning on Jeremy Corbyn for making the party "unelectable".
Jones issued a statement saying: "Many people will remember this as the 'Brexit election'. The Conservatives must now deliver on their promise to resolve the political crisis which has been paralysing wider society and the economy.
"The RIBA has been clear that this involves developing trade deals which allow practices to access talent, goods and services, and will welcome further detail on how this will be achieved.
"The new government must bring the country together by turning promises into action. We need critical investment to solve the housing crisis through high-quality planning and homes, initiatives to tackle climate change and complete reform of our fire and building safety regulations to keep people safe."
Grimshaw partner Mark Middleton tweeted: "Even though this has been situated as a Brexit election what is clear is that the UK didn't want Corbyn or his leftist policies. It is a damning indictment that as a leader no one wanted him when compared to the alternatives. Labour need to regain the centre."
Piers Taylor of Invisible Studio described "looking into the abyss".
Mark Marshall of Daykin Marshall said: "The only positive I can see is that the pound could jump against other currencies and that might make people invest in projects. So it might unlock a bit of deadlock in the short term, but I don't see any good in the long term because of the lack of spending we're likely to see on public services.
"What spending there will be might be at the huge scale, like HS2 – although Boris has been very flaky on that – but like the Garden Bridge he might see it as something that could be his baby. But the local primary school and local hospital – they won't get any money.
"We are trying to work in social housing, community buildings, arts centres and there's zero money for them.
"Apart from moments when he was mayor of London and acted vaguely liberal, Johnson is all huff and bluster and spends only when it returns him a lot of publicity, rather than helping people at grass roots level."
Atkins chief executive for the UK and Europe, Richard Robinson, said: "Atkins congratulates Boris Johnson and is looking forward to supporting the new Conservative government as it delivers the infrastructure needed to drive economic growth across the UK and set us on a path to a net zero future."
Johnson, whose party won 364 seats against Labour's 203 and the Lib Dems' 11, with one seat still to declare, said Brexit was now the "irrefutable, irresistible, unarguable decision of the British people" and vowed to take the country out of Europe at the end of next month.
Labour was wiped out in areas it has held for decades, particularly the north east and the Midlands, while the Lib Dems saw their leader, Jo Swinson, lose her seat in Dunbartonshire East to the SNP. The Greens retained their single seat, SNP took 48, while the Brexit Party won no seats.
Market reaction was swift, with the pound jumping sharply against the euro and dollar, to more than 1.20 and 1.34 respectively.
The immediate implications of Boris Johnson's historic win for the construction industry remain unclear, but the sweeping away of uncertainty around Brexit will be a comfort to those who feared months, perhaps years, of deadlock.
Johnson is expected to conduct a ministerial reshuffle in the coming days to implement his programme for government, with his manifesto including promises on housebuilding, home ownership and a social housing white paper. He will outline his plans in a Queen's speech next Thursday.
During the election campaign the Conservatives promised to build a million new homes over the course of the next five-year parliament, although at 200,000 homes a year this is less than the last Tory administration said was its target of 300,000 a year by the mid-2020s. It is also 40,000 fewer than were built in the last year.
The party also pledged to plough £100bn over five years into road, rail and other infrastructure schemes, including £4bn to boost public transport in the north and the Midlands.
The manifesto also promised to give residents a say on local design standards. In a paragraph headed "Beautiful, high-quality homes", and which appeared to be influenced by the party's Building Better, Building Beautiful Commission, the document suggested local planning authorities would be required to consult residents of defined districts within their bounds on the introduction of new localised rules.
It said: "We will ask every community to decide on its own design standards for new development, allowing residents a greater say on the style and design of development in their area, with local councils encouraged to build more beautiful architecture."
It also pledged to make the planning system "simpler for the public and small builders".
There were a handful of architects standing for election yesterday, as well as architectural historian Emma Dent Coad whose historic 20-vote win in Kensington in 2017 was reversed. The former leader of the Labour opposition on the local council and long-serving councillor was beaten by Tory Felicity Buchan by 150 seats.
Former Allies & Morrison planner Helen Hayes retained her seat for Labour in Dulwich and West Norwood with a 27,000 majority, while Bell Phillips architect Jay Morton, architect and freelance critic Ike Ijeh who writes for Building Design and Geoff Wilkinson, MD of Wilkinson Construction Consultants, failed to win the seats they were contesting for Labour, the Brexit Party and the Greens respectively. James Murray, the former deputy mayor of London for housing, took Ealing North for Labour.
Many in the profession took to social media to express their feelings.
Rory Hyde, curator of contemporary architecture and urbanism at the V&A and design advocate for the mayor of London, and author of Future Practice, tweeted:
Taking heart that brilliant MPs @wesstreeting @jessphillips @DavidLammy and many more will be in the opposing benches.

— Rory Hyde (@roryhyde) December 13, 2019
Mark Middleton, a partner at Grimshaw, wrote:
Even though this has been situated as a Brexit election what is clear is that the UK didn't want Corbyn or his leftist policies. It is a damning indictment that as a leader no one wanted him when compared to the alternatives. Labour need to regain the centre. pic.twitter.com/3LFyp5UdTt

— Mark Middleton (@mark_cine_arch) December 13, 2019
Architect Ruth Lang described Emma Dent Coad's loss in Kensington as "heartbreaking". She tweeted:
I have a friend who's willingly sleepwalked into a really controlling, abusive relationship recently because she didn't believe she could hope for any better, and wouldn't hear any pleas for the damage it is doing.

I can't help feeling the country has just done the same thing.

— 🌹Ruth Lang🌹 (@sundaegirl) December 13, 2019
Tom Holbrook of 5th Studio tweeted:
Quite the day to be heading off to Harwich for our studio Christmas outing

— Tom Holbrook (@thomholbrook) December 13, 2019
Meanwhile RTPI chief executive Victoria Hills congratulated Johnson and the Tories, adding: "We urge them to now act fast to ensure planning and planners are adequately resourced to enable local planning teams to deliver for communities.
"There is now a golden opportunity to invest in the much-needed infrastructure to unlock the potential to deliver the communities that people want to live in. Strategic planning can play a key role and we urge the incoming government to embrace it and more forward with further devolution.
"Over the past decade, local authority planning teams have seen a reduction of 42% in funding, a situation which must now be urgently addressed to enable us to meet the challenges ahead."
Postscript
Send your election reaction and what you want the new government to prioritise to elizabeth.hopkirk@bdonline.co.uk