In pictures: Historic England adds post-war parks, gardens and grounds to heritage register
The grounds of Powell & Moya's Churchill Gardens estate in Pimlico and the park at Neave Brown's Alexandra Road estate in Camden are among 20 post-war landscapes that have been listed today.
In addition, the grounds of Arne Jacobsen's St Catherine's College, Oxford, have been upgraded from grade II to grade I.
Historic England announced it was adding a whole swathe of parks, gardens and landscapes – both public and private – to the National Heritage List for England after crowd-sourcing proposals as part of a three-year project with the Gardens Trust.
Duncan Wilson, chief executive of Historic England, said the announcement "shone a light on some amazing landscapes that exist all over the country" at a time when people were more aware than ever of the importance of green spaces for wellbeing.
He added: "From Broadwater Park, which gave out-of-town office staff a pleasant place to stroll at lunchtime, to Sir Geoffrey Jellicoe's watercourse at the Cadbury factory, which delighted passing workers with its cascades and weirs, and Beth Chatto's masterpiece – the birthplace of a revolutionary planting style that continues to influence gardening today – each of the landscapes given protection today is special.
"Many demonstrate incredible thought and care for the people who would go on to use them, and others mark significant turning points in the history of English gardening."
The newly protected landscapes include:
HOUSING ESTATES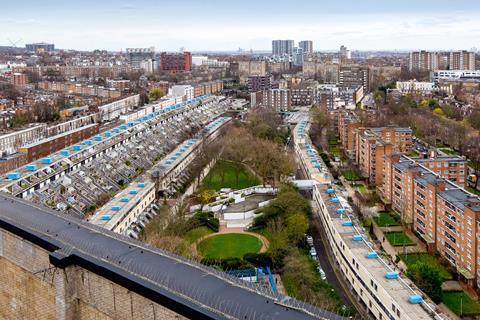 Alexandra Road Park, Camden, Greater London (Grade II*)
Addition to the Register of Parks and Gardens
A formal, sculpted landscape within a modern housing estate is rare, which makes this site internationally significant. Alexandra Road Park is an integral part of the Grade II* listed Alexandra Road Estate, which was designed from 1968 by leading public housing architect Neave Brown, and became the first post-war public housing to be listed in 1993. The park, created to be at the heart of the project, is an important collaboration between Neave Brown and the renowned landscape architect Janet Jack. It features walled and sunken play areas, and open spaces including The Mound, skirted by a raised 'woodland walk' and The Meadow, planted with lime, cherry and plane trees. The restricted space is used innovatively, using changing levels and diagonal walls and paths to define areas for play and relaxation, each with a distinctive character enhanced by careful planting. Jack's planting creates shelter and privacy, as well as attracting wildlife, while tough, low-maintenance plants and trees contribute to the landscape's character of woodland and parkland.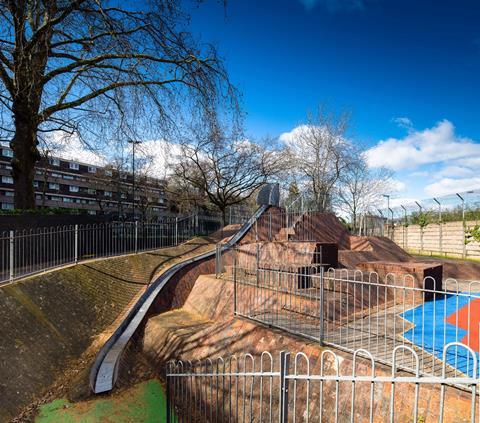 Brunel Estate, Westminster, Greater London (Grade II)
Designed landscape, addition to the Register of Parks and Gardens at Grade II, slide in children's playground newly listed at Grade II
Michael Brown was a leading landscape architect of the 1960s and 70s- his contribution to the Brunel Estate was planned in 1970. With his designs he brought gentle harmony to urban estates, creating spaces for circulation, play and rest. The Brunel Estate designed landscape is perhaps the most complete public housing project by Brown, and is thought to embody much of why people admire his work. The site is brought together by sinuous red-brick paths and mature trees which provide a sense of permanence, defining the spaces and contours. The design features earth-mounding and carefully detailed brickwork, with play areas formed out of complex brickwork forms. The play area for older children is still essentially as designed, and the monumental slide structure, listed today, is a rare surviving example of a play structure from this period, representing the 20th century move towards encouraging more adventurous play. Very few items of play equipment have been listed, and this is a particularly ambitious and inventive creation.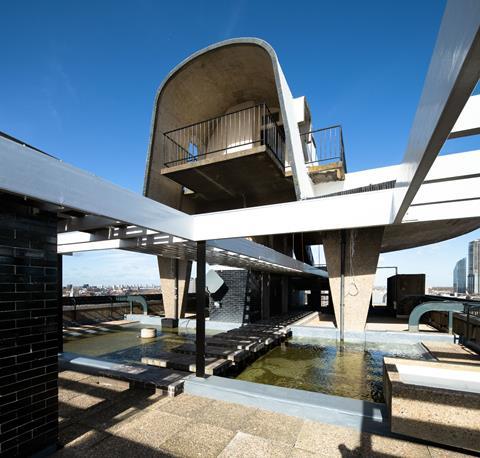 Golden Lane Estate, City of London (Grade II)
Addition to the Register of Parks and Gardens
The Golden Lane Estate was designed and constructed over ten years from 1952 by architectural practice Chamberlin Powell and Bon (CPB). CPB became one of the most important Modernist architectural firms in post-war Britain. The estate is seen as one of England's most successful 1950s housing developments, recognised by the Grade II and II* listing of the buildings. The landscape design makes careful use of complex levels left by the buildings previously on the site, to create a series of intimate courtyards linked by pedestrian thoroughfares and features such as pools, the rotunda and roof gardens. At Golden Lane, the spaces and the relationships between the blocks are as important as the buildings. CPB believed only strong, simple forms could survive, and that when looking down from the upper flats, these would form part of the overall pattern of the estate. The complex landscaping and use of levels anticipate CPB's later landscape design at The Barbican, already registered at Grade II*.

Water Gardens, Burwood Place, Edgware Road, Greater London (Grade II)
Addition to the Register of Parks and Gardens
The Water Gardens, designed in 1961, is a rare example of a mid-20th century landscape as a centrepiece for a private luxury development, at a time when most developments were for public housing. Landscape architect Philip Hicks' brief was to create a setting for the development and conceal a basement car park. His ambitious solution was to create a Modernist urban water garden using the roof slab of the car park as the base of the pools. With sharp, clean lines, asymmetric design and geometric forms, the Water Gardens is characteristic of the Modernist movement. The Gardens feature a Brutalist use of concrete with contrasting soft planting, and the fluid movement of water in pools and fountains. Hicks designed the landscape to provide attractive views from flats above and at ground level, as well as a space to be used, for which he created extensive paved areas and terraces. Flying staircases, raised walkways and platforms provide points of visual interest, as well as access to the upper decks. The garden is a hidden oasis of tranquillity, created by limited views out of the site and fountains that block traffic noise from Edgware Road.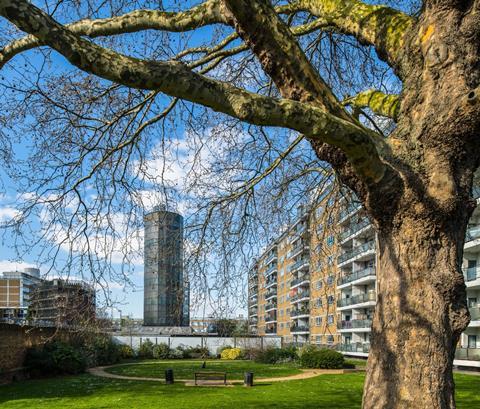 Churchill Gardens Estate, Pimlico, Greater London (Grade II)
Addition to the Register of Parks and Gardens
Built between 1947 and 1962, Churchill Gardens in London was the first large-scale housing development in Britain created after the Second World War. With both the buildings and landscape winning praise from the outset, the project is regarded as a key example of post-war social housing by Philip Powell and Hidalgo Moya, pre-eminent architects of the period. The layout and architecture borrow from European models, but the landscape is evocative of traditional London squares. It is a high-density mixed development with housing units of different sizes and types within carefully planned open spaces, which separate the housing blocks and give a sense of scale. The landscape is a mixture of traditional and modern hard landscaping materials: yellow stock brick, concrete, granite setts and black-painted steel railings. There are a large number of mature and young trees of varying species- pseudo Acacia, Hornbeam, Lime, Norway Maple and Whitebeam. An innovation on the estate, which worked until 1983, was heating via a system supplied by waste heat pumped through a tunnel from Battersea Power Station across the river Thames. The Churchill Gardens Estate designed landscape joins eight other buildings from the scheme which are already listed at Grade II.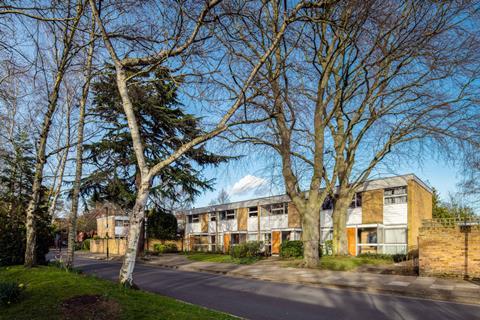 Fieldend, Twickenham, Middlesex (Grade II)
Addition to the Register of Parks and Gardens
Fieldend is a private estate of 51 houses designed by Eric Lyons & Partners for Span Developments in 1959-60, in close collaboration with landscape architect Michael Brown. Span was one of the few speculative house-builders in this era creating progressive, architect-led housing. Architect Eric Lyons believed landscape was not just the treatment of space left between buildings, but the arrangement of buildings to create spaces. At Fieldend, houses had no private front gardens- the communal landscape continued up to individual front doors so paths and planting could flow freely, integrating building and landscape. The staggered terraces look across open lawns, mature trees and evergreen shrubs. The layout favoured pedestrian over car, with parking in a separate square. Admired by critics from the outset, its design survives well.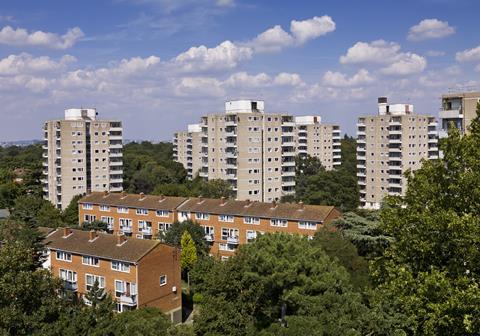 Alton East & Alton West, Roehampton, Greater London (both at Grade II)
Additions to the Register of Parks and Gardens
Built in the 1950s, the London County Council (LCC) estates at Roehampton were amongst the most important post-war mass housing schemes built in Britain, gaining an international reputation. The landscaping is an integral component of their design. The contrasting styles of the Alton East and Alton West estates reflect two competing architectural styles in the LCC Architects' Department in the 1950s, which drew on two distinct strands of European modernism. In their design for Alton East the LCC Architects' Department team juxtaposed monumental post-war architecture with the landscaping for the Victorian villas that had occupied the site. The architecture and informal landscaping are a manifestation of the design team's Swedish-humanist-inspired style. The design kept some 700 mature Victorian trees, creating informal tree-lined roads and paths throughout the estate while green open spaces flow between the housing blocks. Structural elements such as brick walls and planters were constructed to match remnants of the earlier Victorian garden walls.
The design of the Alton West estate was more inspired by the approach of renowned architect of the International Style, Le Corbusier. It includes pensioners' bungalows now listed at Grade II, sculpture by Robert Clatworthy, housing blocks listed at Grade II*, and Mount Clare - a historic house listed at Grade I. In their design for the estate, the LCC Architects' Department considered the 18th century landscapes associated with Mount Clare and Downshire House, in deciding how to place key buildings. One of their intentions was to form a connection between Downshire House and Mount Clare, on the northern and southern slopes of the site, to create the feeling of an endless grass carpet, with vast open vistas amplified by sparse planting.
INSTITUTIONAL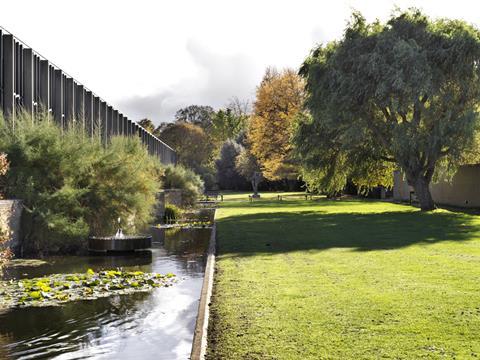 St Catherine's College, Oxford (upgraded from Grade II to Grade I) on the Register of Parks and Gardens
The landscape at St Catherine's College was created as part of a comprehensive plan with its buildings by Arne Jacobsen during the 1960s. Jacobsen, from Denmark, was one of the foremost architects and designers of the mid-20th century. The scheme is Jacobsen's only completed commission in England. It is a highly unusual and complete integration of architecture and landscape, all created on a 3-metre square grid, unifying the whole in scale and planning. In the long central garden yew hedges and walls create a network of 'rooms' for studying and socialising. The walls extend the buildings' form and materials into the landscape, and elements from the landscape are reflected in the buildings. The landscape was first included on the Register at Grade II in 1998, while the accompanying buildings were listed at Grade I in 1993. As a single, contemporary scheme, landscape and buildings are of equal significance, and today the landscape is upgraded to Grade I.
INDUSTRIAL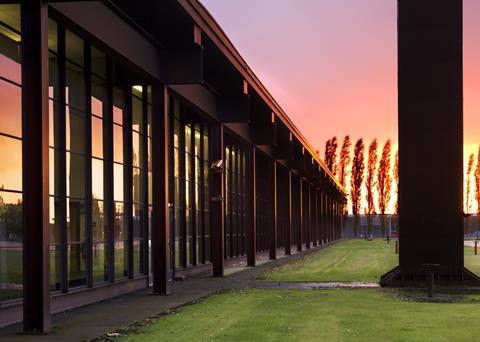 Cummins Engine Factory landscape, County Durham (Grade II)
Addition to the Register of Parks and Gardens
The landscape at Cummins Engine Factory in Darlington was designed between 1964 and 1966 by Dan Kiley, considered to be the father of modern landscape architecture in the United States. Listed at Grade II*, the Cummins Engine Factory by Roche & Dinkeloo is one of Britain's great post-war buildings. Kiley worked closely with architect Kevin Roche to create a deceptively simple landscape of grass, inset with a rectangular reservoir fronting the imposing factory building. The design strips back the three principle elements of landscape design – trees, water and grass – to a minimalist and pure form, using a limited palette of materials for the hard landscaping, to complement the main building. The reservoir is kerbed by the same blue brindle bricks used in the factory building and acts as a reflecting pond. The site is bounded by original Cor-ten fencing, (listed at Grade II*), of the same red coloured oxidising steel as the building.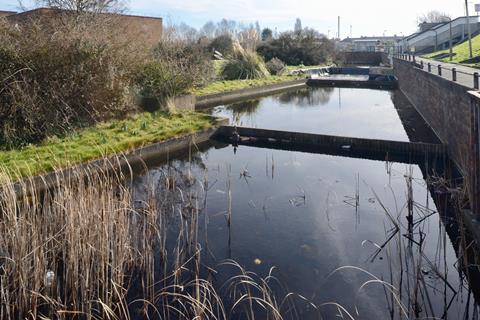 Jellicoe watercourse at the former Cadbury Factory, Moreton, Wirral (Grade II)
Newly listed
The watercourse was designed by Sir Geoffrey Jellicoe, one of the leading landscape architects of the 20th Century, in the early 1950s. A modern interpretation of an 18th century ha-ha, the watercourse had a functional and aesthetic role, designed to act as a physical barrier, as well as a decorative feature for employees and visitors to enjoy. The innovative design incorporates a series of weirs or cascades on a site with very flat topography and makes clever use of false perspectives to give the illusion of distance. It has a pivotal place in Jellicoe's career, being his first large-scale concrete water feature and where he first explored illusion, perspective and scale, developed further in his later works. This is a rare survival of an early-1950s landscape feature on an industrial site. It reflects the ideas of modern landscape design developed from the Festival of Britain in 1951 when appetite grew for landscaping industrial sites to create better environments.
COMMERCIAL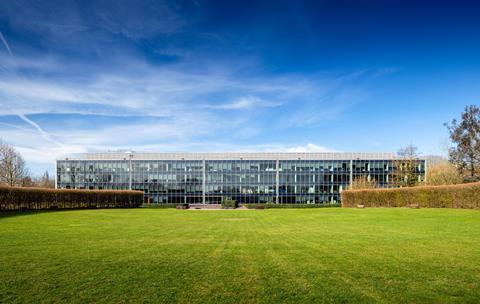 Broadwater Park, Denham, Buckinghamshire (Grade II)
Addition to the Register of Parks and Gardens
Broadwater Park was designed in the early 1980s by Preben Jakobsen as the setting for a new out-of-town office block, by architectural firm EPR. Jakobsen became an acclaimed specialist in creating landscapes for the wave of commercial and public sector office developments built on suburban sites in the 1980s. Broadwater Park is the most extensive and best surviving example of his work. Jakobsen was preoccupied with geometry in his design, and he considered order, structure and a design skeleton all essential components of a good landscape. The site is rationally planned, combining formal and traditional elements to form a series of distinct areas. The layout is informed by the mirrored office building, designed at the same time with input from Jakobsen.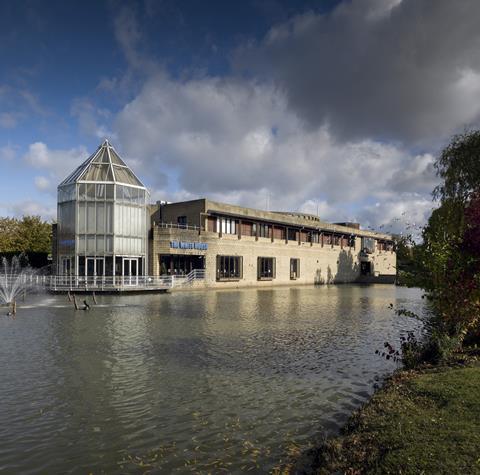 Stockley Park, Uxbridge, Greater London (Grade II)
Addition to the Register of Parks and Gardens
Stockley Park was planned in 1984 and is a pioneering example of business park design and a skilled reuse of highly contaminated land, developed as an undulating landscape on a former gravel works. High-quality design was central to the appeal of business parks, which began to be developed in Britain in the 1980s, and Stockley Park is the result of a collaboration between several notable designers, engineers and landscape architects including SOM, Ian Ritchie, McAslan, Arup and Eric Parry. Its design shows influence from 17th century English and French landscapes, for example, the car park courts, enclosed by clipped hedges, were inspired by the 'green' compartments found in French landscape design, while the avenues of lime trees that line the pedestrian routes reflect the formal avenues that ran through the landscape of Dawley Park, which had occupied the site. Its fully integrated design sees the cellular business park contrast well with the naturalistic and geometric forms of the golf courses and public park.
Source: Historic England