Temporary shelters should be the preserve of student projects, says Mark Middleton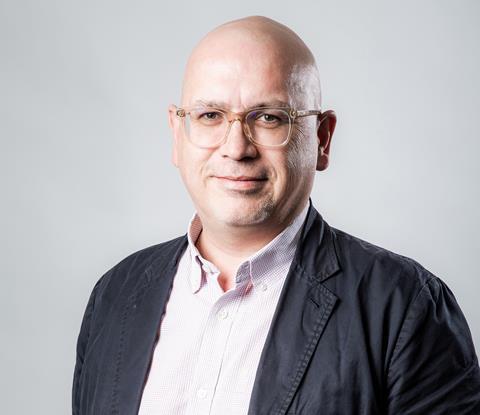 Last year, I visited our new studio in Los Angeles and stayed downtown. On the first morning I took out my phone to order an Uber and on the screen it looked like I could walk there. With few opportunities to get anywhere on foot I thought I'd take this chance.
As I left, the concierge asked if I needed a car so I told him I intended to walk. Surprised by my reply he asked where I was headed. "Factory Place in the Arts District," I said. His face dropped. "Sir, you do know you have to go through Skid Row to get there?" I didn't. "Is it a problem?" I asked. "I just wouldn't advise walking there: you'll get robbed for your shoes," he said, adding that it was dangerous and that I should just get an Uber and I'd see what he meant.
I left downtown in a Prius. We soon slowed to a snail's pace, rolling down what was a four-lane street with sidewalks on either side, reduced to a single lane by rows of pop-up tents, tarpaulin-sheathed shelters and cardboard structures punctuated only by a few bedraggled inhabitants. It resembled a refugee camp and I was genuinely shocked by the sight.
I asked my driver if this was always here and he just shrugged it off by saying that it extended for several blocks in each direction and was a big problem. It was a sobering sight and one I saw every morning. I couldn't reconcile that a major city in the developed world could have such a visible problem and not try to deal with it. It shocked me to find out that Los Angeles City has more than 34,000 rough sleepers every night. California is a magnet because of its climate, and what is clear is that without any sort of government safety net to provide housing or support many seem to fall and keep falling.
The phrase "out of sight, out of mind" must be a truism because, despite being shocked at what I saw, I didn't investigate the problem any further. This is despite being a member and supporter of The House of St Barnabas, a charity working to break the cycle of homelessness through training and providing opportunities to those who need help.
Rough sleeping is an epidemic and something that confronts us all wherever we live. I see homeless people on my walk to work in London every day, and on a recent visit to Manchester I walked with a colleague from the station through Piccadilly Gardens which was nothing short of a misery steeplechase. Homelessness seems to surround that short walk, with makeshift shelters in doorways and people hustling for money or food.
I was immediately reminded of what I saw in LA and again found it difficult to reconcile how a modern society has let this happen. It is estimated by Homelesslink.org that there are more than 4,500 people sleeping rough in the UK every night, with the majority in London where there are more than 3,000. According to official figures there was a slight fall in the numbers between 2017 and 2018 but the total is still 165% higher than 2010. The most sobering statistic is the 597 recorded deaths for rough sleepers in 2017, the vast majority of which could surely have been avoided.
The government has pledged £100m to address homelessness and wants to cut the numbers of rough sleepers in half by 2022, with eradication the aim by 2027. The reasons for homelessness are many and varied but when allied to the shortage of support and of affordable housing many are left with no option other than sleeping rough. These causes are corroborated by the documentary 60 Days on the Streets which is currently being shown on Channel 4, filmed over two months by ex-army captain and explorer Ed Stafford who is sleeping rough in Manchester, London and Glasgow. It is a sobering watch and it is clear that the underlying issues can only be addressed by central and local government piling in alongside the heroic work of many charities.
In light of this, is there anything the profession could do?
At the top of the search results for architecture and homelessness are lots of versions of temporary shelters. The most famous are the inflatable structures by Michael Rakowitz called paraSITE. Whatever form they take, they all feel like an empty gesture. Creating "designed" shelters to contain human misery in tidy packages doesn't feel like a good answer. Homeless people are regularly moved on by the police on our streets or by security guards from the privatised public spaces that now fill our capital.
The system should be able to help people before they get to this point, and there are interesting projects out there. For example, the New Horizon Youth Centre's ideas contest for the hidden homeless won by Morris & Company in London, and Brooks & Scarpa in Los Angeles on scalable affordable housing for homeless people. The end goal for any initiative has to be a route back into society and these examples seem to be genuine attempts to help homeless people out of their circumstance.
These projects are organised by local charities or institutions relying on government grants and donations to carry out this work and this is where architects can help. We could occupy a space between charities and developers, identifying smaller sites or existing buildings, and helping to chart a route through planning and construction using low-cost techniques and thoughtful design to realise projects to provide a home, an address and a new start for homeless people. It should be possible for every reasonably sized architectural practice to partner with a homeless charity to get a project started so we can make progress in taking rough sleepers off the streets.
I have already started to look. Foldable or wearable cardboard shelters are well intentioned but naïve and should be left to students and end-of-year projects.
Architects should help charities provide real answers to this problem.
Postscript
Mark Middleton is a partner at Grimshaw's London office