Making the transition from private practice to a local authority enables architects to influence the built environment for the benefit of the whole community, writes Antonio Rea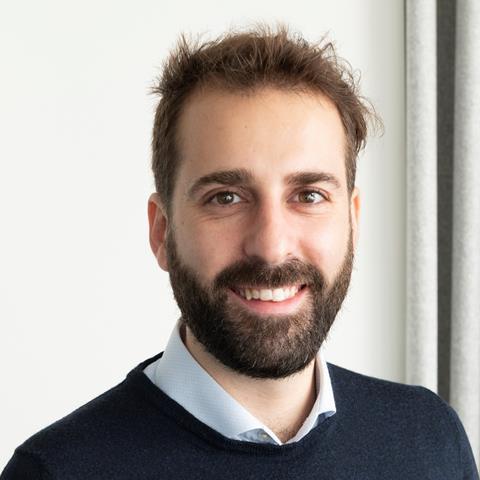 In October 2021, I went from being an architect at an award-winning practice, to being a local government officer focussed on community-driven urban projects.
Here's my journey to finding a meaningful career.
As an architect with a passion for architecture, sustainability and placemaking, over the last ten years I have had the opportunity to be involved in unique and fascinating projects while working for both the private and public sectors. My background is rooted in private practice, where I honed my skills working on projects at different scales across multiple sectors, including masterplans, large urban regeneration schemes and new developments in sensitive locations across London.
I worked with various firms, including Lifschutz Davidson Sandilands, and contributed to the realisation of projects such as the Illuminated River, Hanover and Barking Riverside. I have experienced the challenges of designing and delivering complex schemes, and recognised the effort required by the project team to meet the design aspirations and achieve the client's vision.
While I enjoyed the creative freedom and the design opportunities offered by architectural practices, my motivation for joining the public sector was driven by the aspiration to have a more direct and lasting impact on communities, and create meaningful spaces for people to shape and enjoy. I relished the opportunity to bring my knowhow and expertise to the service of the public sector as I strongly believe that local authorities have the potential to improve the existing built environment and address the challenges that cities are facing today. I wanted to be part of a larger vision for the future, where architecture and urban design could play a pivotal role in creating equitable, sustainable, and inclusive communities.
As Principal Urban Design Officer, I led the design of public realm improvements
My role in the public sector has been multifaceted, challenging and extremely rewarding. My experience in the private sector and the support from Public Practice have been invaluable in navigating the complexities of the public sector, from understanding regulatory requirements to managing budgets and timelines.
One of my key responsibilities since I joined Dacorum Borough Council has been to leverage my design expertise to secure funding for public projects. As Principal Urban Design Officer, I led the design of public realm improvements for the Hemel Hempstead town centre as part of the council's application for the Levelling Up Fund 2.
During this process, we engaged with residents and stakeholders through workshops, boards meetings and presentations to understand the unique needs and aspirations of the community and translate them into the design proposal. Although the funding was not received, the public realm proposals were embedded into the emerging Hemel Town Centre Vision, a document that the Council can use to secure future fundings and attract inward investments.
The vision document is part of the council's placemaking agenda, which aims to address the town centre key challenges, deliver an increased provision of cultural and leisure facilities, generate new opportunities for businesses and provide a vibrant housing mix. The proposals introduce new cycle routes and footways to encourage transport modal shift, put people first and address the climate emergency.
Navigating these challenges requires resilience, adaptability, and effective communication skills
During my transition from a private practice to a local authority, I faced the complexity of bureaucracies and processes in the public sector, which demands a high level of collaboration and coordination with various stakeholders, from local government officials to community members. Furthermore, the public sector is often bound by budget constraints, regulatory requirements, and political considerations, which can sometimes impact the scope and progress of projects.
Navigating these challenges requires resilience, adaptability, and effective communication skills. Balancing the needs of the community, the vision of the project, and the various constraints can be complex, but it has also been a valuable learning experience that has helped me grow both personally and professionally.
Being part of a larger vision for the community and seeing the tangible impact of my work on people's lives has been immensely fulfilling. I have also had the opportunity to work with dedicated colleagues and line managers, who have shared the same passion for public service and strived to create positive changes in our communities.
One significant factor that supported my transition into the public sector was my participation in Public Practice. The programme provided me with a supportive network of like-minded professionals, mentorship opportunities and access to valuable resources that helped me navigate the complexities of the public sector.
The programme also facilitated knowledge-sharing and collaboration among Associates from various disciplines, which enriched my understanding of the broader context of urban design and planning. My experience in the public sector has deepened my commitment to using architecture as a tool for positive change in communities.
I am excited about future opportunities to make a positive impact through architecture and urban design
I have recently joined Haringey Council as Regeneration Officer and I am eager to continue working on projects that prioritise sustainability, inclusivity, and community engagement. I am also keen to explore innovative approaches to design and planning that can address pressing challenges, such as affordable housing, climate resilience, and social equity.
In conclusion, my journey as an architect from the private to the public sector has been a transformative and fulfilling experience. It has allowed me to work on meaningful public projects, collaborate with diverse stakeholders and shape design proposals with the community.
While there have been challenges, the joys of working in local government and contributing to the well-being of communities have been immensely rewarding. I am excited about future opportunities to make a positive impact through architecture and urban design in the public sector.
In a world where the built environment plays a crucial role in shaping communities and improving quality of life, architects have a fundamental part to play. By working collaboratively, embracing innovation, and prioritising sustainability and inclusivity, architects can create lasting positive change in our communities and leave a meaningful legacy for future generations.
With a renewed sense of purpose and passion, I am committed to promoting the development of places that enhance the lives of people and contribute to a more equitable and sustainable future for all.
Also read >> Public Practice: How I found a fulfilling career as an architect
Would you like to use your skills for public good? Public Practice will be looking for placemaking professionals to apply to the Spring recruitment round between 14th April 2023 and 31st May 2023. For more information on how to apply to The Associate Programme, please click here.
Postscript
Antonio Rea is regeneration officer at Haringey Council and a Public Practice associate