Architect drafted in to help £10m Perry Barr station win planning on second attempt
Work has started on a £10m railway station that will play a key role in getting spectators to next year's Commonwealth Games in Birmingham.
The new station at Perry Barr is part of the wider £500m regeneration of the area. It is the closest station to the 40,000-seat Alexander Stadium which will host both the opening and closing ceremonies, as well as the athletics events. The £72m redevelopment of the stadium was designed by Arup.
Local practice Glancy Nicholls was appointed to help with a revised planning application after the original design by Waldeck Consulting was rejected by councillors last year.
West Midlands mayor Andy Street praised the new design but councillors remained grudging when they approved it earlier this year.
One planning committee member, Cllr Mike Ward, voted against the plans, saying: "The original design for this new station was awful, truly awful. The new design is better but sadly it is still a reflection of a lack of high-quality design for the whole Perry Barr regeneration scheme.
"It's difficult to tell from the latest pictures exactly what the new station will look like but high-quality garden shed may prove to be not far off."
Fellow councillor Gareth Moore added: "I do want to welcome this application because the existing station is pretty horrendous, to be honest, so the bar has been set incredibly low.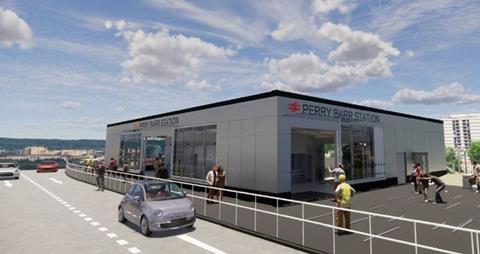 "But I expected the design to be much, much better than what has been put forward. Given that this is going to be a flagship station because of the Commonwealth Games, I think it's rather disappointing that we haven't gone all-out on the design."
West Midlands mayor Andy Street said: "The key when drawing up the plans was to create a railway station that works for passengers with safety, clear information, lifts and toilets – features the current building lacks – a priority.
"But we received the message loud and clear that people expected more in terms of design for this key location and went back and looked at it again. We hope the revised design will create a station that the area and community can be proud of."
Malcolm Holmes, director of rail for Transport for the West Midlands, said the new station would also be a "vast improvement" on the existing station.
Glancy Nicholls' involvement has now ended. Waldeck has adopted the revised design and is preparing the working drawings for the contractor.
The scheme was procured through the Pagabo framework by Transport for West Midlands.
The station closed this month and is due to reopen next May. The games will start on 28 July next year and run until 8 August.
Postscript
This story was updated on May 19 after it was drawn to our attention that Glancy Nicholls was not responsible for the original planning application.