Uniform for volunteers nods to Meccanoo and Alejandro Zaera-Polo architecture in Second City
Organisers of this year's Commonwealth Games in Birmingham have unveiled the uniform for 14,000 volunteers and the event's workforce, which is said to have drawn inspiration from local landmarks and architecture.
Max Jimminson, uniforms manager at Birmingham 2022, said design motifs were taken from Dutch practice Mecanoo's Library of Birmingham, which opened in 2013, and Alejandro Zaera-Polo's Grand Central redevelopment of the city's New Street Station, which opened in two years later.
"We drew inspiration from local landmarks and architecture to create authentic and eye-catching designs," he said.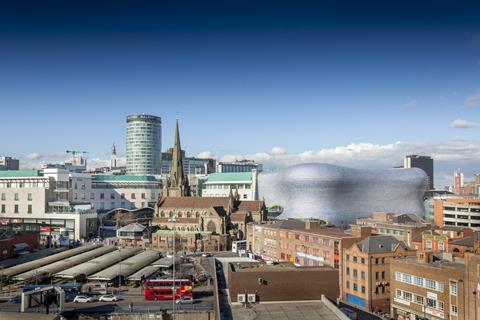 "The uniform features patterns from the iconic Library of Birmingham design and waves inspired by the architecture of Birmingham's Grand Central and Bullring building. These are included on all upper body garments, such as the polo shirt, gilet and waterproof jacket."
The redevelopment of the 1960s Bullring Shopping Centre, which completed in 2003, was overseen by Benoy. However its most lauded element – the Birmingham branch of Selfridges – was designed by Amanda Levete and Jan Kaplický at Future Systems.
The Commonwealth Games runs from July 28 to August 8.