The Commonwealth Games have given the city a once in a generation opportunity to transform a formerly struggling part of the city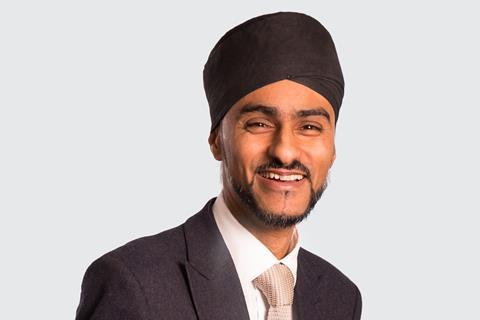 Seeing the energy and the spirit of collaboration in Birmingham in the run-up to the 2022 Commonwealth Games has been an incredible experience. It has shown me the combined power of community, architecture and city-making to touch – and enrich – people's lives, across scales and timespans that far exceed any one project.
At Glenn Howells Architects, we are incredibly proud to have played our part in the development of one such example, the Perry Barr residential scheme, alongside our client Birmingham City Council and project partners Arcadis and Lendlease Construction.
Perry Barr is a legacy-building project for Birmingham, which will have a long and lasting positive impact for the city and its people. Not only will it deliver much needed homes in a new neighbourhood hub for both present and future residents, it will also create new jobs, improve local skillsets and open up additional apprenticeship opportunities, substantively delivering on the ambitious social value charter set out by the city.
Perry Barr, a suburban area in the north of Birmingham, was, until 10 years ago, the campus for Birmingham City University. However, once the university began relocating its campus to the centre of the city, the withdrawal of the student population, paired with a lack of economic growth, brought this local centre into decline.
Subsequently, the city identified Perry Barr in its strategic plan as an area needing long-term intervention, with the recent public sector investment towards active transport and green infrastructure being a catalyst in accelerating this plan.
A typical urban brownfield site, disconnected at both local and city scales, Perry Barr was ideally positioned to benefit from this investment; a once-in-a-generation opportunity to transform this local centre, and bring it along with the city on a journey of renewal.
However, with the delivery timeline coinciding with the Covid-19 pandemic, the city council was faced with many challenges. It had to assemble the project team and management contractor to deliver the residential scheme, along with conducting stakeholder engagement and managing the procurement for delivery.
The tight schedule of reviews, approvals and coordination only encouraged the team to work closely together
All this in addition to delivering other projects including the Alexander Stadium, a new bus interchange, and major highway improvements – each of them as important as the next in an interconnected vision of city-wide regeneration.
The Arcadis team took up the challenge to deliver, and our experience with similar neighbourhood-scale projects at Port Loop in the west of the city, and Royal Wharf and London City Island in London, made us a strong design partner. The tight schedule of reviews, approvals, and coordination only encouraged the team to work closely together from the outset.
The redevelopment plan for this area is to deliver 1,414 homes in phase one, of which 968 are being built across the four plots under-construction, and include a mixed tenure of affordable homes, both for market sale and build-to-rent, as well as homes for later living; a multi-generational offer from the outset.
As this initial phase develops and flourishes as a new healthy and inclusive neighbourhood, further phases will be unlocked as part of the Perry Barr 2040: A Vision for Legacy masterplan, leading to the potential for 5,000 homes to be built in Perry Barr.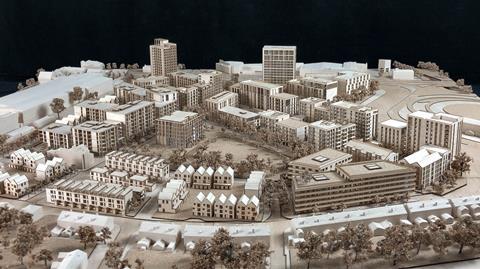 Since we were assigned the project, plot 7 is where our energies have been focused – the gateway plot for the new neighbourhood. It is a family of five brick buildings, with the tallest at 16 storeys. They are arranged to enclose a communal podium garden for residents and establish a new south-facing public forecourt with retail and amenities, linking to the redeveloped Perry Barr rail station.
The city's bold but decisive approach to remove the concrete flyover has also opened up a new tree-lined promenade, setting the tone for this new development by laying the foundations for a more sustainable, human-centred urban realm to develop.
Of course, each intervention has had to be sensitive to the area's existing landscape, built environment and assets. Through retaining the existing matured tree population, we helped steer the public open spaces and street patterns around them, while also planting many more trees, so that this urban dynamic can work alongside nature, rather than in place of it.
This first residential phase will create a pathway for ongoing and future regeneration and lend all subsequent phases the very best chance of success. Comprising a new park with a community hub, tree-lined streets, local amenities, green transport infrastructure and active travel links, alongside a range of generous homes, this new landscape will be the catalyst for a vastly improved residential offering that serves the whole of the local community.
From a housing perspective, Perry Barr will offer new residential typologies for the local community
For us, the design was about creating a meaningful redevelopment around principles of environmental sustainability and community cohesion through shared public spaces, amenities and a community green at its heart. Designing out from this focal point allowed us to introduce design elements that work both as standalone features, and as part of wider city-wide infrastructure networks.
These include active travel routes for cyclists and walkers, public transport links for quick connections to other locations, or access to green space for residents. Along with Port Loop, it reinforces how neighbourhoods with a clear '15-minute city' ethos can work in Birmingham. As part of the 'Our Future City Plan' (replacement for the Big City Plan launched in 2011), we hope it becomes a model for future developments, both locally and further afield.
From a housing perspective, Perry Barr will offer new residential typologies for the local community, including modern apartments and urban houses in contemporary brick buildings, catering to a mix of buyers and tenants, including young families. The housing will deliver good levels of daylight, secure ground floor accommodation, adaptable layouts, and generous private and communal amenities to help foster a healthy community - from residents' lounges to shared podium gardens and rooftop terraces.
Working alongside Lendlease Construction and Vinci Construction on Plot 7, we explored innovative methods that would accelerate the build programme to help overlap the phasing of the buildings within the plot. The simple repeated detailing of the balconies, brickwork and windows provided the opportunity to accelerate procurement with subcontractors while maintaining the build quality of the design.
Perry Barr will become not just an attractive, healthy place to come and live, but a thriving, established and connected part of the wider city
The materiality and detailing is carefully considered and contemporary, yet still manages to pick up on the local rhythms and proportions of its local context – a clear language established from the outset.
A large factor in the success of Perry Barr will be ensuring that these amenities, combined with the new residential homes, landscaping, and travel infrastructure, are reframed to cater to a new demographic while supporting existing communities. Once these elements begin to synthesize, the neighbourhood starts to mature into a hub, and the dynamics of urbanism begin to take over, Perry Barr will become not just an attractive, healthy place to come and live, but a thriving, established and connected part of the wider city.
Designing urban landscapes is as much about shaping moments in time as it is about shaping space, and we're delighted to have played our part in this process, seizing the moment to ensure Perry Barr goes on to be a sustainable, community-centred neighbourhood, embodying Birmingham's aspirations and ambitions as a leading international city.
Postscript
Dav Bansal is a partner at Glenn Howells Architects