Practice working with engineers Expedition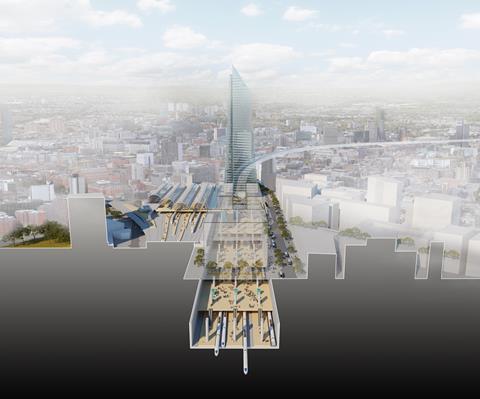 Rail heavyweights Weston Williamson and Expedition have drawn up speculative rival plans for the redevelopment of Manchester Piccadilly station.
The proposal is an alternative to the two existing plans for Manchester Piccadilly station devised separately by HS2 and Northern Powerhouse Rail.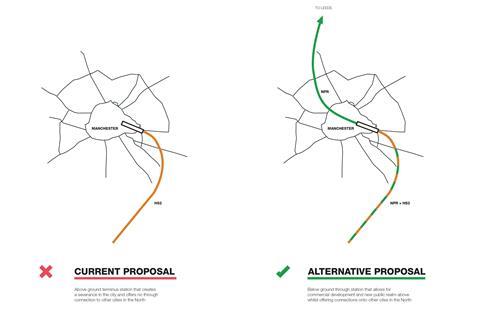 The new High Speed Station Square combines HS2 and NPR's existing stations into a single integrated through station located below ground rather than a terminus station above ground.
The through station design does not require trains to reverse at Manchester Piccadilly as part of a journey between Leeds and Liverpool. It allows for the through-running of a high speed train service between Liverpool and West Yorkshire via both Manchester Airport and Manchester Piccadilly.
Manchester Piccadilly station will become an important station hub as part of the HS2 and NPR infrastructure projects, with the current plan by HS2 a new high-speed terminus station on the east side of the existing Network Rail station, approached via a new high-speed tunnel into the city centre from Manchester Airport.
Although the new HS2 line would approach the proposed terminus below ground, the terminus itself would be above ground level.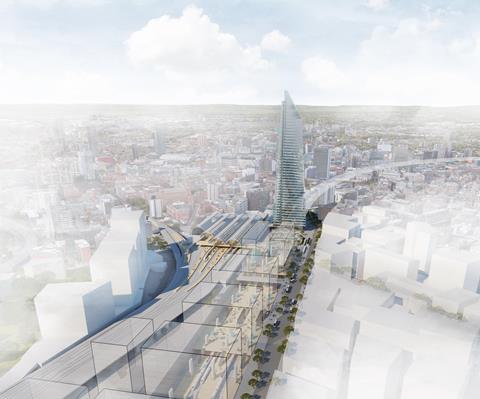 The High Speed Station Square proposal continues the planned HS2 tunnels south of Manchester Piccadilly.
Creating an "S-shaped" high-speed rail tunnel below central Manchester that allows train services to pass between Manchester Airport and West Yorkshire via Manchester Piccadilly without having to reverse.
It also includes a new urban quarter above and adjacent to the station, with a new pedestrianised square at its heart.
With the new platforms and concourses built at low-level, the ground level is designed for public realm. Above the station new opportunities for commercial development are created, delivering a new business district within the city centre.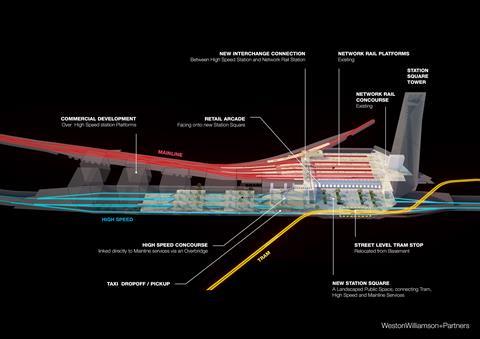 Weston Williamson's plan also includes plans to make the new district around Station Square a zero-carbon emissions district, with private cars excluded, and tree-lined pedestrian spaces introduced to promote healthy living for all those who visit this modern and vibrant new district.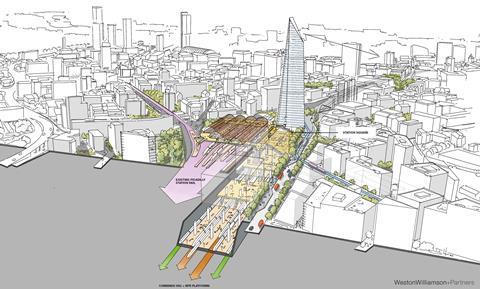 Extensive green landscaping will be introduced to create a walkable environment that encourages active mobility.
The practice also argues that by combining infrastructure for HS2 and NPR into the same integrated project the proposal offers better value-for-money than developing infrastructure for HS2 and NPR as separate projects.