Mikhail Riches and Grimshaw projects leap from outsiders to favourites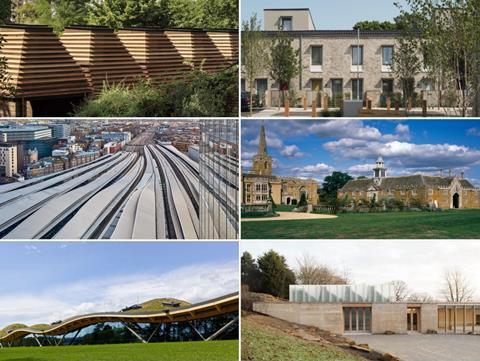 Enthusiastic betting has propelled Mikhail Riches' Norwich housing project and Grimshaw's London Bridge Station from Stirling outsiders to favourites in the final days before the ceremony.
When the shortlist was announced in July, Goldsmith Street had the longest odds at 11/1, with London Bridge just behind.
Now the tables have been comprehensively turned, with William Hill slashing the odds on both in response to the number and size of bets placed in the last few weeks.
Mikhail Riches' Passivhaus council housing took twice as many bets as any other project – and the single biggest stake of £155. (Bookies impose low maximums on obscure bets.)
The previous favourite, Rogers Stirk Harbour & Partners' Macallan whisky distillery, has dropped back into joint fourth place along with the other previous frontrunner, Cork House in Eton by Matthew Barnett Howland, Dido Milne and Oliver Wilton.
The new outsider, Feilden Fowles' The Weston at the Yorkshire Sculpture Park, has been given odds of 8/1 despite receiving the third highest number of bets. William Hill's Rupert Adams described this as a "strange anomaly" probably a result of the attractive price.
He said the bookie's original odds were based on a "quick flick through" the shortlist which led them to back RSHP's distillery. He also admitted bookmakers tend to lose on markets like the Stirling because all their expertise was focused on sport.
"If you aren't aware of the background you might think Goldsmith Street was any old housing estate," he said.
"But if you know more about it you realise it's a potential revolution waiting to happen across the rest of the UK. It just needs to be called 'award-winning' and then it will have the gravitas to be rolled out across the country.
"The betting pattern suggests the vast majority of people in the game think it's going to win – but also that people are betting on what they want to win."
It isn't all over the RSHP – which is hoping to match Foster's record with a third Stirling win on Tuesday. Adams said it is not unknown for outsiders to win – but that "it's going to be a hard fight".
| Architect / project | August | October |
| --- | --- | --- |
| RSHP / Macallan Distillery | 7/4 | 5/1 |
| Matthew Barnett Howland, Dido Milne and Oliver Wilton / Cork House | 5/2 | 5/1 |
| Witherford Watson Mann / Nevill Holt Opera | 7/2 | 9/2 |
| Feilden Fowles / The Weston | 13/2 | 8/1 |
| Grimshaw / London Bridge station | 10/1 | 5/2 |
| Mikhail Riches / Goldsmith Street | 11/1 | 5/4 |