Bogle Architects' supermarket scheme squeezes through planning
Plans to redevelop the site of a discount supermarket in south-east London have become the latest Old Kent Road tower proposals to win the backing of Southwark councillors.
Bogle Architects' scheme would redevelop the site of a branch of Aldi with a development featuring 21- and 13-storey towers above a ground-level replacement supermarket.
The approval – which scraped past Southwark's planning committee by four votes to three, with one abstention – follows green lights for several high-rise schemes in the area in recent months, the tallest being separate 48-storey proposals by Pilbrow & Partners and Brisac Gonzalez.
Maccreanor Lavington won approval for a 39-storey tower on Old Kent Road towards the end of last year, and Spparc won planning for a 22-storey scheme a stone's throw from the Aldi site in the summer.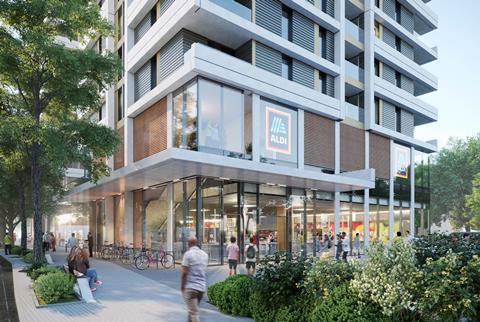 Bogle's Aldi proposals would deliver 168 flats – of which 36% would be affordable, measured by habitable room; a 1,778 sq m shop unit and a 52 sq m flexible retail unit, along with landscaping.
Planning officers said that the total number of affordable homes was 55. Of those, 37 would be for affordable rent and 18 for "intermediate" uses, such as shared ownership.
Recommending the scheme for approval, officers said Bogle's proposals were an "exemplary" design that would also bring more activity to the 0.46 ha site's Old Kent Road frontage than the current supermarket.
"As a pair, the proposed tall buildings would improve the legibility of the area by signifying the junction of the Old Kent Road and Ilderton Road with the improved accessibility and entrance to Brimmington Park providing an enhanced public open space," they said.

"The design proposed would enhance the skyline and image of London with the two tall buildings forming a well considered composition of varying heights, facades and high quality materiality."
They added: "The separation distance between the two buildings above the ground floor successfully enables the development to provide amenity and play space on the podium and transfer floor."
Officers said the distance between the buildings would also allow daylight to penetrate between the blocks reaching the development's key residential windows.