Scheme will deliver 605 co-living studios and 120 affordable flats
A TP Bennett-designed housing development that will deliver 120 flats and 605 co-living studios has been given the go-ahead by Southwark Council.
The practice's proposals for Ilderton Road in Bermondsey are a reworking of a scheme by SPPARC Architecture for the site – a stone's throw from Milwall FC's The Den stadium, which Southwark resolved to approve in 2020.
TP Bennett's plans for client Wittington Investments comprise two buildings separated by a pocket park. The northern building features towers of 27 storeys and 18 storeys, linked by a five-storey podium. The southern building has towers of 16 storeys and 10 storeys linked by a five-storey podium.
In terms of height, the TP Bennett proposals are broadly in line with SPPARC's 312-flat scheme, which was drawn up for a different client. Wittington acquired the 0.6ha site last year.
The latest proposals also feature a 123sq m not-for-profit community café, 363sq m of flexible commercial space and 460sq m of flexible employment space, the majority of which will be "affordable".
Recommending TP Bennett's proposals for approval at last night's meeting of Southwark Council's Planning Committee, council officers said the scheme would deliver "exemplary" purpose-built co-living accommodation alongside 120 "high quality affordable dwellings".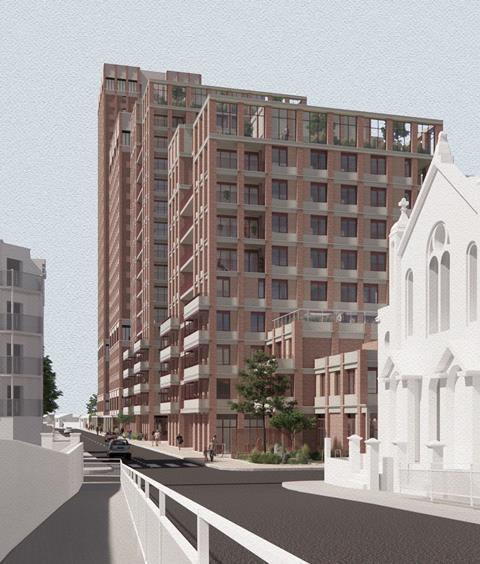 "Forming an interesting composition and possessing a strong urban character, and with robust and high-quality materials specified throughout, the proposed buildings would achieve an exemplary standard of architectural design," officers said.
"The proposal would make efficient use of a prominently located and under-utilised site to deliver a high-quality and sustainable development that accords with the council's aspirations for the area."
Five Planning Committee members voted in favour of the scheme with one abstention.
As well as TP Bennett, Wittington's team for the project includes structural and drainage engineer Expedition, QS Quantem, fire engineer BB7, and landscape architect Churchman Thornhill Finch.