Approval comes despite privacy concerns for HM Revenue & Customs at neighbouring Gensler block
Cardiff City Council has approved Scott Brownrigg-designed proposals for a 35-storey residential tower that will be the tallest building in Wales, according to the architect.
Brownrigg's plans for the 0.19ha site at Cardiff's Central Square – between the city's main train station and the Populous-designed Principality Stadium – will deliver 364 apartments on its upper floors and shops and cafés at ground and first-floor level.
The scheme, created for developer Righacres, forms part of a wider masterplan for the area created by Foster & Partners. It also includes a standalone two-storey pavilion to the tower's east that will deliver 688sq m of commercial floorspace.
A report to members of Cardiff City Council's Planning Committee said six letters of objection had been received in relation to the proposals following three rounds of consultation. Government tax-collection agency HM Revenue & Customs was one objector.
It occupies neighbouring Gensler-designed Ty William Morgan House and expressed concerns about daylight and overshadowing, as well as the security and privacy of staff working in the building.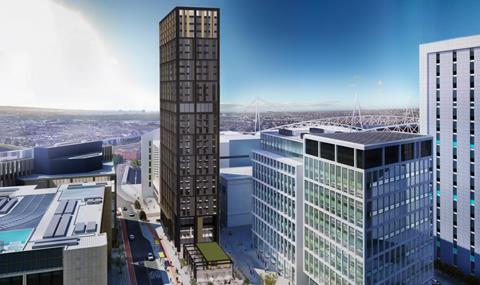 Councillors were told HMRC had also flagged that the Scott Brownrigg tower was a "significant departure from the Central Square masterplan", which it said had indicated a building of half the height proposed.
However, recommending the scheme for approval planning officers said the site was considered to be suitable for a "sensitively designed building of significant height" and that the scheme's housing and regeneration benefits outweighed identified disadvantages.
"The elevational treatment of the tower and pavilion are both considered to be of a high quality, which will provide the site with its own distinctive character," they said.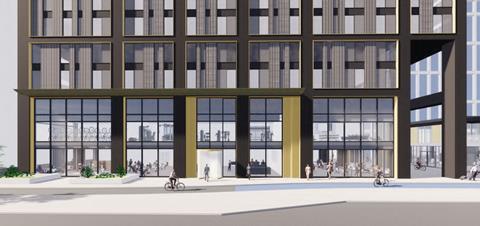 Following the approval, Scott Brownrigg project director Samuel Utting said the tower would provide much-needed new homes within a newly-regenerated area.
"The timeless architectural proportions and robust, elegant materials draw upon Cardiff's rich Victorian heritage to provide an appropriate response to the city context as well as taking some precedence from perhaps the father of the modernist tower, in Miles Van Der Rohe's seminal buildings on Chicago's' Lake Shore Drive and the Seagram Building in New York City," he said.
The report to Planning Committee members said the tower would require 72 affordable homes to be provided on-site, or alternatively a financial contribution of £6.2m to cover their delivery elsewhere in the city.
Work on the development is expected to start on site later this year.