Facility will deliver 162,500sq m of flexible facilities at former brick pit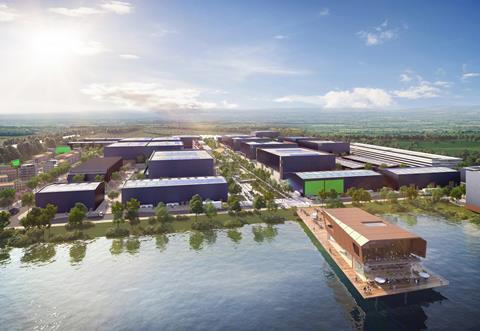 Scott Brownrigg-designed proposals for a new film and television studio campus on a brownfield site in Bedfordshire have been granted planning permission.
The practice's "Home of Production" scheme will deliver 172,500sq m of indoor and outdoor studio space and production facilities, as well as cafes and restaurants for crew members, at Quest Pit near the village of Houghton Conquest. There will also be a waterside hospitality suite and childcare facilities.
The 57ha site centres on a now-flooded former quarry that was Bedfordshire's last active brick pit. It is near the former site of the London Brick Company's Stewartby Brickworks, subsequently bought by Hanson.
Scott Brownrigg said its hybrid proposals, drawn up for clients Quartermaster and VERB, were a "rare opportunity" to create the "ideal" film campus from scratch, set within a tranquil waterside environment.
Practice director Jason Lebidineuse said the HOP project would link education to industry and create a vibrant campus environment with a "true sense of place" that would inspire the next generation of filmmakers – and meet growing demand for studio space in the UK.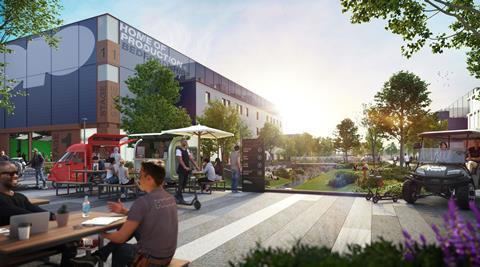 Scott Brownrigg said the proposals would also deliver a "significant net gain" for biodiversity by introducing new ecological corridors, wetland and floating reed beds across the site, and creating around 70ha of replacement habitat and woodland nearby.
Central Bedfordshire Council's Development Management Committee originally resolved to approve the HOP proposals at their meeting in August.
Scott Brownrigg worked with landscape architect Macfarlane & Associates, planning consultant Lichfields, and structures, civils and MEP consultant Sweco on the proposals.