Minister insists Building Beautiful chair's work will live on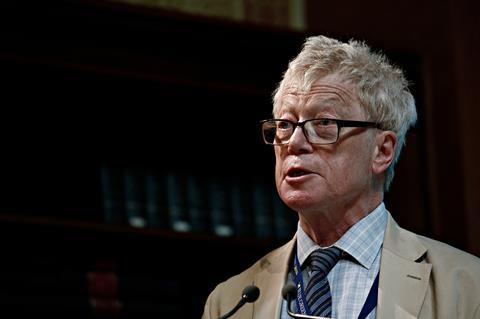 Roger Scruton, the founding chair of the government's Building Better, Building Beautiful Commission, died today, his family said.
The controversial philosopher was 75 and had been suffering from cancer.
Housing secretary Robert Jenrick led the tributes, insisting that Scruton's work for the commission – whose final report was originally due out before Christmas – would survive him.
He tweeted: "Deeply sorry to learn of the death of Sir Roger Scruton. His work on building more beautifully, submitted recently to my department, will proceed and stand part of his unusually rich legacy."
The commission's interim findings in July last year surprised some critics. The report advocated more power for local communities and praised housing designed by architects such as Ash Sakula.
Jenrick's predecessor James Brokenshire set up the commission in 2018, angering architects who objected to the idea of a housing commission focusing on something as subjective as beauty and to Scruton who was a supporter of classical architecture. He was also hugely controversial for his right-wing political views, although admired by others for his academic work.
At the time former architecture minister Ed Vaizey told the House of Commons he had "concerns about Sir Roger's appointment which is that I don't want him to lead a commission that simply advocates for neo-Georgian pastiche as a definition of beauty".
Six months later Brokenshire sacked Scruton amid a row that he had made racist remarks in the New Statesman. The magazine was later forced to issue an apology after admitting that his remarks had been misrepresented. He was later reinstated as co-chair along with Nicholas Boys Smith, director of Create Streets.
Scruton's family said in a statement: "It is with great sadness that we announce the death of Sir Roger Scruton, FBA, FRSL. Beloved husband of Sophie, adored father to Sam and Lucy and treasured brother of Elizabeth and Andrea, he died peacefully on Sunday 12th January.
"He was born on 27th February 1944 and had been fighting cancer for the last six months. His family are hugely proud of him and of all his achievements."
RIBAJ editor Hugh Pearman tweeted: "Sorry to hear of the death of Sir Roger Scruton at 75, six months after he was diagnosed with cancer. Obviously we were not on the same page when it came to architecture or much else but in debate he was courteous and stimulating, and I'll miss the presence of his intellect."
His fellow commissioners were landscape architect Kim Wilkie, Mary Parsons, chair of the Town and Country Planning Association and Gail Mayhew, a property consultant. Former RIBA president Sunand Prasad and Paul Monaghan of AHMM were advisors.
In a statement published on his website just before Christmas Scruton wrote: "We mark the conclusion of a most interesting year by expressing sincere gratitude to all the many people who have sent messages of support and appreciation to Sir Roger, in the wake first of the media storm and later in the light of his cancer diagnosis. Happy Christmas and warmest gratitude to you all.
"The process of recovery has begun, and we look forward to a remission. Meanwhile the good will expressed has been quite overwhelming, and has helped Roger to move back towards his desk, to take up his pen, and to experience once again the joy of living and writing. Soon he hopes to make the next step, out into the winter fields, there to refresh his mind."