Profession urges government to act on Scruton's last words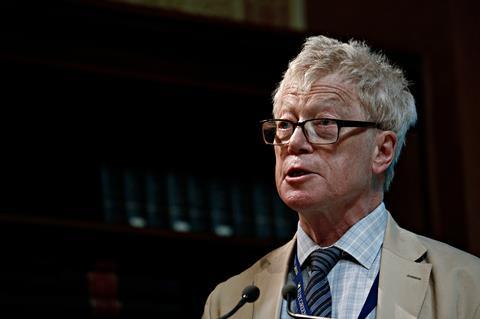 Architects have broadly welcomed the Building Better, Building Beautiful Commission's final report, despite early fears that Roger Scruton's involvement would result in a neo-Georgian whitewash.
Annalie Riches, co-founder of Mikhail Riches which won the Stirling Prize for its Goldsmith Street council housing in Norwich, said: "I'm finding myself agreeing with almost everything, which is a surprise."
And RIBA president Alan Jones praised its "withering assessment of public-sector procurement practices" and the condemnation of permitted development rights which he said were resulting in tomorrow's slums.
But there were also warnings that the government must act decisively to adopt the recommendations, especially in the face of hard lobbying for deregulation. Policy Exchange, the think tank whose ideas were instrumental in the establishment of the commission by the then housing secretary James Brokenshire, issued a report this week tackling similar issues but with very different recommendations.
The architect and planner Finn Williams said it was a critical moment for the new government to decide which direction it wanted to take the country in.
He said: "The commission's report mumbles its recommendations around permitted development and strategic planning, but its broad direction is an about-turn from a decade of short-sighted deregulation, counter-productive cuts to public-sector capacity, and ineffective demand-side housing subsidies."
And Cany Ash said the report's arguments rely on a "mirage defended in design codes".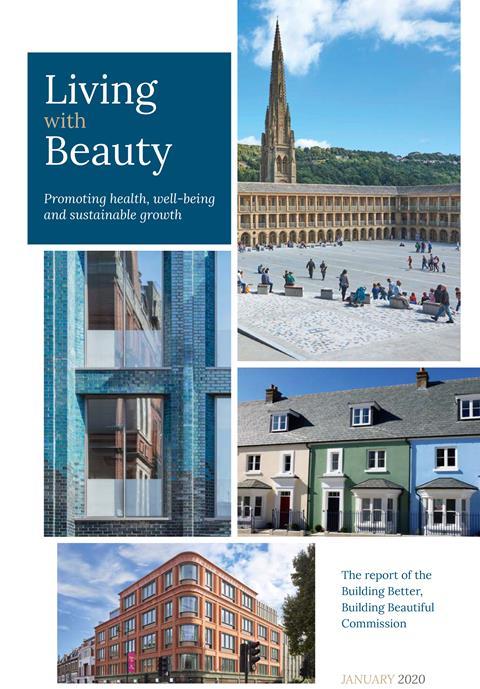 RIBA president Alan Jones said: "The Living in Beauty report exposes just how many public-sector policies actively discriminate against the delivery of good, safe and sustainable buildings.
"The commission's views on the value of design and lack of resource at local level are echoed by the RIBA; and architects will recognise the withering assessment of public-sector procurement practices.
"The commission has rightly condemned permitted development rights (PDR), which leave local authorities powerless to stop the development of poor-quality and potentially dangerous 'slum' housing. The government must acknowledge the dire impacts of this policy and urgently address the commission's findings.
"The commission's acknowledgement of work to expand routes to becoming an architect is welcome. I am proud of the new architecture apprenticeships and hope that the government will now take the necessary steps to restart the next stage of education reform."
His immediate predecessor Ben Derbyshire, chair of HTA Design, said: "The BBBBC report emerges at a propitious moment – the 20s will be a win-or-lose decade for the Johnson government, the climate emergency and for Britain in a post-Brexit world.
"Seen that way, we must hope that the best bits (and there are plenty) in the report positively influence government on the value of planning, quality defined in terms of human well-being, the importance of engagement, heritage, biodiversity and the role of urban design in placemaking.
"The worst excesses of permitted development, out-of-town retail parks and speculative housebuilding are appropriately challenged.
"I might argue about the definition of 'ugliness' (the report illustrates mills once characterised as 'satanic' now widely regarded as beautiful), suggestions as to perverse interpretations of beauty among architects and the efficacy of zoned design codes, but overall we very much welcome the helpful exploration of social value."
But Sally Lewis, founder of housing architect Stitch, said: "Who is this report for? It must have been fun for the all the contributors to tally up all the ills of development, and this document will no doubt unleash a backlash wave of new discontent. In the hour available to me to digest its contents I personally recoiled at the incessant use of words like 'beauty, ugly, should, need to' etc and the general chatty tone which is quite annoying if you don't have time to put your feet up with a cup of tea to have a jolly good read. It is woolly, academic and flippant. Certainly not the tone we expect from a government claiming to get things done.
"As my skimming gathered speed my eyes fell on a couple of gems of ideas and I'm sure there's something in there for everyone. Yes, wouldn't it be great to have a placemaking champion in every local authority. But how will we encourage these people to take on these roles without funding? The last time issues of design quality were tackled was with Cabe and they did a cracking job until the organisation was axed. The biggest issue will always be the government's reluctance to put money behind quality. Commissioning a lofty document like this certainly doesn't cut it."
Annalie Riches, co-founder of Mikhail Riches, said: "There is a lot to like. VAT reform, permitted development, increasing density, redistributing development gains, creating walkable neighbourhoods etc. So overall I find myself agreeing with almost everything which is a surprise. The difficulty is that all of these great ideas are hinged around beauty as a driver and assumes this is a universal concept rather than a matter of taste."
Architect and planner Finn Williams, co-founder of Public Practice, said: "Whether or not you agree with the term 'beauty', or how to define it, there are no reasons to disagree with the commission's proposals for a more holistic approach to placemaking; a planning system that incentivises responsibility to the future; for strengthening the connection between local democracy and local places; and for government to value quality as well as quantity.
"Architecture, planning and the wider built environment industry must seize this opportunity to tilt the system towards the social and environmental outcomes society really needs. That means embracing working together with communities to shape local policies and places, rather than seeing public participation as a populist threat.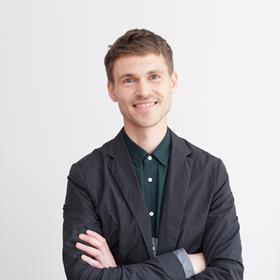 "It is also a critical moment for a new government to decide which way it wants to go. The commission's report mumbles its recommendations around permitted development and strategic planning, but its broad direction is an about-turn from a decade of short-sighted deregulation, counter-productive cuts to public-sector capacity, and ineffective demand-side housing subsidies.
"The Policy Exchange's report, Rethinking the Planning System for the 21st Century, also published this week, identifies many of the same symptoms, but prescribes a very different path which would send us back to policies that de-skill, de-democratise and devalue the planning system. It will be interesting to see whether the government chooses to fall back on old approaches, or step forward with more ambition."
Cany Ash, co-founder of Ash Sakula, said: "It has a particular tone, a little patrician, something of a throwback to the fifties, where all sensible people could agree on any number of common-sense propositions, and where there is a palpable impatience with the absurdity of the way things are.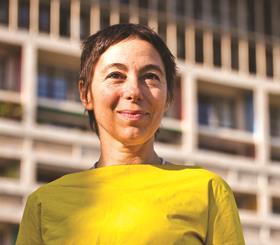 "And yet so many of us share that impatience around, say, VAT inequalities: honouring built fabric; understanding value over buck; biophilia…so you want to forget the tone and go for the substance. Ultimately however the arguments rely on a mirage defended in design codes, a strange lack of curiosity for evolving tastes, and an ignoring of the focus the young now have on whole-life carbon counting."
Ben Bolgar, senior director of the Prince's Foundation, said: "I welcome today's report which, through the depth of research and breadth of the commissioners, advisors and interviewees, represents a significant shift in industry thinking, challenging the idea that in order to build new homes at volume we need to make places worse.
"At the Prince's Foundation we have worked on a wide range of housing developments across the UK that challenge the concept of the monocultural housing estate and instead aim to create mixed-use, mixed-income, walkable communities. Key to this has been to open up a dialogue from the very beginning between the local community, landowners, planners and developers.
"Our community engagement toolkit Bimby gives a manual for local stakeholders to set out place-specific design codes that define where new development is best located and what form it should take. We have seen this approach adopted with great success in Nansledan, Newquay, where the code is now being adapted for the whole of Cornwall by the county council.
"Hopefully this report can encourage the fundamental change that is so badly needed to meet the housing and community needs that empower future generations."
Aecom director Patrick Clarke, UK & Ireland masterplanning lead, said: "Delivering better-designed homes more quickly through the planning process has been a long-term goal for the government and therefore the Building Better, Building Beautiful Commission's recommendations on how this might be done should be welcomed and given careful consideration.
"Quality design is about more than just the appearance of a project. As crucial as that is, it is also imperative how we address climate change, promote better health and well-being, foster greater bio-diversity and deliver the necessary supporting infrastructure. If proposals for new homes are to win public support and gain planning permission more quickly, then they must not just look beautiful but also demonstrate how they will deliver on this increasingly complex range of public policy objectives. Success will require a fully integrated design approach across a wide range of technical disciplines alongside an extensive programme of community and stakeholder engagement."
Architect Petra Marko, a director of developer Solidspace, said: "The ambition to break silos between housing and infrastructure to look at what makes a good 'place' and making planning a positive process 'moving away from fear' is much welcomed. The proof will be in the pudding, requiring skilled teams within local authorities to put design and placemaking at the heart of the design process and bringing communities together to combat nimbyism and tackle the housing crisis."
Historic England issued a statement saying: "We welcome the commission's aim to sustain and create beautiful, thriving places for us all to live and work in. The importance of good design, place-making and giving local people a greater say in how their neighbourhoods develop are stressed throughout the report. These principles lie at the heart of Historic England's work, demonstrated by our High Streets Heritage Action Zones programme.
"As the report highlights, heritage is an important part of what makes places special and distinctive. Preserving local character not only leads to better and more beautiful places, but the recycling and reuse of historic buildings also makes a significant contribution to combating the effects of climate change.
"The construction industry and buildings are responsible for 40% of the UK's total greenhouse gas emissions, while new construction accounts for 26% of the world's plastic consumption. The report rightly emphasises both the need to recycle buildings and that reducing VAT for repairing and maintaining existing buildings will help to achieve this. The heritage sector has long argued that the current application of VAT is a disincentive for the custodians of our historic environment to invest in and care for much loved buildings, so we particularly support the report's call for a change to VAT rules.
"We agree the use of design codes in a planning context needs further exploration, and we are already looking at how they might help create better developments in historic places.
"We will work with government, the construction industry, property owners and heritage and community organisations to take forward the creative ideas and recommendations made in this report, to ensure we really do build better places for people today and in the future."
DRMM's Sadie Morgan, founder of The Quality of Life Foundation, said: "The integrated approach of the report is really welcome, particularly the need to move beyond quantity of homes delivered to quality and outcomes; the need to give more power to the public by involving them earlier in the planning process; and the need to incentivise more long-term development models, all of which have the potential to raise people's quality of life.
"Rather than just beauty, we need to use a range of metrics to measure social, economic and environmental sustainability, and we really do need to say more about the climate emergency, which doesn't rate a mention. But it is encouraging to see the ambition and scope outlined and we now hope that industry and government (in all its forms) are able to respond in a way that seizes the initiative so we can start to build more homes and communities that improve people's lives and deal with the effects of climate change."
Steven Charlton, principal managing director at the London studio of Perkins and Will, said: "For the architecture and design industry, it's key that we remember the importance of community engagement. We need to work together with local authorities and developers to ensure that residents and communities are far more involved in the planning process.
"Currently, if you don't turn up at the community centre at a given time, you can't contribute. The majority of Britons own smartphones and communicate digitally – planning must react to this. We need to get with the times and engage people digitally in the planning process to reduce costs, increase participation and amplify engagement. By increasing digital engagement, it will also be easier for planners, designers and developers to plug into datasets to help identify trends and solutions."
Steve Sinclair director of Fourth Space said: "The report says schemes should be turned down for being too ugly. If that had been a reality since the Planning Act then half of London wouldn't exist."
Félicie Krikler, director at Assael Architecture, said: "As architects and designers, it's our responsibility to create places that will improve the lives of residents and support their mental and physical wellbeing. Countless amounts of research in recent years has shown the importance of biophilic design in improving our mental health and the consumer demand for green design. It's great to see that the Building Better, Building Beautiful Commission is pushing for government action to plant two million street trees within five years. But as designers, we shouldn't be reliant on regulation. Instead, we must start listening to those who reside on our developments as they hold the key to unlocking insight into how we can create beautiful places to live and work."
Philip Box from the UKGBC, said: "We welcome the commission's final report, which comes at a pivotal moment. We have seen recently from the National Housing Audit 2020 that the quality of design being delivering across England is not good enough, both in terms of creating quality places for residents and addressing the environmental challenges we face.
"True sustainability and beauty are intertwined, and we are pleased to see the commission echo our recommendations on the place of nature in good design. These recognise the need to promote environmental stewardship, regreen our towns and cities, meet our climate change target, and deliver truly regenerative development. Likewise, we welcome the central recommendation of the need to deepen community engagement, an area of work central to UKGBC's Social Value Programme.
"We acknowledge the important role of the work of the commission in providing wide-ranging recommendations to meet the complex challenge of addressing of poor design, and we hope the government builds on the comprehensive nature of this work to ensure good design is delivered through holistic policy-making, rather than quick fixes."