The RIBA has announced the longlist for Rethink: 2025 – an international design competition for our post-pandemic world.
The competition invited architects and students from around the world to consider what our buildings, streets and communities might look in 2025 and how the pandemic will have modified the way humans interact with space and one another.
The prize for first place is £5,000.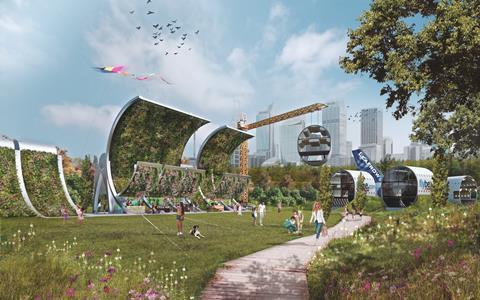 Entrants submitted ideas tackling the seven following areas: healthcare spaces, high-density living, public transport, high streets vs online shopping, remote learning, international travel and the use of technology to monitor and control populations.
The judging panel, chaired by RIBA Journal editor Hugh Pearman, selected 32 proposals, from almost 150 entries, to progress to the next stage of the competition.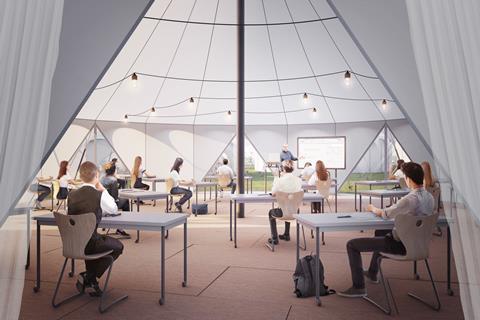 Pearman said: "The ingenuity and ideas demonstrated across different issues on the longlist – from health through new building types to streets and neighbourhoods – breeds an optimism about how we reset after the coronavirus pandemic."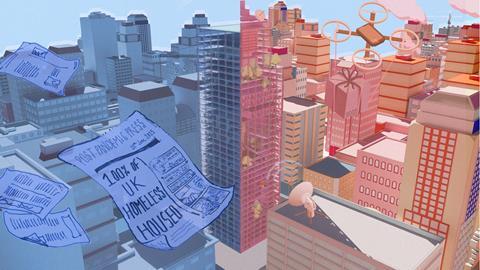 The ideas range in scale from addressing details of healthcare provision and transport design to radically reconsidering the design and use of streets and cities.
The ideas include repurposing existing buildings or designing new building types and technologies. Issues addressed range from social inequality to virus disinfection, education provision, food production, air pollution, working from home, individual and collective remembrance and improvements to rural communal life.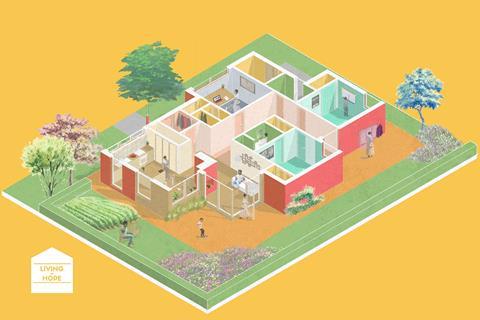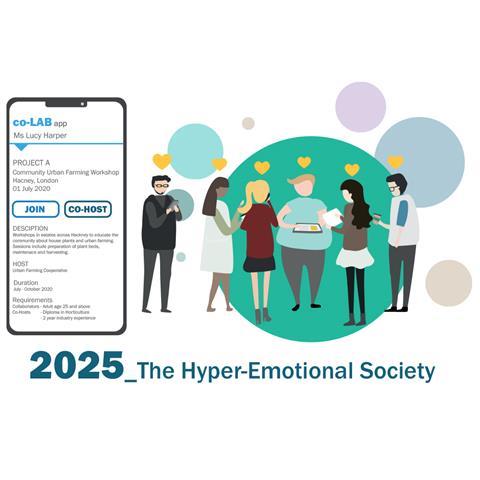 The judging panel is made up of Francine Houben, creative director and founding partner at Mecanoo, Matt Jones, principal designer at Google AI and RIBA trustee, Sarah Castle, director and co-founder at If_Do, Ed Clarke, director of structural engineering at Arup, architect Asif Khan and Joanna Averley, London mayoral design advocate and incoming chief planner at the housing department.
The longlisted entries have been organised into three categories – body, buildings and communities – with the shortlists set to be revealed on July 14, with the commendations and winners announced on July 27.
The longlist
Body
Childbirth Made Personal, Sarah Joyce, University of Leeds
Designs are people/tech-driven in this new era. The maternity policy goals of 2020 are achieved through personalized "maternity bubbles" – buildings and spaces organized around pregnant women.
Separation without Barriers to Learning, Emma Tincombe
Designs for a positive, personalised classroom experience. Individuals choose their own level of physical separation whilst remaining engaged in social and learning activities.
Blue Tile is an interlocking tile system placed strategically at building gates and pathways. It contains a built-in mechanism to spray disinfectant/ vaccine mist upwards when stepped on.
Each bus compartment at street level has its own access and can accommodate between one and four people, standing or seated, with luggage, prams, wheelchair, children, or bicycle. Both levels are open to the outside air and divided physically, but not visually, by screens.
World Sanitation Box, George Stoneham, University of Creative Arts
The World Health Sanitation Box is a network of compact stations utilising UVC light to disinfect people on the go, creating a healthier world for tomorrow.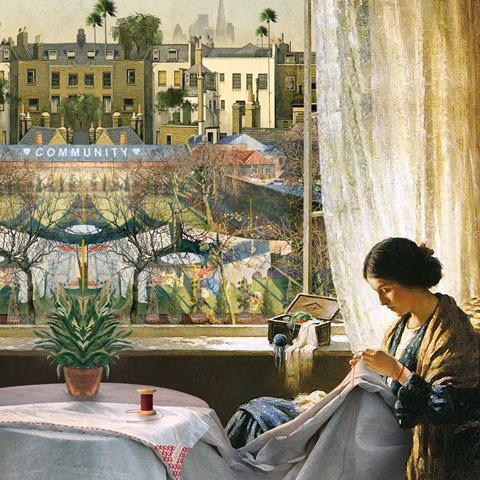 Buildings
Markthalle, Sophie Judson
Markthalle breaks down socio-economic and health related barriers created by the pandemic, providing local residents with a space to socialize while supporting local businesses.
Pop-up Teaching for Outdoor Learning, Curl La Tourelle Head Architecture
Temporary low-cost emergency schools using recycled festival marquees, to provide outdoor learning opportunities.
Hyper-Emotional Society, Hon Yen Chong and Chen-Yong Tan
The pandemic has caused an evolution towards a hyper-emotional society as we re-evaluate life priorities to become less driven by financial motivations but more by personal emotion and interests. This proposal is to transform the way we work through a work joining project app, micro home labs and forums.
Green Catalyst, Kamvari Architects
Public realm, small scale food production and high density homes come together in a high rise design. These towers are built up from prefabricated timber cubes. Courtyard plans create pleasant airy open space.
Spiral Bike Store, Fatkin Ltd
The spiral bike store provides a fun and efficient solution to secure cycle storage.
House Farm, Peru Kenyi Kevin and Sulca Quichca, Universidad Nacional de Ingenieria
A new experience for life at home through a new space – a timber framed home extension with two functions: producing vegetables for family consumption and a place for recreation. Design-a-Shed, Kilshaw and Partners
This fictional company specialises in responsive garden office design with an integrated hydrogen fuel cell - an optimum solution in a de-urbanised future.
Street Support Hub, Axis Design Architects
A neighbourhood common room for teaching, entertaining and socialising, with energy generating capacity. All in the area of one car parking space. This infrastructure scales down energy and social services, while scaling up the spatial boundaries of the private home.
Far Off is Close at Hand, Haslam & Co Architects
Reworking of a shop as a home. Four critical aspects of living in the city through the lens of a new urban house design: a perch on the street, a nest to withdraw, creating space for the ritual of washing at the threshold and the creation of a 'bar of exchange' as boundary between home and street.
Window Living, Alice Vivoda, Patricia Schleeh, Eva Setz Kengen and Mark Kengen, The University of Edinburgh
An interactive window retrofitted to existing buildings to transform into a balcony or sitting place allowing closer interactions with neighbours and nature.
Institute of Making Homes, Monty Dobney
A radical solution to drive innovative, collaborative and community involved research into the design, manufacture and construction of homes.
Podding the City, The Good Thing
Homes will be places for more activities, for healing, working, learning; flexible and elastic living spaces where we will spend most of our time. Lightweight 'spods' can be attached to extend existing homes.
Get Everyone In, Benjamin Holland, Oliva Dolan, Katie Williams, University of Liverpool
Design for the reuse of empty offices to house the homeless. Working from home is now the new norm. Office towers are empty… Here's how government funds can help the vulnerable in society survive and thrive.
Living in Hope, Rachel Moberly, Will Allen, Steve McDougall and Reuben Reid, University of Bath
The mass production of bespoke high-quality homes at low cost using a mobile app and AI to ensure the home works for the user while being based a consistent grid and structure.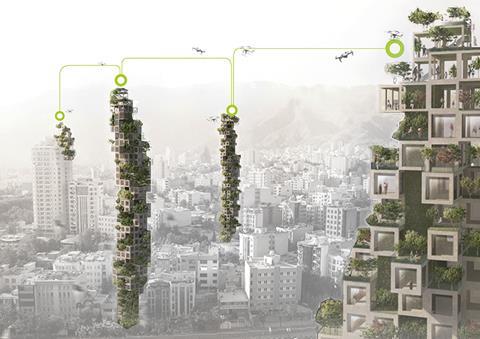 Communities
The Thread and Blanket, Studio McLeod
Simple objects in the street and home to help remember the pandemic and build back better. Ranging from intimate artefacts to public memorial, The Blanket, Thread, Lamp and Streetlight would be catalysts which continue to harness the power of 'symbols' to connect, unite and strengthen communities.
Re-invention of the Mid Twentieth Century Estates, Yvonne Dean Architecture
Reimagining the suburban street with ventilation towers and green roofs to bring nature and food production home.
Streets are Made for Walking, PeopleMatter.
Rethinking how space along our streets can better serve the communities who neighbour them with new ways of interacting between traffic and people, the cross section shows one such speculation in London.
Community Retrofit, Farrells
Empty department stores and half-used office spaces retrofitted to combat loneliness by reinventing the high street toward sustainable, localised communities in the heart of our towns and cities.
Reclaiming our Streets, Assael Architecture
A blueprint for a community-led, grassroots intervention to reclaim the streets we live on.
Eco-Archi Post Covid, Mark Bonshek, Khan Bonshek
This comic explores the impact of air pollution upon Covid-19 transmission and the disproportionate affects upon BAME communities living in the inner-suburbs of our cities.
Post Pandemic Exchange, Elle Thompson, University of Nottingham
The City's Garden Streets: Designs for a cleaner, greener, more attractive inner city, promoting sustainable societal choices, rendering that infrequent trip to the office a worthwhile healing experience.
Village City, Stephen Macbean
A development model that creates a hub of essential facilities in walking distance from a cluster of villages. This reaffirms the strengths of localism, providing economic and community cohesion, with considerable environmental benefits. It may be in need as people move out of cities post-pandemic.
Greater London Agriculture, Tim Rodber and Dominic Walker
A city region masterplan to encourage fresh ways of growing and eating in cities, divesting from industrialised food systems, letting global biodiversity flourish, and - almost incidentally - reducing chances of future pandemics.
Pedestrian Friendly Streets, Gabriel Fox, University of Bath
COVID-19 has provided us with the perfect opportunity to rethink urban design so that pedestrians and cyclists are put above motorists. This proposes three tiers of streets, pedestrian streets, cycle streets and regular streets.
Leafrow, Highly Creative Minds
Covid-19 or not 2025 will present a different world: environmental preservation will be key with lifestyles changing accordingly. Redundant planes could be made in all sorts of community spaces, re-energising green spaces but with targeted recycling that makes this 'plane'-sailing.
A Catalogue of Regeneration, Andrew Jackson
Elements for the regeneration of homes to address issues of health, density, sustainability and the physical implications of the Covid-19 fallout in a phased, economical manner designed to help the most vulnerable in society. Improvements will be made to roads and pavements, facades and street furniture.
Home Front 2025, Sung and Ivan TL Chan
An urban vision of interventions and activities which encourages the full participation of the public in addressing the global fear of pandemic. Submission in the form of a comic book.