Approval comes more than six years after earlier scheme in shadow of city's brutalist bus station got green light
John Puttick Associates has received planning permission for a purpose-built youth centre in Preston opposite the city's grade II-listed brutalist bus station.
Puttick led the refurbishment of Building Design Partnership's 1960s transport hub, which completed 2018. The practice was also appointed to design a three-storey facility for young people, however approved proposals for a structure on the bus station's apron were not progressed despite being consented in 2016.
The practice's latest proposal – which follows a 2021 appointment by youth-centre specialists OnSide – will deliver a new three-storey, 3,140sq m building bringing together sports facilities, performance spaces and social spaces on a different site opposite the bus station.
It includes a four-court sports hall, climbing wall, gym, martial-arts room, arts room, music room with a radio booth, and a film and multimedia suite. The building will feature a double-height atrium with a café and space for playing pool and table tennis.
Puttick said the building's columnar elevations echoed the rhythm of the bus station's Modernist elevations, and also features yellow structural elements at ground level.
"This is a key site in the city centre and represents a huge opportunity in being given over to a building dedicated to young people," the practice said.
"As well as applying our expertise in designing youth zones, we have looked closely at the site arrangement and how the new centre contributes towards the civic heart of Preston, opening onto the new public square and Fishergate shared-space initiative to create a destination for young people in the city centre."
The building's flat roof will be developed into a landscaped terrace, providing secure outdoor break-out space and accessible green space with views of the city. Photovoltaics and windcatchers on the roof will contribute to its energy needs.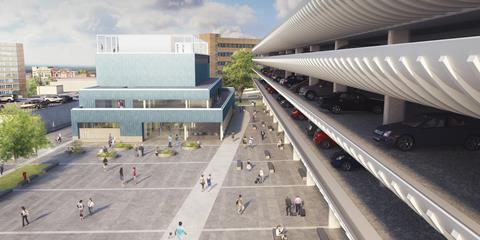 Structural engineer for the project is Ramboll; services engineer is Hurstwood Environmental Consulting; Walker Sime is project manager and QS; and landscape architect is Trevor Bridge Associates.
Work to deliver the project is due to start on site later in the year with the Youth Zone expected to open in spring 2025.