Report calls for greater weight to be placed on public preferences
Architects and academics have responded to proposed reforms to architectural education made by the Building Better, Building Beautiful Commission.
They largely supported the commission's call for education to have a greater focus on wellbeing, but questioned the extent to which it argued that architecture students should have to learn to be populist.
The commission's final report, co-written by the late academic Roger Scruton and Nicholas Boys Smith, director of Create Streets, made more than 100 recommendations on ways to ensure better-quality design and long-term stewardship in the development of new homes.
A section on the education of architects and planners called for a greater focus on the way design impacts on health and wellbeing. More controversially it also explored the extent to which academic appreciation of architecture could diverge from public appreciation.
It said: "There has been a great divorce in recent times between what the general public have appreciated and sought by way of a place to be, and what architects, developers and, often, planners have provided."
It cited a 1987 study by psychologist David Halpern, who went on to run the Cabinet Office's Nudge Unit, which found that "the consistently least popular of 12 buildings to non-architecture students was the most and second most popular among two groups of architecture students".
The Scruton report also said: "Empirical research on the relationship between urban design and wellbeing, health and sustainability, as well as public visual preferences and preferences on urban form, should form a central component of all courses in architecture, planning and other built environment qualifications."

Professor of planning and urban design at the Bartlett, Matthew Carmona, said marrying solid design tuition with a wider perspective on its impact for those whose lives would centre around the built product was laudable.
"In essence I would agree that architects would benefit from an education that better balances a strong aesthetic design perspective with a scientific and social scientific understanding of the city and how it delivers value – economically, socially and environmentally," he said.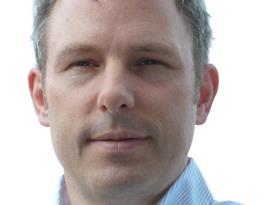 "Architects should not feel compelled to chase what is 'popular' at any given time – something which shifts and is difficult to pin down – but do need to start from understanding the place and how they can meaningfully respond to and enhance it.
"More often than not this will mean designing good background architecture, rather than landmarks, and universities could certainly prepare students much better to design the ordinary and everyday architecture that constitutes most of our cities, including housing."
Further questioning the need for a populist focus, Carmona said research from UCL's Place Alliance found most new housing developments were "widely disliked by non-professionals" and roundly condemned by local politicians in addition to being considered "aesthetically incompetent" by many architects.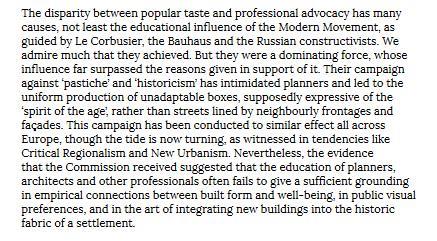 Sally Lewis, director of Stitch Studio and an external examiner at Oxford Brookes University, said most student projects she had seen over the years considered and responded to their wider context and seemed to grasp the benefits of good urbanism.
Lewis said her experience suggested that teaching naturally included urban design in general architectural education. But she said better training for on-the-ground delivery could be useful.
"If anything, students could be better prepared for the technical challenges of making good buildings and spaces so they don't only look pretty but also work on the ground," she said.
"It is quite a task to juggle bins, bikes, plant space, parking and still make a welcoming ground floor, a great street and a pleasant pedestrian journey.
"There is so much talk about scale, heights and density but in the end it's the quality of the pedestrian experience that counts.
"This quality can be found in terraced streets and high-rise developments. If every development becomes a champion for its bit of street or town then the wider result will inevitably be good urbanism."
On people's "visual preferences" for development, Lewis said the report had been unspecific about its claims, adding that residents' primary interests were not always how new development was viewed by neighbours.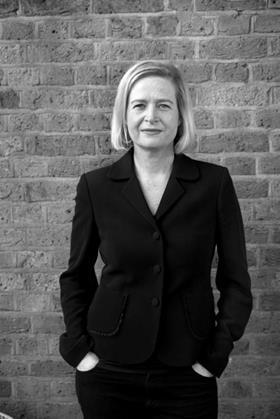 "Residents will be very concerned with light in their home, an easy to furnish layout, privacy from neighbours, good sound insulation, access to amenity space and play space areas, a well-located bin store, a bike store that's easy to access, low heating bills, lifts that work, a decent street with trees and wide footpaths and a pleasant journey home," she said.
"They will certainly appreciate a building that also looks smart but this is not the main thing that will make their space feel like home."
Elsewhere, the Beauty Commission's final report called for the basic training in design offered to planning inspectors to be expanded and for planning officers to receive broader design-champion upskilling.
The report called on the government to provide resources for enhanced training and to encourage planning officers and inspectors to study for mid-career postgraduate qualifications with the support of the government.
Residents will appreciate a building that looks smart but this is not the main thing that will make their space feel like home

Sally Lewis
Its recommendations also included a proposal for the Arb to look at ways entry routes to the profession could be opened up in parallel to the academic path.
"Such reforms would complement rather than replace existing academic provision and help to bring to the sector the full range of skills it needs," the commission said.
An Arb spokesperson said ensuring that UK architects had the appropriate competencies helped protect the public and ensured trust in the profession was maintained.
"We have already begun a review of the competencies required by UK graduates to join the architects register and provide services as an architect," they said.
"Once these are defined, we will identify the appropriate routes on to the register. We will also be looking at the competencies required for all UK architects to remain on the register. We will consider the policy propositions relevant to us as part of this ongoing piece of work."