Novelist and 'architects' conscience' Hisham Matar also honoured
Social housing architect Peter Barber has been elected a Royal Academician.
He joins the likes of Niall McLaughlin, Farshid Moussavi, David Adjaye, Eva Jiricna and David Chipperfield as architects who have received the honour.
Barber, who received an OBE and the RIBA Neave Brown Award for Housing last year, is one of three new academicians, along with painter Michael Armitage and sculptor Ryan Gander. He has devoted his career to designing low-cost and social rent housing including modern almshouses and facilities for people experiencing homelessness. Last year four of his projects won RIBA London trophies.
Meanwhile the institution also announced two honorary fellows: covid vaccine developer Sarah Gilbert and the Booker-shortlisted novelist Hisham Matar who trained as an architect.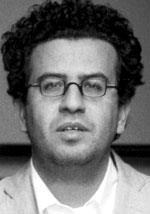 Matar is the son of a Libyan dissident who was seized in Cairo in 1990 where the family was living in exile and transferred to Tripoli by Gaddafi's agents. He has never been released.
Matar made headlines a decade ago when he spoke out about British architects who had begun working in Libya as relations between the two countries thawed.
He warned the profession was being used as part of a vast "PR facelift" for the Libyan regime and urged them to think "more than twice". A year later they all pulled out amid civil conflict which led to the overthrow of the Gaddifi regime.
He told Building Design at the time: "There is a long and honourable tradition of architects being politically engaged. Buildings are not just structures; they are palaces of the soul, influencing how we think and speak.
"Any person who cares about justice and human rights needs to seriously consider going into business with the Libyan regime."
A 2010 report by Amnesty International found torture and ill-treatment taking place with almost total impunity.
Matar's comments forced architects including Peter Clegg of Feilden Clegg Bradley Studios and Roddy Langmuir of Cullinans to defend their work in the country.
The question of whether architects have a responsibility to consider the ethics of countries where they work returned to the spotlight two months later when Chinese dissident artist Ai Weiwei said practices working in China who did not raise concerns about that regime's human rights record were complicit in its crimes.
The 80 Royal Academicians – who must all be practising artists or architects – govern the Piccadilly institution which was founded by George III in 1768. The curators of the annual Summer Exhibition and its architecture room are chosen from among them.
RA citations
Peter Barber
Peter Barber studied at the University of Sheffield between 1980 and 1983 and at the Central London Polytechnic from 1984 to 1986. Peter worked with Richard Rogers, Will Alsop and Jestico & Whiles prior to establishing his own practice in 1989. He is currently a lecturer and reader in architecture at the University in Westminster.
Over the last 30 years Peter has designed a significant number of award-winning housing projects. Peter was awarded the Royal Academy Grand Prize for Architecture in 2015 and numerous RIBA and Housing Design Awards. Peter was awarded an OBE for services to architecture in the Queen's Honours List 2021, the AJ100 Contribution to the Profession Award 2021 and the RIBA Neave Brown Award for Housing.
He has lectured about the work of the Practice at many institutions, including the Royal Institute of British Architects, the Architectural League in New York, and numerous international and domestic university schools of architecture including Helsinki, Pretoria, Ahmedabad, Mumbai, Munich, Genoa, Istanbul and Colombo as well as Oxford University and The Bartlett - University College London. In 2019 his work was the subject of a major retrospective exhibition entitled "100 Mile City and Other Stories" at the London Design Museum. He has been described by the Independent as one of the UK's leading urbanists.
Hisham Matar
Born in New York City to Libyan parents, Hisham Matar spent his childhood in Tripoli and then in Cairo. He has lived most of his life, since the age of fifteen, in London. He is the author of the novels In the Country of Men and Anatomy of a Disappearance, and the memoirs The Return and A Month in Siena. He has won numerous prizes, including a Pulitzer, and was shortlisted for the Man Booker Prize. His work has been translated to more than 30 languages. He is a Fellow of the Royal Society of Literature. He lives in London and New York City, where he is a professor at Barnard College, Columbia University.
Source: Royal Academy of Arts