McGrath Road project's 'intelligent, dynamic and original' design lands practice affordable-homes accolade
Peter Barber Architects has picked up RIBA's 2021 Neave Brown Award for Housing for its 26-home McGrath Road scheme in east London – pipping Maccreanor Lavington and Stanton Williams in the process.
Half of the four projects shortlisted for this year's award were designed by Barber, but judges preferred McGrath Road in Stratford – created for client Newham council – above the practice's 95 Peckham Road scheme.
Named in honour of social housing pioneer Neave Brown, who died in 2018, the awards salute new affordable housing. McGrath Road is the second winner of the accolade, following Mikhail Riches' success with Goldsmith Street in Norwich in 2019. That housing project also won the Stirling Prize. There was no award last year because of the pandemic.
RIBA said the series of three- and four-storey homes that make up McGrath Road challenged conventional housing configurations and set a new standard for high-quality affordable housing.
David Mikhail, who chaired the award jury, said that in addition to its "sheer inventiveness" McGrath Road had made a huge contribution to the wider area, "projecting optimism" at the same time as feeling neighbourly.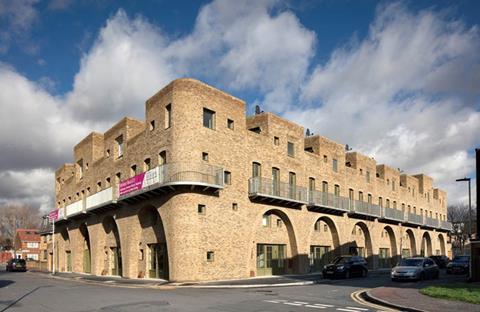 "The architects have moulded a place of character, both within the scheme and the community it serves," he said.
"It demonstrates how imaginative street-based architecture can be socially progressive and architecturally engaging – a combination that endears Peter Barber Architects' work to so many people."
RIBA president Simon Allford said he was sure Neave Brown himself would have championed the project.
"Intelligent, dynamic and original – this unique configuration of housing has the McGrath Road community at its heart," Allford said.
"It's an exemplar of high-quality social housing within one of London's most densely populated boroughs and demonstrates what can – and must – be achieved across the country. It would, I am sure, have been championed by the late, great Neave Brown."
All our Stirling Prize coverage