As he receives his Royal Gold Medal at the RIBA today, the celebrated architect tells Elizabeth Hopkirk how to get housing right
Neave Brown is sitting in an armchair with the autumnal sun streaming through open French windows at his home - one of the hundreds he designed during his 50-year career.
At his right hand is a huge pile of books on art, architecture and politics. On the floor to his left is a tray overflowing with papers and invitations as well as a single, hefty tome. This is Cook's Camden, Mark Swenarton's comprehensive new account of a remarkable borough and its progressive house-building programme in the 1960s and 70s under Sydney Cook.
Brown is chuffed by the book, a good chunk of which addresses his near-legendary schemes Alexandra Road, Winscombe Street and Fleet Road (now known as Dunboyne Road) where we are sitting. Swenarton calls Brown the finest living exponent of the art of housing design.
The book is emblematic of a reappraisal of his life's work that, along with the Gold Medal which he will receive today, has taken him completely by surprise.
"I'm dumbfounded," he exclaims. "I thought my work was disappearing into the background as the work of a particular period, notable but not special. I'm amazed how it's being reassessed and thought about as possible precedents for the future. Of course I'm unbelievably pleased – but also in a state of confusion."
Brown, now 88, never worked again in England after the public inquiry into Alexandra Road and, at the same time, the future he and his contemporaries were trying to build was crushed under the iron feet of Margaret Thatcher.
His group at the AA turned out to be a remarkable cohort – Patrick Hodgkinson, John Miller, David Gray, Kenneth Frampton – but at that time, he recalls, they were "confused, naïve, uncertain".
They were confident enough, however, to write to Le Corbusier offering to take him for lunch when he came to London to receive his own Gold Medal – an invitation Corb accepted and by all accounts thoroughly enjoyed.
Brown recalls: "The AA was the only school in Europe which was totally modern in its commitment – others were teaching the orders – and we had among our teachers young architects from before the war who were determined to do things differently."
Brown was hungry for this mission. Born and partly brought up in the States, at 16 he was packed off to board at Marlborough, where he was known as the Yank, followed by national service in a "snob regiment". The resulting identity "trauma" left him with a deep dislike of English class and restrictions.
"All of us became lefties and believed in making a more equal, competitive, open society," he says.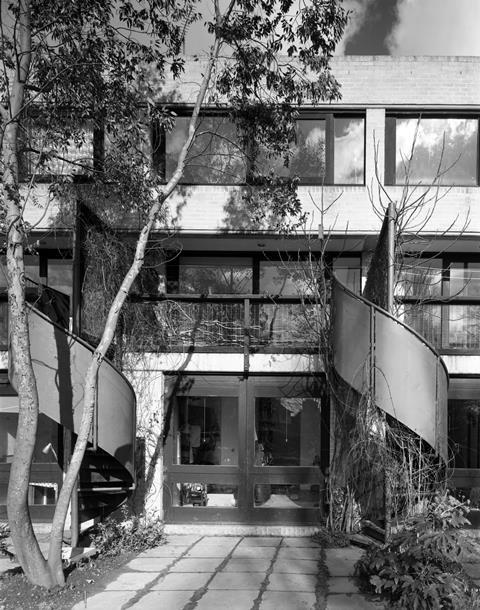 Their failed project has been given fresh relevance by today's most urgent issues like the housing crisis and in particular the problems exposed by the Grenfell fire.
Brown – genial and gentle till now – flashes with anger.
Today housing is about profit, even social housing, he rages, which means budgets are vulnerable and people cease to be the priority. "It's about getting away with it…"
It's no surprise to find he has a manifesto. "When we start doing housing again we need to redesign it – I have some ideas about that," he says. "But the most important thing is to find a way of financing it. Instead of financing buildings, finance the whole programme. That's the most vital thing." He points to models on the continent which use equity from one project to pay for the next.
"Neo-liberalism has stripped the thinking and ideology and purpose from our country," he says. "If you do that you don't do good buildings."
Since Grenfell the authorities have rightly been concentrating on the victims and what happened but they're avoiding the real problem, he argues, which is how to build the "correct" housing for the future.
"There's no mobilising of ideas or political response. People are floundering around not knowing what to do or even how to think about it. The RIBA must take that on board."
If he were housing minister he would all but forbid high-rise social housing – the only towers we should be building are the luxury kind, he says, because there is money for their maintenance.
Towers for the poor isolate residents from society and lead to delinquency and even early death, he says. But it is the Corbusier-inspired failure to knit housing projects into the fabric of the existing city that is if anything the bigger mistake.
"One of the things that was wrong even back at the beginning with social housing is they did it as separate forms from the continuing city," he explains.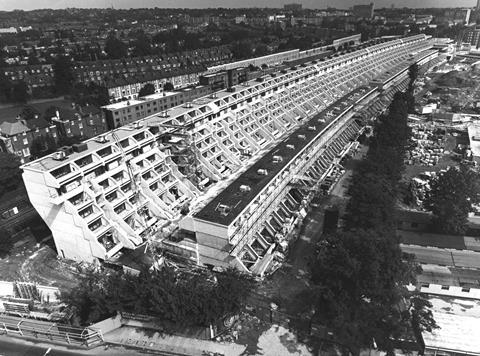 "They made enclaves and reserves for the underprivileged. As a consequence – and we don't really take this in, but we should – we created centres for people to behave badly, particularly young kids, and centres for people who were underprivileged, particularly in northern cities.
"We created again what they had at the end of the 19th-century: a distinction between the deserving and undeserving poor. We have a way of thinking that says the undeserving poor misbehave because of themselves – not that we have created circumstances in which it is almost impossible for the young to be anything else.
"We have created a social problem and now after Grenfell we are confronted by a situation which forces us to face that problem."
He lays the blame at the door of the Tories, starting with Churchill's housing minister Harold Macmillan who presided over the industrialisation of housebuilding.
Brown's wife, Janet Richardson, the retired chief officer of an East End community health council and a veteran of Greenham Common, ticks him off for dwelling on the past as she collects their dog, Maisie, for a walk.
Brown claims not to follow architecture since he took himself off to art school in his 70s and won't be drawn on which practices are doing the most interesting work today. But when it comes to politics Brown, who is living with a diagnosis of terminal lung cancer and could be forgiven for reminiscing, is admirably well informed and as passionate as ever.
One can only hope the resurgence of interest in his work will be seized on by those in positions of influence today.