Cantilevered copper roof extension contains lecture theatre and classroom
A new new teaching and learning centre for Birkbeck, University of London designed by Penoyre & Prasad has completed in Bloomsbury.
The project is a refurbishment and rooftop extension of an existing 1920s building on Euston Road, near to the main Malet Street campus.
It contains a 180-seat lecture theatre, classrooms and informal co-learning spaces.
Its most striking element is an angular copper-coloured roof extension that cantilevers over the street.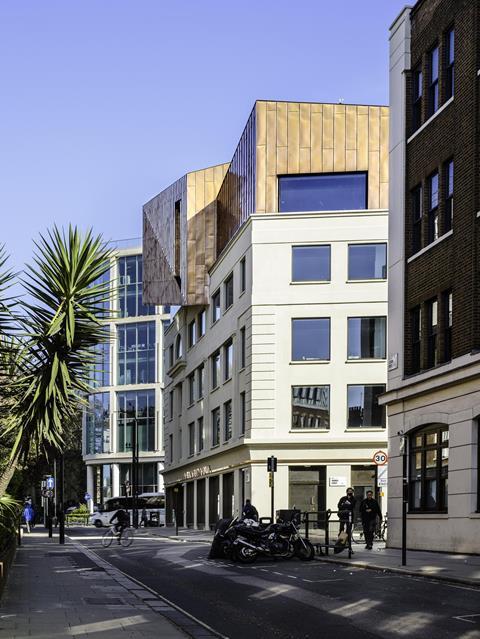 At night the building is lit up to showcase the activity within and highlight the significance of Birkbeck as the UK's only evening university.
Mark Rowe, principal at Penoyre & Prasad which is now part of Perkins & Will, said a key part of the brief was to enhance the original 1920s block. This is particularly significant as the building sits in a sensitive heritage context, diagonally opposite Sir John Soane's grade I-listed Holy Trinity Church, and close to Euston Road's significant landmark buildings.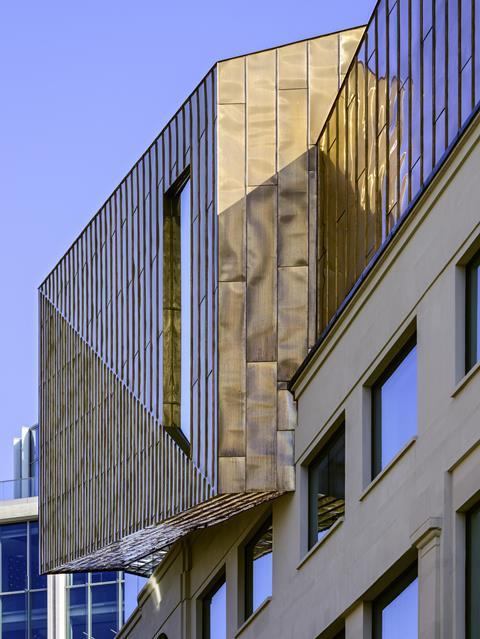 Rowe said: "Our aim for this project was to breathe new life into the existing building and give Birkbeck a dynamic presence in a prominent location.
"The timber-formed, copper-clad, twisted lecture theatre protrudes from above the building, creating a striking moment that can be recognised from afar, while providing the much-needed teaching spaces. Views into the basement through ample glazed shop windows capture the curiosity of passers-by, creating an engaging space for the public and building users."
The seven-storey building includes a cafe that is open to the public and a learning hub for students on the ground floor and basement.
Teaching and learning spaces fill the upper floors, with the 180-person lecture theatre and a 25-person classroom occupying the rooftop extension.