Somerville sets £400k budget to dish up improvements to grade II venue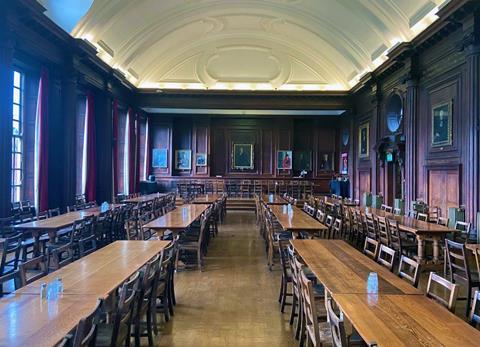 Oxford University's first all-female college has launched a RIBA competition to find architects to upgrade its grade II-listed dining hall.
Somerville College – which counts Margaret Thatcher and Indira Gandhi among its former students – said its wood-panelled hall currently struggled to accommodate events because of the "triple burden of oppressive acoustics, crude lighting and inadequate ventilation".
Competition documents said the hall's poor acoustics made conversation impossible when it was full to capacity; lighting was incapable of adaptation to the mood of different functions – and key artworks were not properly lit; while ventilation was limited to one extractor fan in the roof void.
They said the college was seeking a multi-disciplinary team to develop an attractive and innovative solution which would enhance the existing building and allow visitors to fully appreciate the hall's architecture and history.
Somerville principal Jan Royall said that when the hall opened in 1913 the college had just 120 students.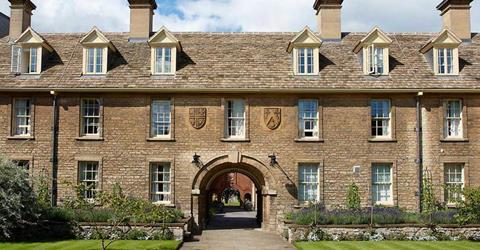 "The magnificent proportions of the building were a testament to our ambition to take our place among the great – and male-only – colleges of Oxford," she said.
"Today, that ambition has been realised. Somerville is home to a diverse community of around 630 students, joined by academics and support staff, for whom this space remains an integral, daily part of college life.
"This brings with it new challenges. We are looking for an imaginative proposal that will help us to meet the needs of the 21st century; enhancing the hall's dignity and beauty while creating a space which can be used and enjoyed by all."
Somerville said its budget for all three elements of the project was £400,000 plus VAT. It said five teams would be shortlisted, each of which would receive a £6,000 honorarium.
The deadline for expressions of interest is 2pm on March 16. RIBA said the competition winner would be announced in early July.
Niall McLaughlin, who has worked on several projects for Somerville, most recently its Catherine Hughes Building, is the architect member of the competition's evaluation panel.