£202m science project will replace unlisted Leslie Martin building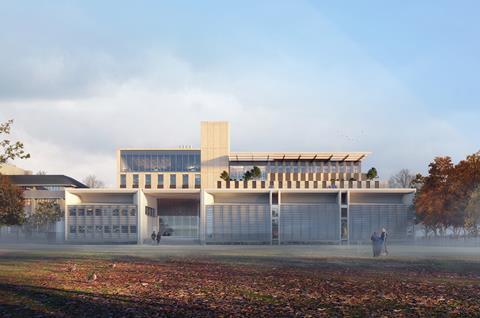 NBBJ is preparing to submit a planning application for the biggest building project in Oxford University's history.
The £202m facility will be home to the departments of experimental psychology and biology including plant sciences and zoology.
Known as the Life and Mind Building, it will have a gross internal area of 25,000sq m and be home to 800 students and 1,200 researchers.
Its aim is to transform the relationship between the psychological and biological sciences through co-location and collaboration.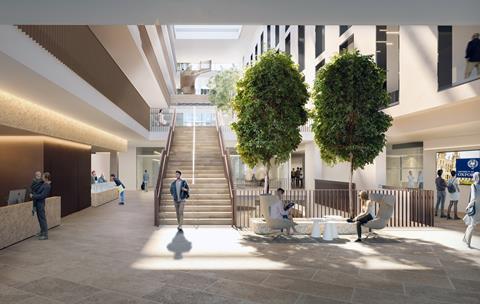 A terraced atrium will link two main blocks, one an adaptable laboratory wing and the other filled with offices that can also be used as "dry labs".
The building is shaped to invite the public on to the site – and up to a roof-top restaurant – via a plaza with views into and across the ground floor. The plaza can be used for events and separates what is a large building into two smaller volumes in keeping with the local context.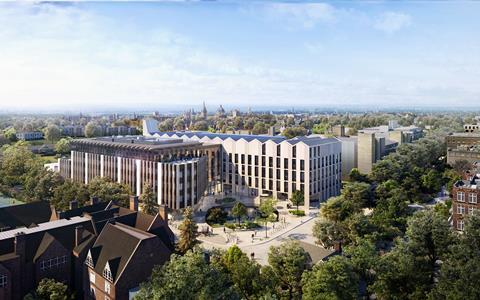 Replacing Leslie Martin's Tinbergen Building which closed in 2017, the Life and Mind building will be located at the entrance to Oxford's science area, between the city centre and the listed University Parks.
Reconstituted stone will be used for the facades, with punched widows and projecting buttresses. The architects said they were inspired by the strong articulation of Oxford's historic college buildings.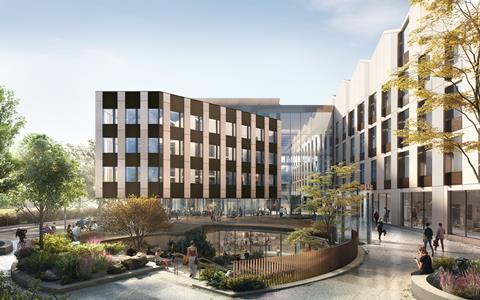 They used computational mapping tools to ensure its silhouette avoided protected view cones.
Similar software was used to test the balance of solid insulated walls to windows so interiors can be filled with daylight yet screened from the sun. Solar shading will include an extensive PV-ready solar roof structure which will contribute to the distinctive roofline.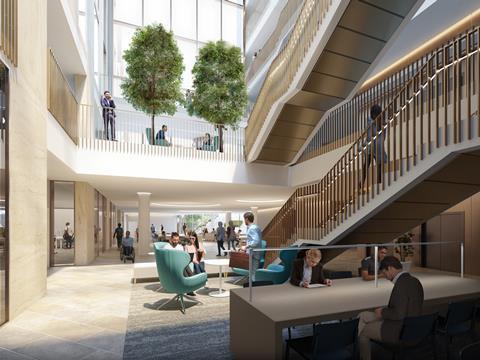 The building will have spaces for teaching, flexible and specialist bio-science laboratories for research and a wide range of testing spaces for volunteers participating in research into human behaviour, perception, development and mental health.
Shielded rooms will allow electroencephalograms (EEG) to track and record brainwave patterns, aimed at understanding and finding problems related to electrical activity of the brain.
Ingo Braun, design director at NBBJ London, said: "Following an immensely collaborative period of engagement with the departments and university, we are proud to have designed a light-filled, welcoming, and flexible space for staff and students which can be public-facing but also facilitate the world-class learning and scientific research the university is known for."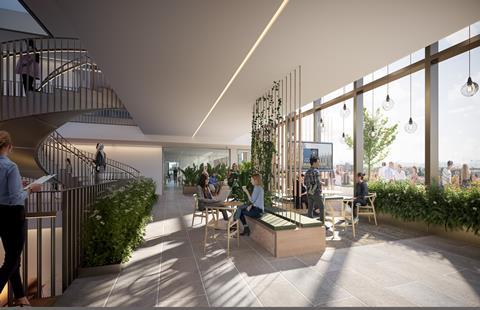 A planning application is due to be submitted to the city council in July with the new facility planned to open in 2024.
The Tinbergen building, which was never listed, opened in 1971 and was designed by Leslie Martin, the architect of London's grade I-listed Royal Festival Hall.
It was named after Dutch biologist Niko Tinbergen. He taught at Oxford from the late 1940s and was co-awarded the Nobel Prize for physiology and medicine in 1973 for work on social behaviour patterns.