'Suitcase' display units will be manufactured for London Festival of Architecture exhibition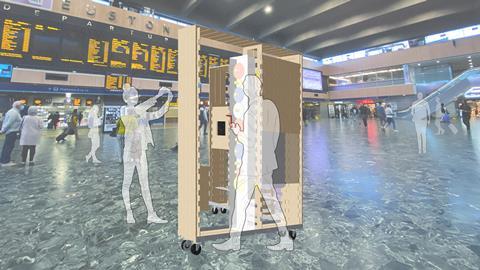 Muslim Women in Architecture (MWA) has won a London Festival of Architecture and Network Rail competition for a prototype exhibition concept for stations.
The collective beat six other teams with its As You're Passing By proposal for displays shaped like giant open suitcases on their sides.
The Curating Concourses competition sought proposals for an exhibition concept that could enhance passenger experience, encourage people to engage with displays and test the future of exhibitions in stations.
The judges said their entry looked to "transform people's experience of Euston Station's concourse with a bold and engaging installation that brings different communities together, using interactive design to communicate content in a way that is accessible to all".
MWA is currently working with Network Rail and local stakeholders to develop and finalise their design concept ahead of manufacture and installation. The modular installation will be erected at Euston as part of the London Festival of Architecture in June, displaying Network Rail's design guidance series, reimagining how these 29 printed documents can be exhibited in a more approachable and interactive way.
The display includes interactive and playful elements such as mirrored panels, a cog mechanism, movement and QR technology.
MWA said by employing a range of tactile and tech features the exhibition hoped to appeal to a broad audience, creating a space that felt accessible and comfortable to visitors, locals and passengers of all ages and backgrounds, and in turn maximises the learning opportunities.
The units are made of ply sheets which slot together for easy assembly and feature two double-sided hinged display panels. The panels can be arranged or opened and closed to any desired angles to create more intimate or open spaces, allowing the installation to cater for different locations as well as different types of exhibitions in future, said the architects.
The other finalists were Bamidele Awoyemi, Farouk Agoro and Livia Wang, Editional Studio, Everyday Fictions, Mark & Cristina and Project Poché.
Frank Anatole, principal architect at Network Rail, said: "This competition is a fantastic opportunity to highlight the curatorial potential of station spaces and we are delighted to announce Muslim Women in Architecture as the winning entry. Their approach brings together clever use of technology and adaptable solutions that showcase our commitment to quality design on Britain's railway network in an accessible, interactive and engaging way for passengers."
Rosa Rogina, programme director at the London Festival of Architecture, described the winning proposal as an outstanding response to the brief.