Reflective roof 'brings everyone together'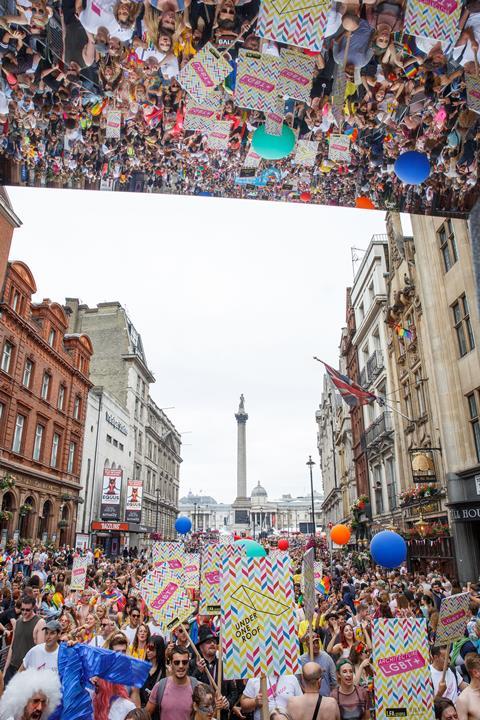 A float designed by RAW Architecture Workshop to celebrate LGBT+ architects and diversity in the profession made its debut at Pride in London this weekend.
The float, called Under One Roof, was the result of a design competition organised by the London Festival of Architecture (LFA) and Architecture LGBT+, a networking and support group founded two years ago.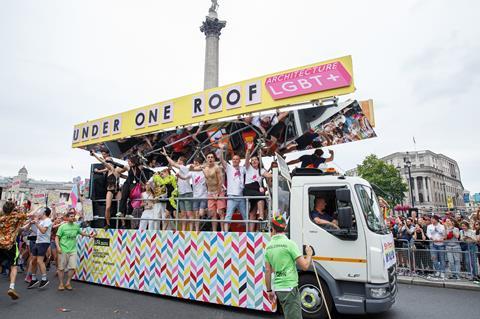 The winning design involved an inverted mirrored roof supported by a scaffolding and timber frame.
RAW said the idea was to enhance the visibility of the float, help people on board feel immersed in the parade and allow the crowd lining the route to see reflections of other crowd members, "thereby bringing them together visually under one roof".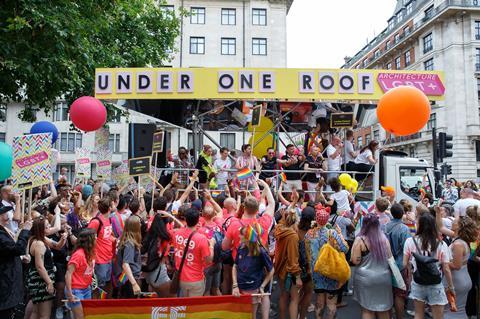 More than a million people were said to have attended this year's Pride in London, which marked the 50th anniversary of the Stonewall uprising in New York.
Tom Guy, director at Guy Piper Architects and founder of Architecture LGBT+, said it had been hard to pick a winner this year but that Under One Roof "stood out for us for its clear message and eye-catching design".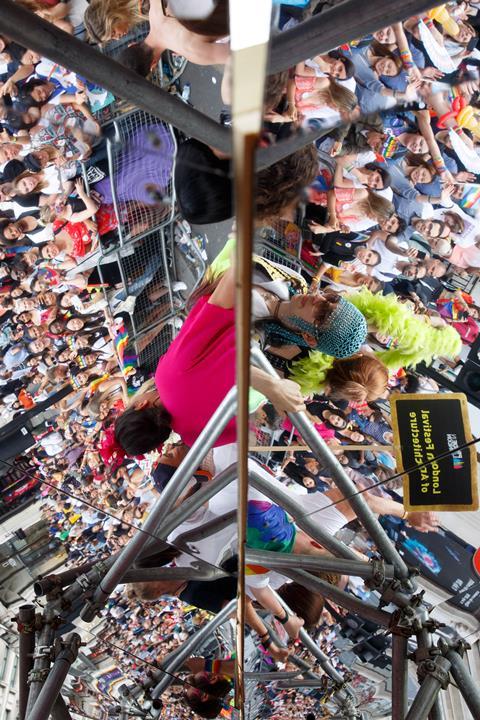 Graeme Laughlan and David Mulliagan at RAW Architecture Workshop said it had been an "incredible experience" to win the competition and be involved with the festivities.
Architects and their friends joined the float following a Pride Brunch at the RIBA. It will get a second run at Manchester Pride on August 24.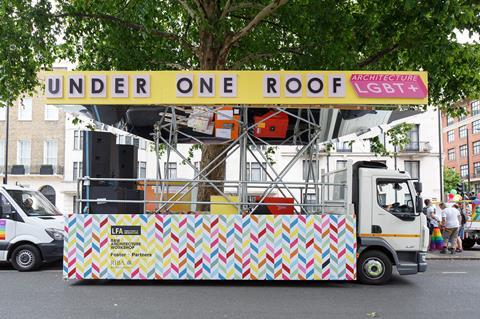 Tamsie Thomson, director of the London Festival of Architecture, said: "Pride in London is one of the biggest events in the capital, and I'm delighted that the LFA and Architecture LGBT+ have joined forces again to bring Under One Roof to fruition.
"Thanks to RAW Architecture Workshop, we're celebrating the brilliance of London's architecture sector, and the diversity which allows it to thrive. Under One Roof really stands out from the crowd, and it's a real joy to join LGBT+ architects and their friends for such a joyful and important occasion."