Seventeen-storey glass block approved for city-centre conservation area
Manchester council has approved proposals for a 17-storey mixed-use block on a site in a conservation area.
The Jon Matthews Architects proposals, created for private investment company Salboy, will deliver 65 apartments along with commercial space, café and restaurant space, with office accommodation on its lower levels.
Matthews set up the practice in 2018 after quitting 5plus, the firm he co-founded in 2010 and where he was responsible for schemes such as an as-yet unbuilt 41-storey tower at Angel Meadow for a Hong Kong developer.
The bulk of the new homes in the Salboy scheme will be in the tower on Shudehill. However a further eight flats will be built in a new six-storey block fronting High Street and another 13 in a refurbished warehouse building at 1-3 Back Turner Street.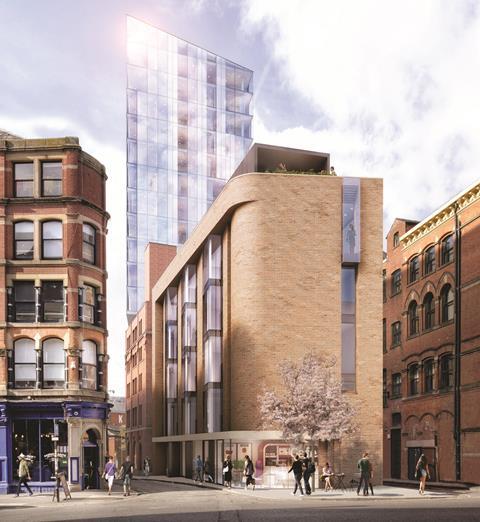 Government heritage advisor Historic England did not object to the proposals for the 0.16ha site, which falls within the bounds of the Smithfield conservation area. However the city's conservation area and historic buildings panel said it did not believe that a "focal building" on the site would enhance the area's historic environment.
Recommending the proposals for approval to members of Manchester's planning and highways committee, council officers said the scheme would deliver a "high-quality building" and regenerate a site that was "principally challenged by a poor-quality environment".
They said: "The site is considered to be capable of accommodating buildings of the scale and massing proposed while avoiding any substantial harm to the setting of adjacent listed buildings or the character of the Smithfield – including the setting of the retained warehouse building – and adjacent Shudehill conservation area."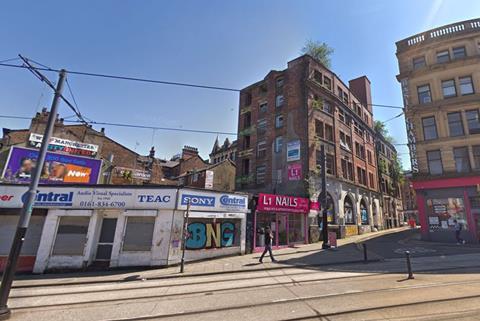 They added: "The street frontages to Shudehill and Back Turner Street would be re-vitalised and retain street-edge enclosure, while also complementing the vertical rhythms, established scale and visual texture of the individual streets."
Planning officers accepted that there would be "a degree of less than substantial harm" to the surrounding area but said the proposals represented "sustainable development and would deliver significant social, economic and environmental benefits".
Councillors' decision to approve the proposals is subject to the agreement of an acceptable contribution towards off-site affordable housing.