Debate confirmed for September 13 after public petition gathers more than 150,000 signatures
A number of high-profile Tory MPs are trying to derail HS2 after a public petition triggered a Parliamentary debate on cancelling the £100bn project – months after construction work started.
A debate has been scheduled for September 13 after more than 155,250 people put their names to a petition that said the scheme was "poor value for money" and that "the pandemic has changed how we work forever and invalidated the business case".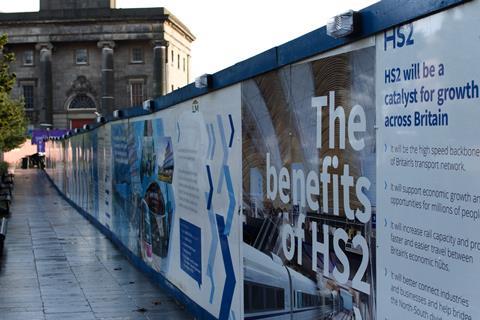 The petition asks that the government "stop work on HS2 immediately and hold a new vote to repeal the legislation".
Debates triggered by petitions – a system introduced by the coalition government – are seen as a good way of raising awareness of an issue and demonstrating the strength of public feeling but they rarely lead to a change in the law.
However if HS2 were to be scrapped it would be a big blow for the construction sector, with firms in the industry already having been awarded contracts worth more than £15bn.
On Twitter former business secretary Andrea Leadsom, and former work and pensions secretary and planning minister Esther McVey, who have both been vocal opponents of the scheme, said it should be canned.
Leadsom said: "Its budget has overrun time and time again and it is inconceivable that it offers value for the taxpayer. The project is bad for our economy and our environment."
McVey added: "It's time to put this very expensive white elephant out of its misery. HS2 must go."
She said: "Our focus needs to be on good local transport and reliable internet connections for all."
In response to the debate a spokesperson for HS2 Ltd said the railway was a "project for the next 100 years and beyond" and that its construction was already playing an important role economically.
He said: "It will add new capacity into our crowded rail network, better connect the great towns and cities of the North and Midlands, and accelerate the shift from cars and lorries to low-carbon rail.
"The construction of HS2 is already playing a vital role in Britain's economic recovery from covid-19, with over 16,000 people working on the project and tens of thousands of additional jobs supported through the supply chain."
In its initial response to the petition, made in January, the government said: "HS2 will provide essential north-south connectivity, greater capacity and shorter journey times" while also playing a "vital role" in getting the country to net-zero carbon emissions.
HS2 has had a rocky path to approval, with the scheme not getting the all-clear to start main civils works on its London-Birmingham section until April last year.
Before then the scheme's future hung in the balance, dependent on the outcome of an independent review led by Doug Oakervee – which ultimately found in its favour in November 2019. Oakervee's recommendation was publicly criticised by his deputy chair Lord Berkeley.
Despite the green light, a number of elements remain up in the air. Plans for the London terminus at Euston are still being rejigged, while the government's long-delayed Integrated Rail Plan, which will outline rail project plans for the North and Midlands, is set to reveal its intentions for HS2's arm from the West Midlands to Leeds.