Industrialising housing could put it on par with £40bn automotive sector, Esther McVey tells conference
Housing minister Esther McVey has been ridiculed for a Conservative Party conference address in which she talked about building a new generation of homes using "3D architects" and appeared to suggest that using computers was an innovation.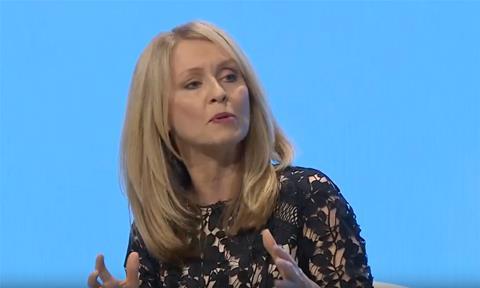 McVey vowed the government would meet its "huge" target of building 300,000 homes a year by industrialising housing, creating 195,000 jobs and turning it into a £40bn sector on a par with the automotive industry.
Investing heavily in modern methods of construction (MMC) would result in new jobs that would appeal to younger people more than the traditional methods whose practitioners were largely in their 60s, she claimed.
"We need to get more people into construction full stop but if we have this new way of doing it – 3D architects, 3D visionaries, doing it… on a computer, there's a whole new raft of jobs. Then lots of younger people will want to come into that arena of jobs."
She said housing was the last sector to industrialise, noting that cars had got "faster, sleeker, more technical" over the last few decades, while TVs had got "slimmer, cheaper, bigger, high-definition" and mobile phones had become "computers in your pocket".
"So we are saying let's do that for homes; let's build them off-site in a factory, yes, but when we do that let's do that to high specifics [sic]; let's do that so they are as technical as they can be," she said.
"We have seen there's 80% fewer defects if we do it that way because we can really get it to high-precision building."
McVey announced plans for a new centre of excellence for engineering and MMC in the north that would produce apprentices who could build zero-carbon homes for the future.
And she praised the 70% smaller energy bills at Mikhail Riches' Stirling-shortlisted Goldsmith Street housing in Norwich which she visited last week.
In response to a question about Harold Macmillan's social house-building drive of the 1950s, she said she was "tenure-blind" and was happy for the 300,000 homes to be social, council, for rent or for sale.
But her speech provoked ridicule among architects, with several pointing out that computer-aided design had been around for decades.
Tweet from Isabel Hardman of the Spectator - with response from RIBA Council student member Simeon Shtebunaev:
When you are stuck in the long hours routine of an architecture practice, 'doing it on the computer' is what's left, nay needed, I guess 😅😏

— Simeon 🌍 (@shtebunaev) September 30, 2019
Engineer Janet Beckett tweeted: "CAD - Computer aided design and drafting began in 1957 & has been with us in common use in #construction for 30yrs or so by my reckoning, including 3D more so in last 10 or 20yrs & of course #BIM. Does McVey think she is sharing some sort of revelation here ?"
Tom Holbrook, director of Fifth Studio, tweeted: "McVey's right - 3D architecture is the future" while architect Sam Wigginton said: "I'm going to introduce myself to people as a '3D architect who does it on a computer' from now on."
Architect Rion Willard, of The Thinking Hand Studio, said: "Wait architecture is now being done in 3D !!! …and on a computer !!" while east London architecture practice Made With Volume tweeted: "We're actually working in 4D as well. Might blow her mind."
Another tweeted: "Because you know so much about construction! … '3D architects…' [What] were you talking about this morning at conference? It's hard to believe that you lot are taking us out of the EU with this level of intelligence."
The Great Brains of Britain, on display today. https://t.co/OxWY5RHv3V

— FORMarchitecture (@form_architect) September 30, 2019
Architect David Macrun tweeted:
@EstherMcVey1 is on the button. Live action shot of 3D architecting. BTW, been doing this stuff for since 1996. #ConservativePartyConference #CuttingEdge pic.twitter.com/FZlD6wCdsh

— David Mac 🇪🇺 (@davmacrun) September 30, 2019
Meanwhile non-architects also piled in, with one suggesting: "Ask her about BIM, her head will explode" and another noting: "3D printing will blow her doors off."
Jon Hughes, an academic in German and cultural studies at Royal Holloway, University of London, tweeted: "But if you tell the kids that architects are 'doing it on a computer' then everyone will want to work in construction, don't you see??"
But that's just the start. Imagine warehouses storing goods in 3D. Factories that aren't just drawings, and can actually manufacture goods. Offices that would leave Dilbert looking flat. This kind of cutting edge 8th millennium BC technology will drive forward global Britain.

— Steve Project (@TheSteveProject) September 30, 2019