Conservative MP held the housing brief since last July
Esther McVey has been sacked from her role as housing minister, less than seven months into the job.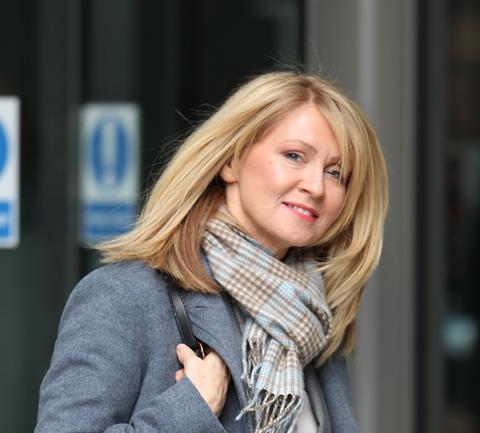 Her tenure is the shortest for a housing minister in nearly a quarter of a decade.
In what has become something of a revolving door department, McVey was appointed to the housing brief last July as part of Boris Johnson's first re-shuffle after becoming prime minister.
McVey was the 17th housing minister since Tony Blair became prime minister in 1997 and the 10th in the last 10 years.
While she threw her weight behind modular housing and modern methods of construction some felt McVey's knowledge of the sector did not match that of her predecessor, Kit Malthouse.
I'm very sorry to be relieved of my duties as Housing Minister

I wish my successor the very best & every success

I'm very grateful to the Prime Minister for having given me the opportunity to serve in his government & he will continue to have my support from the back benches

— Esther McVey (@EstherMcVey1) February 13, 2020
She was ridiculed over comments she made at last year's Conservative party conference when she talked about building a new generation of homes using "3D architects" and appeared to suggest that using computers was an innovation.
McVey also courted controversy earlier this month when she suggested it was not for the government to tell residents that they were living in blocks clad in dangerous materials such as ACM.
Robert Jenrick has been confirmed as staying on as housing secretary. He is the fourth housing secretary in five years.
Félicie Krikler, director at Assael Architecture, said McVey's departure made a mockery of the role and was creating problems for the housing industry.
"There is a total incompatibility between the political cycles and the long-term aspects of housing, and appointing the 10th housing minister in the last 10 years makes a complete mockery of the role," she said.
"The industry needs stability to make progress on the housing front and bring forward policies that clarify questions over design, quality and delivery methods concerning the homes we build. Understanding and addressing the issues troubling the market takes time and effort, and while another minister gets to grips with the role, we have high streets in need of reform and high-quality homes in need of building. I hope whoever steps in to fill McVey's place will be able to quickly adapt and contribute to the UK's housing needs."
Other casualties of Johnson's latest reshuffle include Sajid Javid who resigned as chancellor after refusing to replace all his advisors with Downing Street appointees; Theresa Villiers, fired as environment secretary; and Andrea Leadsom as business secretary.
In a statement Leadsom said she was particularly proud of her work on net zero targets and on making the UK "the best place in the world to work and to grow a business".
Attorney General Geoffrey Cox has also got the chop and will be returning to the backbenches.
Last week, Cox was asked by Grenfell Tower Inquiry chair Martin Moore-Bick to back requests of immunity from prosecution by firms involved in the design and choice of flammable cladding in the tower's refurbishment blamed for the 2017 fire.
In a letter posted on Twitter, he said that the "great political mission of our time" had been to implement the result of the 2016 EU referendum, adding: "I am delighted that our legal exit from EU membership was successfully accomplished on January 31 and that, as a country, we can now turn our attention to seizing the many opportunities which lie ahead."
Transport minister Nursat Ghani, who has been the minister responsible for HS2, had been tipped to take up that role on a full-time basis but has now been pushed from the government, along with her colleague George Freeman.
On Twitter she said: "Huge privilege to have been transport minister and we've achieved so much in two years. Thanks to the great team in the dept and now I get to spend more time with family and constituents."
Chris Skidmore, who was a minister jointly at the education and business departments, has also been sacked. Skidmore was in charge of universities as well as research and innovation.
Housing ministers since 1997 (not secretaries)
Esther McVey (July 2019) [7 months] appointed by BORIS JOHNSON
Kit Malthouse (July 2018) [1 yr]
Dominic Raab (Jan 2018) [7 mths]
Alok Sharma (June 2017) [6 mths]
Gavin Barwell (July 2016) [11 mths] THERESA MAY
Brandon Lewis (July 2014) [2 yrs] DAVID CAMERON
Kris Hopkins (Oct 2013) [9 mths]
Mark Prisk (Sept 2012) [11 mths]
Grant Shapps (May 2010) [2 yrs 4 mths] COALITION
John Healey (June 2009) [11 mths]
Margaret Beckett (Oct 2008) [8 mths]
Caroline Flint (Jan 2008) [9 mths]
Yvette Cooper (May 2005) [2 yrs 6mths] GORDON BROWN
Keith Hill (June 2003) [23 mths]
Jeff Rooker (May 2002) [13 mths]
Charles Falconer (June 2001) [11 mths]
Nick Raynsford (from 1997) [c4yrs] TONY BLAIR
Postscript
More to follow…