Julia Park skewers the government's muddled thinking on housing design and planning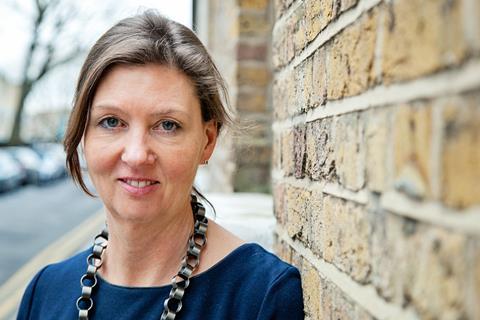 "Esther McVey rounds on architects and planners" Headlines are, of course, designed to catch our attention. But this one, published recently in BD's sister magazine Housing Today, was simply telling the truth.
In the foreword to The Duty to Build Beautiful, a collection of 13 essays on how to build beautiful housing, published by right-wing think tank Policy Exchange, Esther McVey let rip: "…beauty has been neglected in policy-making for too long and this had allowed too many of our proud towns to be scarred by architects and planners who have no regard for what local residents want."
It's a master class in how to disenfranchise the two professions that best understand the capacity of good design and placemaking to enrich people's lives (and only has praise for developers). The report itself is much more interesting. The authors are diverse and their essays well-balanced, provocative and more left-leaning than you might expect.
Yolande Barnes gives cause for optimism: "…thriving communities with lots of human interactions and encounters is good economics; simple, flexible, adaptive buildings, managed for people and run efficiently with low energy will quite simply create better income streams than obsolete, energy-hungry alienating environments."
Drawing from her recent PhD, Gillian Horn of Penoyre & Prasad examines whether volume-built housing can be beautiful, concluding that, "…its business model is not fundamentally suited to creating excellent and beautiful housing."
Charles Dugdale, a partner at Knight Frank, writes about landowners and stewardship, encouraging developers to retain a long-term interest in what is built on their land.
And referencing the centenary of the Addison Act, Greg Beales, campaign director at Shelter, urges the government to "…put the provision of new social housing at the forefront of its push for beauty and better design." What better example than Mikhail Riches and Cathy Hawley's wonderful Stirling Prize-winning development, Goldsmith Street in Norwich. The other nine essays are all worth reading too.
Eighteen months ago the idea that politicians would soon become obsessed by the need for buildings to be beautiful would have been laughable. Why the sudden epiphany? My guess is that it's the result of sustained brainwashing by a handful of influential, establishment figures with vested interests and the ear of ministers. The underlying narrative is that building "beautifully" (typically a proxy for "traditionally") is the key to quashing the nimbyism that stifles new development.
If the flood of new publications and statements (including the interim report of the Building Better Building Beautiful Commission, the new National Design Guide, the consultation on Part L as a precursor to the Future Homes Standards, revised Building Regulations, these essays and promises of more to come…) was supposed to give us confidence in the new team, it hasn't worked.
Most of it must have begun before the current cabinet took their seats. No one knows what the prime minister thinks about housing because he hasn't thought about it himself yet, and nothing ties together – in fact it's full of contradictions and misconceptions.
The National Design Guide (which is largely about housing) opens with a version of the three ancient pillars of design, originally coined by Vitruvius as firmness, commodity and delight. It's all quite good unless you are looking for something with teeth. The nearest thing to an objective metric is a helpful reminder that, "where a need is identified, Local Plans may adopt the Nationally Described Space Standards, and those for accessibility and water". It's never made much sense: where in the country are there people who don't need living space, or don't grow old – or never need a wheelchair?
Rather than any firm commitments to back up these warm words, we are promised an easier planning regime and more permitted development rights (PDR). Developers will soon be granted a free pass to add up to two more storeys to apartment blocks, a right that will then be rolled out to anyone who owns a detached house. It's genius: what better way to turn your neighbours into nimbys.
The government also intends to press ahead with plans to allow office buildings to be demolished and replaced with housing, without planning permission. The fact that less than a third of the 522 people who responded to the consultation thought it would work, clearly hasn't put them off. Details are sketchy but it may be done through "permission in principle", another layer of complexity that allows a developer to start work, subject to "technical details consent". While that sounds like a list of minor considerations (and that's the intention) it includes the trivial matter of the design of the building.
How any of this is compatible with either the drive for beauty or the involvement and consent of the local community is a deep mystery. History tells us that neither liberalisation of the planning system nor the weakening of standards and regulations has ever led to an improvement in quality. You would imagine that office-to-resi PDR has proved that beyond doubt, but apparently not.
I'm usually frustrated by the lack of government action on housing but my advice this time is stop and think: there's far too much going on and it's fast becoming an incoherent and embarrassing mess. Focus on one or two keys things at a time. Begin by preventing another Grenfell by getting Approved Document B right (it's impossible to keep up with the corrections to the corrections…) and commission independent research to work out how best to tackle the huge issue of upgrading existing housing stock to mitigate climate change.
Give the word "beauty" a rest and start to show respect for design professionals. Make it easier for architects to work with local people, not harder. Take a day trip to Norwich to consider how policy could allow developments like Goldsmith Street to become the norm for social housing, not the exception. It takes seven years to become an architect but only five minutes to become secretary of state or housing minister and you've probably never needed us more.
Postscript
Julia Park is head of housing research at Levitt Bernstein