East London scheme will be funded by £233m loan from Homes England to Silvertown Partnership
Moxon Architects has won Newham Council's backing for its proposals to deliver a "double-S-curve" bridge across the Royal Victoria Dock in east London as part of the £5bn regeneration of Silvertown.
The practice's scheme for the Silvertown Partnership will create a new route across the dock for pedestrians and cyclists, offering an alternative to the existing 14m-high footbridge which is only accessible by several flights of stairs and lifts.
Moxon's bridge will be at a lower level and will be fully accessible. Small boats will be able to pass underneath the structure but a double-bascule mechanism will allow the bride to open at its mid point so that larger vessels can pass through.
The bridge will link the ExCel centre and Custom House Station on the north side of the dock with Silvertown at the foot of the newly restored Millennium Mills. Adjacent to the bridge landing will be a "destination" jetty.
The Silvertown Partnership said the bridge would be funded from a £233m loan from Homes England, which has been provided to support the delivery of housing on the site.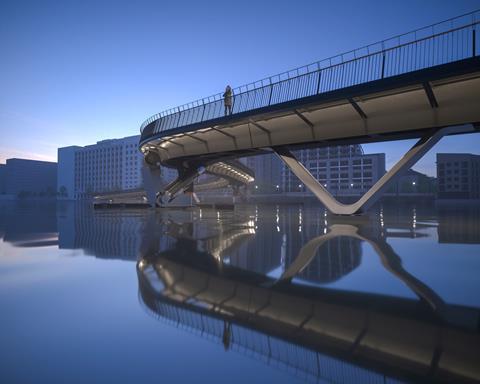 Around 6,500 new homes are proposed for Silvertown by the partnership, which includes global real-estate firm Lendlease, the Greater London Authority, Homes England and the Guinness Partnership.
Moxon said its proposed bridge was a "critical piece of civic infrastructure" for shaping the new neighbourhood and would be capable of serving more than 3,000 users an hour at peak times.
"Through thoughtful design, a necessary connection over the dock will become a new urban amenity, adding an uplifting moment to the daily lives of many," the practice said.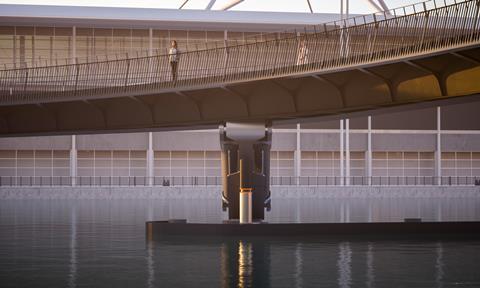 "The distinct form is an efficient and functional response to a complex brief; it will set this bridge apart, providing an entirely new dock experience.
"The meandering path will gently rise over the dock, framing distinct views of the surroundings as well as the bridge snaking into the distance."
Members of Newham Council's Strategic Development Committee gave conditional approval to the bridge plans at their meeting on Tuesday.
The project team for the bridge includes Buro Happold, specialist mechanical engineer Eadon Consulting, and Arup.